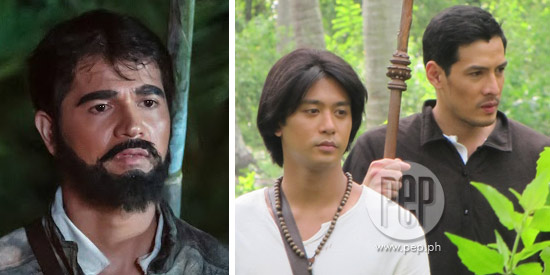 ---
Pedro Calungsod: Batang Martir is less a biopic of the second Filipino saint and more of a reimagining and interpretation of the sketchy, scant records of the Visayan title character.


Rocco Nacino plays the young catechist who joins a group of missionaries deployed to the Marianas (now called Guam) to convert the native Chamorros there.

Written and directed by Francis O. Villacorta, the movie assumes too much of its audience.


Without a prologue, those of us who are not familiar with this part of Philippine history need to grope in the dark of the theater to make sense of it all. It feels like it was made exclusively for Catholic devotees and no one else outside the fold. Should they want to show this movie outside the country, for example in film festivals, a proper orientation needs to be done by way of a little historical perspective.
That being said, the most amazing part of the movie is the cinematography that captures the beautiful, seemingly still untouched Philippine beaches, jungles, and fields as these stand-in for the pre-colonial islands. It is easy to get swept in by the blue sky, the lush vegetation, and the calm sea. Even the computer-generated image of the ship that takes the missionaries and soldiers to the islands looks excellent on the big screen.
The structure of the story though is episodic, disjointed in some parts. Many scenes in a big chunk of the middle of the movie seem to stumble along. I could not help but think that it could have been a shorter movie, that it would deliver the message in less time and with tighter editing.
Most of the cast perform well. Christian Vasquez is convincing as the pious and determined Padre Diego de San Vitores, who heads the missionary expedition.


Rocco Nacino portrays the young catechist as less human and more of a living saint. Throughout the film, this "raptured" expression is broken only when he shows extreme anguish and extreme pain. But these last two are when he really shows emotional depth.


A lot has already been said about Rocco's awkward wig, which could be distracting for some viewers.


ADVERTISEMENT - CONTINUE READING BELOW
Jestoni Alarcon's portrayal of Capt. Juan de Sta. Cruz (head of the Spanish armed forces guarding the Jesuit missionaries) is very convincing, though also slightly hindered by the less-than-convincing facial hair.


As the Chamorro chieftain Maga'lahi Hirao, actor Robert Correa performs with conviction. However, one monologue runs way too long.


Child star Marc Justine Alvarez is adorable as the young Pedro who is often seen with Jao Mapa who plays his father. There was warmth between them, as fathers and sons ought to have.


There are many parts of the story that need clarification. For example, not everyone knows that Calungsod's name was recorded by the Spanish as "Calongsor." It really needs to lay a better foundation for the storytelling. I think a short prologue would help this a lot, especially the mass of moviegoers who probably know next to nothing about Calungsod in the first place.


The anticipated ending was made even more dramatic by a combination of the editing, acting, and musical score.


Pedro Calungsod: Batang Martir is one of the eight official entries of the 39th Metro Manila Film Festival. It will open in Philippine cinemas by December 25, 2013.



Ed's Note: The "PEP Review" section carries the views of individual reviewers, and does not necessarily reflect the views of the PEP editorial staff.



(To learn more about this entry, visit PEP's MMFF 2013 microsite HERE)