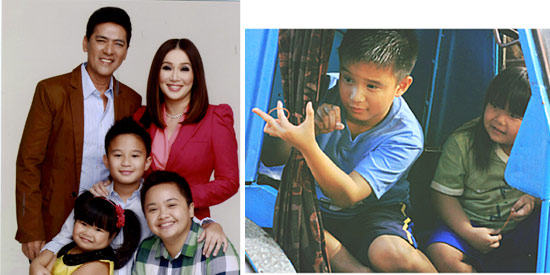 ---
At first glance, My Little Bossings may seem like the usual slapstick comedy fare, but at its core, it's a family flick that sprinkled with gags and a lot of heart.


Vic Sotto plays Torky, an everyman whom a lot of Pinoys can relate to. He's a simple and hard-working man who is well-loved by the people in his neighborhood, but at the same time, he yearns to leave his small-town roots and see the world by traveling. He makes a living by working as a bookkeeper for Baba Atienza (played by Kris Aquino), who has an obnoxious son named Josh (played by Bimby Aquino Yap).


Unfortunately, Baba ends up becoming her older stepsister's scapegoat for a bogus pyramiding scam gone wrong. Blackmailed and forced into hiding, Baba entrusts her son to Torky's care, believing that her responsible bookkeeper would be able to keep her child safe while she looks for a way to clear her name.


Things get complicated as Ice (played by Aiza Seguerra) enters the picture. Although the movie doesn't initially establish her relationship with Torky, it is believed that they are relatives of some sort, as Ice also lives in the same house as Torky's.

The two seem to be distant at first, and while Ice plays the role of the angsty child to a hilt, it is not clear (at least, at first) why there's so much bad blood between her and Torky.


To make matters worse, Ice gets forced to "adopt" Ching (played by Ryzza Mae Dizon) a child from an orphanage that is about to be torn down.


As a result, four "complete strangers" are forced to live under one roof.


Despite their differences, Torky, Josh (who goes by the moniker "Tintoy" to hide his real identity), Ice, and Ching manage to live together as a sort of family. Things start to unravel as Baba's evil stepsister Marga (played by Jaclyn Jose) hunts them down, and as they encounter threats, suspicious individuals, and everything in between, the four main characters eventually realize just how important they are to each other.


While a lot of gags are to be expected from the movie's motley crew of characters, it is interesting to note that it packs a lot of punch when it comes to tugging at the heartstrings.


Aiza and Vic have gotten so comfortable with each other through the years, and they could easily pass for relatives who joke around and exchange insults at the same time.


Ryzza Mae and Bimby are adorable whenever they're together, and it was refreshing to see Jaclyn Jose as the "trying hard" and evil kontrabida.


The story seems too drawn out at times, with the overwrought build-up and all. It seems to devote much time for introductions with little room for character development, and hurriedly wrapped up the resolution in the process. There are also several explicit product placements all throughout the film—to the point that they become somewhat of a distraction—that counting the "mini-commercials" could be made into a game.
ADVERTISEMENT - CONTINUE READING BELOW
For those who are not fans of slapstick comedy, you'll be in for a disappointment, as the movie offers plenty of them. While most local movies thrive in this particular genre, it would have been refreshing to see how veteran actor Vic Sotto come up with more interesting material, instead of relying on tired facial contortions, impersonations, physical insults, and corny jokes.


Bimby Aquino Yap, on his own, is not a charmer onscreen, but he does seem to complement Ryzza Mae's antics. It was unfortunate that the movie did not feature more scenes depicting Ryzza Mae alone. After all, she can be funny in her own right.

But to its credit, this Metro Manila Film Fest entry does appeal to a wide audience.


Kids would love the fact that a lot of screen time is devoted to Tintoy and Ching, adolescents can relate to Ice's unresolved issues, and adults yearning for a much better life can easily relate to Tintoy's problems.


While there's much room for improvement, the MMFF 2013 entry My Little Bossings does provide a serving a laughter (and even tears) for the entire family, providing two hours of entertainment for kids and adults alike.


Ed's Note: The "PEP Review" section carries the views of individual reviewers, and does not necessarily reflect the views of the PEP editorial staff.



(To learn more about this entry, visit PEP's MMFF 2013 microsite HERE)