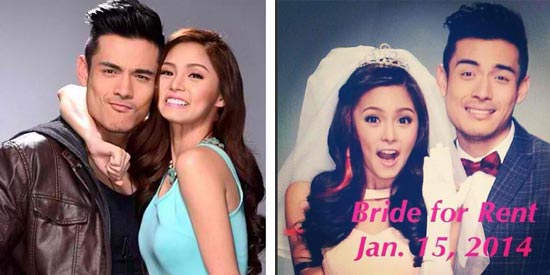 ---

Kim Chiu and Xian Lim have already wrapped up shooting for their second film titled Bride for Rent.

Directed by Mae Cruz, this romantic comedy is scheduled to open in cinemas by January 15, 2014.

This project comes on the heels of their blockbuster movie Bakit Hindi Ka Crush Ng Crush Mo, which grossed P100 million in less than three weeks.

(Read: Kim Chiu-Xian Lim movie reaches P100 million mark in the box-office)


In the teaser of Bride For Rent, there are auditions being held for females who can sing and dance.

Xian's character is seen screening the auditionees along with other panel members. Kim's character is trying to impress the panel by performing a declamation piece and an "interpretative dance."

When Kim's character asks what the role will be, Xian answers that they are looking for someone to portray his wife. This prompts Kim to let out a loud scream.

On December 28, both Kim and Xian posted that they already had their last shooting day for Bride for Rent.

Kim posted a group of her with Xian and production crew of the movie with this caption:

"GOOD MORNING everyone!!! greetings from team #BrideForRent last working day for the year!lezzzdothis!!!"


In Xian Lim's Instagram account, he shared a photo of Kim wearing a bridal veil with this caption: "last shootingday for the year! #brideforrent #jan15na"