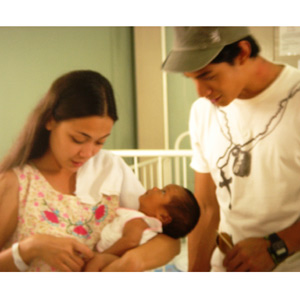 ---

From the creators ofInang Yaya comes this romantic comedy that dares to ask: Is the perfect man gay?
Co-directorsVeronica Velasco and Pablo Biglang-Awa collaborate once again for the indiefilm Maling Akala, which is one of the finalists of the 2007 Cinema One Originals Digital Film Festival.
Jodi Sta. Maria-Lacson'sco-star in Maling Akala is fellow Star Magic talent Victor Basa. Jodiplays Tetta, a salesgirl in a department store who gets pregnant by herboyfriend, who abandons her. She relies on the sexually confused JB (Victor) toact as her boyfriend and father of her child.
Veronica, who wrotethe script of Maling Akala, chose Jodi for the female lead role becauseaccording to her, "Magaling naman talaga siya umarte. Ibang klase!" Jodi is currently married toPampi Lacson, son of Senator Panfilo "Ping" Lacson. Jodi is also starring in another indie film titled Nars, which tackles the issues facing Filipino nurses.
Victor Basa, on theother hand, bested other actors for the part of JB. Veronica points out thatshe saw the characteristics of JB in Victor. He is currently one of the housemates in the reality show Pinoy Big Brother Celebrity Edition 2.

According to the twodirectors of Maling Akala, this movie was shot in five days with a budgetof P1 million. Working around the given budget, Veronica rented her mom's housein Pampanga to serve as the set of the film.
Maling Akala, which is translated as "wrong assumption,"was a product of a Bing Lao workshop taken up by Veronica. It tells the story of a young man's pressing homosexuality issues.
ADVERTISEMENT - CONTINUE READING BELOW
Maling Akala (2007)
Co-directors:Veronica Velasco and Pablo Biglang-Awa
Writer: VeronicaVelasco
Director of Photography: Larry Manda
Production Design: Baba Velasco & Vilma Velasco
Production Manager: Nancy Vidal
Sound: Wildsound / Andrew Mallilos, Mac Vasquez, Mike Idioma
Music: Dan Gil / Liquidpost
Editing: Editcube / Danny Annonuevo, Lester Olayer
Line Producer: Noemi Peji
Executive Producer: Ronald Arguelles
SYNOPSIS. Tetta (Jodi Sta. Maria-Lacson) is a department store salesgirl who gets pregnant by herboyfriend, who abandons her. She gives birth to a baby without a father.On her way home to the province to confront herparents, she sits besides JB (Victor Basa) on the bus.


The two strike a deal: JB, who is gay, will pose as Tetta's husband and thefather of her child. Unknown to Tetta, JB's character is hiding more than justhis sexuality.
As the storyunfolds, some questions are raised: Are they really married? Does JB loveTetta? Are JB's intentions murderous? Will a gay man-straight womanrelationship work?
A film full oftwists and turns, Maling Akala illustrates the bittersweet truthof a homosexual story with a dark shadow.
Velasco andBiglang-Awa's Maling Akala is one of the finalists of the 2007 CinemaOne Originals. The film will be screened from November 30 to December 2 at theTrinoma Mall, Quezon City, and at the Glorietta 4, Makati City.

The other digital movies of this year's batch: the tale about poverty Tambolistaby Adolf Alix Jr.; the horror movie Altar by Rico Ilarde; the political thriller Confessionalof Jerrold Tarog; and theOFW (Overseas Filipino Workers) melodrama Prinsesa of LawrenceFajardo.


The films were produced byCreative Programs Inc. (CPl), one of the subsidiaries of ABS-CBN. The 2007Cinema One Originals project celebrates its third year with an awards night onDecember 1 at the Grand Ballroom of the Renaissance Hotel in Makati at 7 p.m.

ADVERTISEMENT - CONTINUE READING BELOW
Trailer courtesy of Cinema One