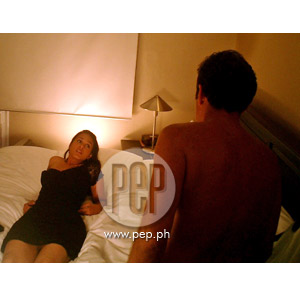 ---

An eye-opening indie film about Singapore's infamous escortservice will hold its premiere night on Monday, November 26, at SM CityNorth EDSA. The sexy-socio-drama Mona:Singapore Escort stars Iza Calzado as a Filipina who chooses to work in thered-light district of Singapore in order to support her family.


Prostitution is legal in Singapore, wherelicensed brothels are concentrated in designated red-light areas (DRAs). The escortscarry a yellow health card signifying that they are registered and haverecently undergone their bi-weekly health check.
Director Jowee Morel helms this production, which was shotin less than a week in the Lion City. In line with the United Nations' Millennium Development Goalsin promoting gender equality and empowering women, this movie aims to make thepublic aware of the situation of women who work in Singapore's DRAs.
Executive producer Pete Daza tells PEP (PhilippineEntertainment Portal), "Prostitution is recognized as a legal profession inSingapore. Based on a study done by the United Nations in 2006, there arearound 80,000 domestic workers in Singapore and 10,000 of them are Filipinaswho sideline as prostitutes."
"Mona: Singapore Escort is based on the story of anescort who is still there now in Singapore. She now runs her own agency. Thescenes that are depicted in the film mostly happened in real life," revealsPete, who is currently the promotions officer of a support group for the UnitedNations.
He points out, "The movie aims to show the choices thatpeople make in their lives and that they have to live with those choices.Sometimes it works but sometimes it backfires. They earn lots of money butothers get beat up, or they contract sexual diseases."
ADVERTISEMENT - CONTINUE READING BELOW

SYNOPSIS. Produced by Bandit Films Inc. and Outline Digital Films, Mona: Singapore Escort is the story of a poorsingle mother who takes a job in Singapore, thinking she has been hired as achambermaid.
Mona (Iza Calzado) is in dire need of money because herfather gets sick. She learns about the red-light district of Singapore throughthe help of her best friend Gab (Liza Diño), another Filipina who recruited herto work in the Lion City.
Mona discovers that she has been employed in a stable ofprostitutes. She is initially repelled by the prospect of selling her body, but her financialneeds are great. Thrust into a world behind closed doors, she mustentertain clients with different sexual tastes, orientations, and deviations.

One of her clients, ahandsome young artist, charms her with his gentle generous nature, and she isirresistibly drawn to him. She pays a price for her blind infatuationwhen his true nature comes to light. Shot on location in the Republic ofSingapore, Mona: Singapore Escort is astory of struggle, despair, sacrifice, and hope.

ONLINE PROMO. To win free tickets to the premiere of Mona on Monday, November 26, leave a commentanswering our question below.
Iza Calzado as well as her co-stars Liza Diño and JakeMacapagal will have a theater tour of selected SM Malls on opening day, so watch out!
Mona: Singapore Escort,the sexy socio-drama film starring Iza Calzado, opens November 30, 2007 at SMCinemas.
The first 8 Manila-based PEPsters who can answer ourquestion will win two tickets to the premiere of Mona: Singapore Escort onMonday, November 26. This indie film will be screened at Cinema 4 of The Block,SM City North Edsa, at 7:00 p.m.
ADVERTISEMENT - CONTINUE READING BELOW
Answer the question below by leaving a comment in thisarticle.
What is the name of the character played by Iza Calzado inthe indie film produced by Bandit Films Inc., and Outline Digital Films?
Answer: ____
Winners will be notified when they can pick up their ticketsat the Summitmedia office in Robinsons Galleria.