Helming another film about a mother forced to work overseas to make ends meet is a risky task. It cannot be helped being compared to its predecessors: Anak, the Vilma Santos and Claudine Barretto-starrer; and the more recent and equally touching A Mother's Tale, which starred comedienne Pokwang.
Cattleya: An OFW Story took on this risk and admirably so if only to recount a tale worth retelling—every OFW's story.


However, as a maiden work of director Joric Raquiza and One World Films Production, the film feels like a fledgling production, which is evident in its hasty plot and often patchy camera shots.
While unbearable in that respect, the film's efforts to expose naive Filipina domestic helpers pushed to become drug mules during their tenure abroad feels genuinely sincere.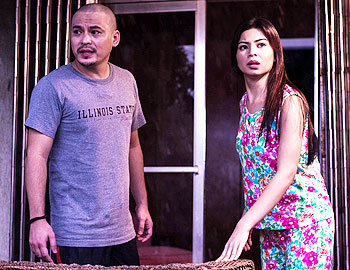 Gerald Madrid and Glaiza de Castro
At the onset of the story, one senses the struggles of Lea (Glaiza de Castro), mother of two kids and wife to aluckless husband, Rodel (Gerald Madrid). Being the more sensible individual between her and Rodel, it is Lea who finds a way to feed her children especially when typhoon Ondoy destructed their home. Confronted with tragedy, it is Lea who shows resilience while Rodel succumbs to despair and the pressure to keep his family alive.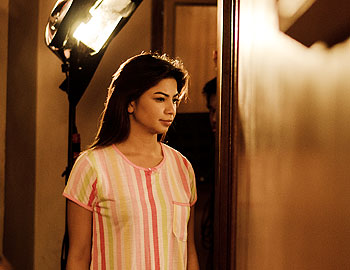 Glaiza de Castro portrays an OFW who becomes a drug mule
With the help of her long lost friend, Rochelle (Jonalyn Viray), a talented singer whose career is hitting off abroad and in the country, Lea finds an opportunity to work in Hong Kong. The kind-hearted Rochelle funds Lea's initial expenses and finds her a Filipina employer. Soon, Lea—together with the jolly Chedeng (comedienne Tess Bomb), another Filipina seeking a better life abroad—flies to Hong Kong to work.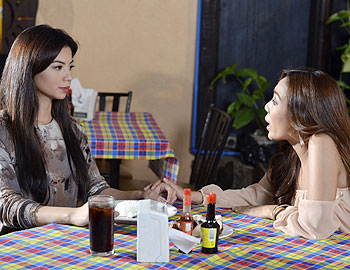 Glaiza de Castro and Jonalyn Viray
At the onset, Lea and Chedeng find work abroad financially rewarding and an enriching travel experience. They work hard day in and day out and reap the fruits of their labor. Unknown to Lea, however, Rodel squanders off the money his wife sends for booze and gambling to escape his insecurities as the (supposed) provider of his family. While he doesn't completely neglect their children, Rodel fails to save Lea's hard-earned income. Such are the stark, true-to-life situations presented in Cattleya which adds to the film's truthfulness.
Trouble comes when the foreigner husband of Lea and Chedeng's Filipina employer lures them with extra pay in exchange for delivering packaged goods to "customers." Lea and Chedeng, whose only goal is to earn and save money in that way they could head back home, naturally agree to be part of the business transaction. Ignorant of what the true nature of the business is—drug dealing—Lea and Chedeng become drug carriers.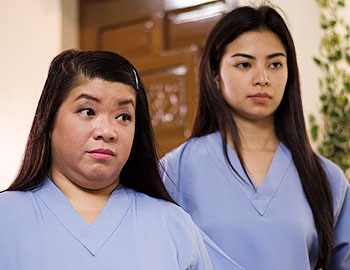 Tess Bomb and Glaiza de Castro
Cattleya commendably offers something different to the OFW's tale. It depicts the dangers of Filipina domestic helpers being compelled to do actual crime without their knowledge. On the one hand, more than inciting cinematic suspense, considering it pursues a crime plot, the film often feels like a documentary with prolonged dramatic reenactments like those in exposé current affairs program.

Glaiza de Castro, Tess Bomb, and Dan Alvaro
The plot feels contrived most of the time, presenting details one after another and afterwards leaving them behind, lagging. For instance, when the film mentions the Ondoy tragedy, it fails to remind the audience that it was one of the catastrophic events that hit Manila. Or when Lea loses her mother to said typhoon, the plot just trails off with the audience questioning why Lea didn't grieve at all or make an effort to search for her. Obviously these minor details were just utilized so the plot could easily get to the main story, but unconvincingly so.
It did not help either that the Rotary Club of Makati San Miguel, while they aided in producing the film, kept plugging in (about three or four times) during the movie. It was such a nuisance in the flow of the story.
Nonetheless, the saving grace of the film lies in the performances of the main cast members. Glaiza de Castro as Lea and Gerald Madrid as Rodel, deliver convincing portrayals. Drama, obviously, is their forte. Meanwhile, Tess Bomb shines as she provides the comic relief in the film.


Directed by Joric Raquiza, the drama film Cattleya: An OFW Story opens in Philippine cinemas on February 26, 2014.


Ed's Note: The "PEP Review" section carries the views of individual reviewers, and does not necessarily reflect the views of the PEP editorial staff.