The Cinemalaya Philippine Independent Film Festival marks its 10th anniversary this year.

There are plans to make this year's edition as the biggest yet even though it has lost one of its main financial supporters.

Antonio "Tonyboy" Cojuangco is no longer financing Cinemalaya but it will still push through as government funds are tapped to support the annual film fest.

Mr. Cojuangco has been a long-time financer of Cinemalaya, which has been producing critically acclaimed films that have been putting the Philippines on the world cinema map.

"Hindi naman siya nag pullout, yung financing lang," clarified Cinemalaya Foundation president Nestor Jardin in an exclusive interview with PEP.ph (Philippine Entertainment Portal yesterday, February 5, at the Cultural Center of the Philippines.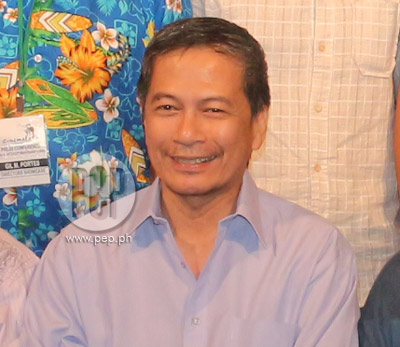 Nestor Jardin, Cinemalaya Foundation president


Mr. Jardin points out, "Tonyboy is still the chairman of the Cinemalaya Foundation and he is still active in the organizing committee. He still attends our meetings.

"He will focus on ensuring the financial future of Cinemalaya.

"He will concentrate on trying to build up a fund that will be the long-time support of Cinemalaya."

Where will the funds for Cinemalaya come from this year?

"From CCP [Cultural Center of the Philippines]. We were able to get additional funds from the government and in that instance, CCP is able to provide the grants for the filmmakers."


Why did Tonyboy pull out funding from Cinemalaya?

Mr. Jardin responded by saying, "It cannot be forever. We've been talking about this ever since.

"That is his personal funds and from the beginning, we have always said that we have to talk about the long-term finances of Cinemalaya.

"I said, 'Tonyboy, you cannot be giving every year until you die.'

"He has given us a lot so it's time for us to look for other sources."


Aside from tapping government funds, there are also plans to tap past films as a source of revenue.

"We are trying to see if we can maximize past Cinemalaya films," discloses Mr. Jardin.

"We are looking at them as a cultural resource that should be maximized. We don't know yet what specific projects will be undertaken.

"The objective is to ensure that in a long-term basis, Cinemalaya will continue."

What other sources of funding are they looking into?

"For the festival, there's ticket sales but that is never enough.

"The festival is always subsidized by sponsorships as well. We hope that the Film Development Council of the Philippines will also give us a grant.

"We're trying to get sponsors for fringe events like dinners, the cocktails...in order to reduce the cost."



MAKING CINEMALAYA MORE ACCESSIBLE. Organizers already announced that the 10th Cinemalaya will take place from August 1-10. This is a departure from its traditional schedule of holding the film fest every July.

Mr. Jardin assures the public that this year's Cinemalaya will continue to offer "balanced programming."

"This is ur 10th anniversary and we are planning a bigger festival.

"Here in CCP, we have five venues and last year, we had five theaters outside CCP—in Ayala Malls.


"This year, we are targeting seven [outside CCP]."

"That is our way of expanding it and increasing accessibility to the festival."


Mr. Jardin stressed that there is no change in the number of finalists to be chosen this year.

There will still be ten finalists in the New Breed category and five finalists in the Director's Showcase category.

There will also be no reduction in the amount to be granted to the finalists.

Like in past editions, Cinemalaya will continue to provide each filmmaker with a seed grant of P500,000.

The Cinemalaya Foundation president revealed that the finalists for this year's batch will be chosen by this week.




10TH ANNIVERSARY PLANS. Since 2014 marks the first decade of Cinemalaya, Mr. Jardin reveals their plans to make this edition a "bigger festival."

Upcoming plans include mounting an animation contest, a film financing forum, a book launch, and a retrospective gallery.

"We're doing a new logo. We're having a contest that is open to all animators who can do animation for a new opening billboard.

"We're launching the contest by the end of this month."

The CCP executive pointed out that there are some filmmakers who experience difficulties raising counterpart financing for their projects.

Although the chosen directors are given a seed grant of P500,000, they must find other financers will provide them with the funds needed to complete the project.

"Majority of the reasons why they fall out is financing. They're unable to come up with financing producers or investors to finish the film.

"What we're doing this year is help them find funders and co-producers.

"We're organizing a film financing forum for the finalists and waitlisted finalists. It will be held on February 15 at the Silangan Hall [of CCP].

"We're inviting potential investors and producers in a matching session with them."

A book will also be launched to celebrate Cinemalaya's first decade of existence and to document the highlights of the annual film festival.

Mr. Jardin points out, "This book will talk about the impact of Cinemalaya for the last ten years. We're in the planning stage and the book will be launched during the festival in August."

CCP artistic director Chris Millado previously announced this during the press conference detailing the events lined up at the CCP this 2014.

(Read related article: CCP intends to launch book about Cinemalaya; aims to restore Manila as hub of arts and culture)



Mr. Jardin continued with the CCP's plans by saying, "We're also planning a Cinemalaya retrospective exhibit in the CCP main gallery, which like the book, will showcase the achievements of Cinemalaya. It will be a multimedia exhibit."