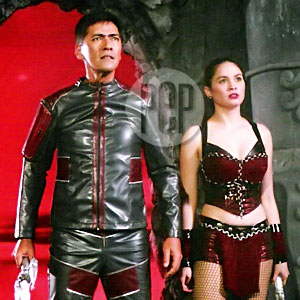 ---
This year, the fantasy theme seems to be a hit not only on the boob tube but on the big screen as well. In this year's Metro Manila Film Festival, three of the nine entries are fantasy-inspired movies.
These films include Enteng Kabisote 3: The Legend Goes On and On and On from M-ZET Productions/OctoArts Films; and two Regal Entertainment entries: Super Noypi and ZsaZsa Zaturnnah Ze Moveeh!.
Enteng Kabisote 3: The Legend Goes On and On and On is the third sequel to Vic Sotto's blockbuster movies Enteng Kabisote: Okay Ka Fairy Ko, The Legend (2004) and Enteng Kabisote 2: Okay Ka Fairy Ko, The Legend Continues (2005).
In fact, this movie originated from the defunct ABS-CBN TV series Okay Ka, Fairy Ko, where Vic played the role of Enteng.
ENTENG KABISOTE 3: THE LEGEND GOES ON AND ON AND ON
Cast: Vic Sotto, Kristine Hermosa, G Tongi, Oyo Boy Sotto, Aiza Seguerra, Bing Loyzaga, Antonio Aquitania, Allan K., BJ Forbes, Paul Salas, Isabella de Leon, and Pia Guanio
Director: Tony Y. Reyes
Writers: Tony Y. Reyes and Isabel da Rosa
Production: M-ZET Productions/OctoArts Films
Plot: Enteng (Vic) is now a materialistic businessman. In director Tony's words: "Mayaman na si Enteng ngayon. Sa pagpasok ng maraming pera, nabago nang konti ang ugali niya. Naging materialistic na siya. Pera na ang laging importante sa kanya." Meanwhile, an alien named Zarkov (Antonio) teams up with Satana (Bing) and clones Enteng to totally ruin his relationship with his wife Faye (Kristine). With everything in peril, Enteng and Ina Magenta (G) join hands once again to subdue the evil forces.
Box-Office Potential: The first two Enteng Kabisote movies were both filmfest top grossers. "Bossing" Vic was crowned Box Office King for two consecutive years. We don't see why this third installment can't make that three in a row.
Awards Prediction: The producers did not make this film to win awards. It is purely family entertainment, which is probably what viewers want for Christmas.
ADVERTISEMENT - CONTINUE READING BELOW
ZsaZsa Zaturnnah Ze Moveeh! is one of the most-awaited movies this year. Inspired by a comic book written by Carlo Vergara, ZsaZsa Zaturnnah was first adapted on stage by Tanghalang Pilipino before it was finally brought to the big screen.
ZSAZSA ZATURNNAH ZE MOVEEH!
Cast: Zsa Zsa Padilla, Pops Fernandez, Rustom Padilla, Alfred Vargas, Chokoleit, Say Alonzo, Pauleen Luna, Christian Vasquez, Giselle Sanchez, and Glaiza de Castro
Director: Joel Lamangan
Writer: Dinno Erece
Production: Regal Multi Media
Plot: This revolves around the life of gay parlor queen Ada (played by Rustom), who turns into red-haired heroine ZsaZsa Zaturnnah (played by Zsa Zsa) when he swallows a stone. (Unlike Darna's stone, this one looks like no one can swallow it. Well, ZsaZsa does!) She defends truth, justice, and liberty against all menace: from a giant frog to zombies to the Amazonistas from Planet X led by Queen Femina (Pops).
Box-Office Potential: This year's dark horse, it has the elements to land among the top-grossers. Its story is solid, its direction fun, its acting good to watch.
Awards Prediction: Pops is a contender for the best supporting actress category and Rustom is a contender for the best actor category. Joel Lamangan, for his part, is a frontrunner in the best director category. Its special effects also give the movie a fighting chance in the technical categories, but the movie comes up against stiff competition from another Regal Multi Media entry, Super Noypi.
Super Noypi can be categorized as the newcomer among the three fantasy films in this year's MMFF. Its cast is composed of a younger generation of actors and actresses. In addition, this movie is neither a sequel nor an adaptation of any book. And although the movie is about superheroes, which can be predictable, Super Noypi promises a twist in the end.
SUPER NOYPI
Cast: Jennylyn Mercado, Mark Herras, Sandara Park, Katrina Halili, John Prats, Polo Ravales, Victor Neri, Aubrey Miles, Monsour del Rosario, and Andrew Muhlach
Director: Quark Henares
Writers: Quark Henares, Fairlane Raymundo and Lorenzo Valdez
Production: Regal Entertainment
Plot: Six childhood friends discover that their parents are the legendary Super Noypi, the most powerful superheroes in the land. But when their parents are taken hostage, the six young characters---who possess the super powers of telekinesis, invisibility, superhuman strength and speed, shape shifting, magic, and the control of ice and fire---stick together to save them and the world.
Box-Office Potential: If the audience is interested mainly in special effect, then this movie will give Enteng Kabisote cause to worry. But the Pinoy audience wants the tried-and-tested and the down-to-earth, so Vic Sotto will still run away with the MMFF take, even if his movie's special-effects work are way inferior to Super Noypi's.
Awards Prediction: Super Noypi should dominate the special effects category. Producer Roselle Monteverde-Teo takes pride in how her team meticulously worked on going beyond ordinary cinematic effects. The good news is: she succeeded!
ADVERTISEMENT - CONTINUE READING BELOW