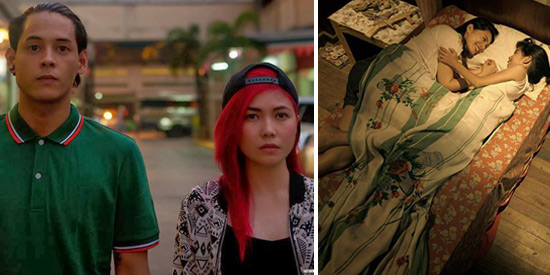 ---

Yeng Constantino's debut film, Shift, bagged the Best Picture Award in Osaka, Japan.

Shift was able to beat ten other entries in the main competition category of the 2014 Osaka Asian Film Festival held from March 7-16.

Directed by Siege Ledesma, this 2013 Cinema One Originals entry depicts an "unconventional relationship" between free-spirited call center agent Estela (played by Yeng) and her openly gay mentor Trevor (played by Felix Roco).

The Best Picture Award comes with a cash prize worth 500,000 yen.

Shift was able to beat other Filipino movies that competed in the said film fest. These include Anita's Last Cha-Cha (Ang Huling Cha-Cha Ni Anita) and If Only (Sana Dati), which is topbilled by Lovi Poe.

Anita's Last Cha-Cha, starring Angel Aquino and newbie actress Teri Malvar, earned a special mention in the 9th edition of the OAFF.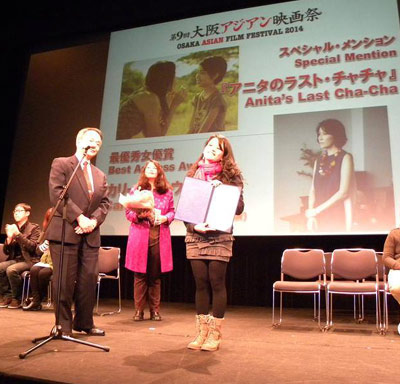 Sigrid Andrea Bernardo at the awarding ceremony of the Osaka Asian Film Fest



Directed by Sigrid Andrea Bernardo, this Cine Filipino entry is a coming-of-age film about a 12-year-old Anita (played by Teri), who falls in love with her neighbor Pilar (played by Angel).

The Best Actress award went to Carina Lau for the movie Bends, the Most Promising Talent award went to Ha Jung-woo for Fasten Your Seatbelt, the ABC Award went to Forever Love while the Audience Award went to the Taiwan film Kano.

Eugene Domingo, who is part of this year's jury, revealed that she and the other jury members were most impressed by movies that came from Korea and the Philippines.

In a statement published in the official website of the Osaka Asian Film Festival, she was quoted as saying:

"While all of us on the jury agree that this year the Korean films and the films from The Philippines are the ones that impressed us the most, the hard work all of you filmmakers did made our jobs watching so many movies in such short amount of time a whole lot easier.

"This year, we merit a film for it's simplicity, honestly and it's integrity for pushing boundaries."

Aside from Eugene, the other jury members are Tom Shu-yu Lin of Taiwan and Yang Lina from China.
ADVERTISEMENT - CONTINUE READING BELOW