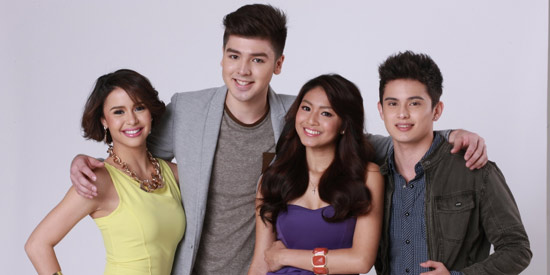 ---
Classes just ended but Viva Films will take moviegoers back to school with its latest offering, Diary Ng Panget: The Movie.
Nadine Lustre portrays Eya Rodriguez, a struggling ugly duckling yet optimistic teenager who finds herself falling in love with the handsome spoiled brat Cross Sandford (played by James Reid).
Eya's best friend Chad Jimenez (played by Andre Paras) tries to get the attention of Lorraine "Lory" Keet (played by Yassi Pressman) who befriended Eya to become close to Cross.
Does that sound like a cliché? Yes, that pretty much sums up this movie based on a story published in the online community Wattpad.
But what makes this movie worth watching? It's your typical Cinderella story/fantasy—damsel in distress-meets-prince charming.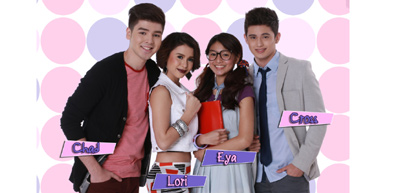 The film is reminiscent of the Thai rom-com movie Crazy Little Thing Called Love and Star Cinema's Must Be Love. The plot is predictable—and there is a formulaic twist in the teeny bopper/romatic-comedy flick.
ADVERTISEMENT - CONTINUE READING BELOW
Still, moviegoers might be charmed into liking the movie because of the "kilig" moments shown in the film. Its predictableness, however, shouldn't really come as surprise anyone as the writer herself already gave a disclaimer about the story.
The film is fast-paced but sometimes, the decision to rush through scenes puts a toll on the cohesiveness of the story. The editing doesn't really work for some portions of the film. One particular part is when Cross asked Eya to accompany her in a shoot without establishing Cross as a model. In another instance, Cross asked Eya to pick him up after his meeting with the student council while forgetting to inform the audience that Cross is their student president.
During the first hour of movie, scenes tends to shift too fast from one scene to another. There is a failure to explain the motivations behind the characters' actions, leaving some loopholes in the story. In turn, this affected the character build-up of the protagonists of the film.
Despite lapses in the story, director Andoy Ranay's artistic tendencies and his taste for vibrant colors—also seen in When The Love Is Gone (2013) and Sosy Problems (2012)—remain impressive and should be enough to make up for what the movie is lacking.
Certainly, this film definitely offers high production values. Who would have thought of having a rollercoaster in a school fair? They did!
The best part is that there is good chemistry among the lead stars of the film. The casting was not amiss since the lead characters all looked suited for their roles.
ADVERTISEMENT - CONTINUE READING BELOW
Nadine Lustre may have a bit of resemblance with ABS-CBN's Teen Queen Kathryn Bernardo but the former does offer her own brand of acting. It didn't even look like Nadine was trying too hard and she came out as a natural comedienne. She's bubbly and effortlessly funny. Her fake pimples, though, were really disturbing.
James Reid provides eye candy and he can certainly make ladies swoon through his romantic gestures. As far as acting is concerned, he gives a decent performance but he still struggles to deliver some of his lines in Filipino. Nevertheless, James is perfect to portray the bad boy/prince charming.
Andre Paras was a revelation (at least, for me). One would often see him as a host on GMA-7's variety show Sunday All Stars where he tends to become over rehearsed or tedious to watch. In this film, however, Andre just enjoyed his character and looked really comfortable while acting the part.
Yassi Pressman's performance as Lory is also commendable. You might find yourself crying out of sympathy during her breakdown scene with Andre's character, Chad. She has the ability to make viewers relate to her character.
It is also worth mentioning that Candy Pangilinan, Mitch Valdez, and AJ Muhlach provide a distinct flavor to the film.
All in all, Diary Ng Panget is a very entertaining movie. It features a common story but carries a positive message: appreciate the person's whole being by looking beyond his or her superficial appearances.
ADVERTISEMENT - CONTINUE READING BELOW
Filipinos (whether we admit it or not) love these kinds of stories that feature the underdog. The plot may be overused but with the film having teens as targets, it imparts valuable life lessons. It is a great feel-good movie to catch with your friends.
Diary ng Panget is currently being screened in Philippine cinemas nationwide.
Ed's Note: The "PEP Review" section carries the views of individual reviewers and does not necessarily reflect the views of the PEP editorial staff.