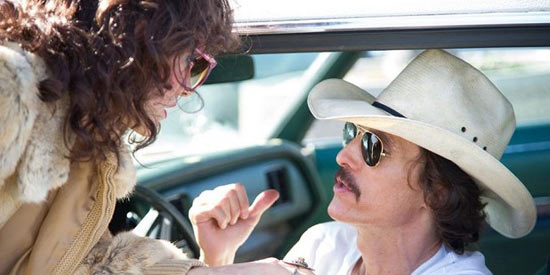 ---


Dallas Buyers Club is the little movie that could. The movie premiered at the 2013 Toronto International Film Festival, gained momentum through critics rave reviews, and charged full steam ahead eventually being nominated for five Oscar categories and winning a host of acting awards including Oscars, Golden Globes and SAG Awards for Matthew McConaughey and Jared Leto.


The making of Dallas Buyers Club seems like the stuff of Hollywood legend. It took 20 years for the movie to be made. It was rejected 137 times and passed on to different producers, directors and actors. A few weeks before shooting was to begin, the financing fell through. It was made in only 25 days with a budget of $4.9 million dollars (an extremely small budget by Hollywood standards). Against all odds, the movie was made.


The movie's rollercoaster journey echoes the story of Ron Woodroof whose life inspired this movie. Ron Woodroof (Matthew McConaughey) is a Dallas electrician, rodeo cowboy, and homophobe. He is diagnosed with AIDS and given 30 days to live.


The movie is set in 1985 at a time when little was known about AIDS. AIDS was touted as the "gay disease." Shunned by friends and family, Ron struggles to survive. He is tended to by Dr. Eve Saks (Jennifer Garrner). He manages to get AZT, the only drug approved by the Food and Drug Administration (FDA) for testing on humans. However, his health deteriorates from the side effects of AZT. He discovers alternative drugs in Mexico that are much less expensive but not approved by the FDA. The alternative medication helps him. Ron smuggles the drugs into the United States.


Ron meets Rayon (Jared Leto), a transgender woman who is also an AIDS patient. They form an improbable partnership. Rayon helps Ron sell the unapproved drugs, and they form the Dallas Buyers Club. With a growing community of clients and friends, Ron becomes an unlikely crusader. Determined to outlive his death sentence, Ron finds a cause worth fighting for.


Matthew McConaughey delivers a convincing performance as Ron Woodroof. He transforms his physique and loses 47 pounds for the role. McConaughey captures Ron's character as a tough yet charming Texan who refuses to give up. McConaughey disappears into the role which is quite a departure from the bland love interests he has played in a slew of rom-coms. It is an Oscar-worthy performance.


Jared Leto as Rayon is a ray of light. Rayon is an incredible foil to Ron Woodroof. Leto captures the contradictory nature of Rayon, his will to survive and his self-destructive ways, his frailty and his strength, his desire to preserve some glamour and light amidst his tragic circumstances. Leto also lost a huge amount of weight, and it helped him transform into the character of Rayon. From his walk, to his voice and mannerism, Leto brings the fictional character of Rayon to life.


There have been a number of films about AIDS such as Philadelphia, Kids, Rent, and many others. Written by screenwriters Craig Borten and Melissa Wallack, Dallas Buyers Club deals with the problem of finding a viable treatment at a time when the only approved drug was too expensive for most people. The main character, an HIV patient, is by no means a saint. He does whatever it takes, legal or illegal, to survive. He is deeply flawed and yet relatable.


The film covers a lot of ground. It includes medical information and government procedures without being bogged down by them. The film deals with a serious issues yet remains entertaining. The human story shines through.


To cope with the small budget and tight shooting schedule, Director Jean-Marc Vallée decided to shoot without artificial light, with only one camera, and with only a skeletal crew.


The entire movie was shot using available light. Also, Director of Photography Yves Bélanger did not use any camera tripods, dollies, or cranes. The camera was hand-held. As a result, the movie has a documentary feel. Since lights were not used, the actors and the crew could move around the set with more freedom. The director kept the film rolling even after the take to capture the raw and intimate moments. The film has that gritty and authentic quality.


With the help of hair, make-up and wardrobe, the different stages of health/deterioration that Ron and Rayon undergo are shown seamlessly. Robin Matthews and Adruitha Lee won the 2014 Academy Award for Best Make-up and Hairstyling.


The movie does paint a very negative picture of AZT calling it "toxic" and "poison." Even though there is a title card in the end which states that a lowered dosage of AZT combined with other drugs has went on to save millions of lives, the audience might be left with a false impression of AZT. The portrayal of the FDA as fat cats who are pushing the drugs of big pharmaceutical companies without regard for the dying HIV patients is also a bit harsh. It must be noted that Dallas Buyers Club is a biographical drama told from Ron Woodroof's point of view, and not a documentary.


It took a long time for Dallas Buyers Club to be made, but it is a story worth telling.


Dallas Buyers Club will have its regular run in Philippine cinemas starting May 7, 2014.


Ed's Note: The "PEP Review" section carries the views of individual reviewers and does not necessarily reflect the views of the PEP editorial staff.


ADVERTISEMENT - CONTINUE READING BELOW