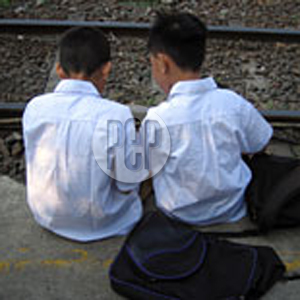 ---
Parang Pelikula follows a young man's return to his neighborhood to attend his childhood playmate's funeral.
This digital short film was part of the official selection in the 29th Louis Vuitton Hawaii International Film Festival—considered to be one of the first Pan-Asian Film Festivals in the world. It also won the Best Screenplay award in the short film category of the 2006 Cinemalaya-Philippine Independent Film Festival held earlier this year.
Parang Pelikula explores the lives of Pilo and Justin, who were childhood buddies while growing up in a middle-class suburb in the early '90s. They go their separate ways when Pilo leaves the neighborhood. Fifteen years later, Pilo returns and attends the wake of his childhood playmate. During the wake, Pilo talks with Justin's mother who tells him about her son's life.
This original Cinemalaya entry was written and directed by Independent Film Group founder Hubert Tibi.
Free admission.
Venue: Parang Pelikula Bar/Thrift Shop 130 Malakas St., Brgy. Central, Diliman, Quezon City
Screening: December 23, 7 PM