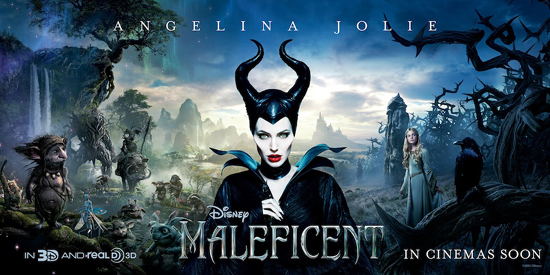 ---
Behind every witch is a jerk that broke her heart, or so they say.
Maleficent is a spin-off based on the original 1959 Disney movie Sleeping Beauty. The classic fairy tale gets a reboot as the film narrates the untold history, and love story, of Sleeping Beauty's villain.
Maleficent shows the backstory of the vindictive villain that led her to curse the King and Queen's only daughter Aurora.


Unveiling the villain's past reveals the reason behind her hatred in the original film. As a result, viewers become more understanding and feel sympathy for the anti-heroine.


Younger viewers might not be able to fully grasp whether Maleficent is truly bad or actually good. The constant battle between balancing light and dark scenes, and Maleficent's shifts between her true nature and vengeful heart, can lead to confusion. But all these conflicts make the movie entertaining to watch.
Although the film is rated PG, kids might also have the tendency to get scared of Maleficent's looks. In fact, it has been widely reported in Hollywood that the reason why Angelina Jolie's daughter, Vivienne, was cast as the young version of Aurora is because other kids were too terrified of her. But Angelina does admit in an interview with Entertainment Weekly that older kids find her costume "cool."
Angelina Jolie's contoured cheekbones, pointed horns, yellow goat-like eyes, and all-black ensemble play a huge part in the film's overall image. Angelina portrays Maleficent with elegance and power. She casts strong evil spells rather gracefully. Her snappy one-liners are also delivered with impact, providing comical relief despite the film's dark tendencies.
Diaval, Maleficent's rather handsome crow-turned-human, is played by actor Sam Rilev. He uplifts the film's serious tone with his constant bickering with Maleficent, while still respecting her as his mistress. The actor maintained the crow's loyal characteristics and cautious personality. Sam Rilev brings Maleficent's faithful messenger to life and in human form, an eye-candy for ladies all throughout the film.
ADVERTISEMENT - CONTINUE READING BELOW
As the spotlight focuses on the vicious, fierce, and dark characters, the story brightens up with the presence of the sweet and bubbly princess. Just like Anna from Frozen, and even Glinda from the musical play Wicked, Aurora is the Disney darling who now supports the improbable lead.
Elle Fanning shows off Aurora's youthful charms, reminding the audience that she (and Aurora) is, after all, just 16 years old. She has a contagious smile that can be considered "fit for a princess."
Maleficent also gives the original Sleeping Beauty characters a bit of a twist. Rather than the usual flat stereotyped characters—where evil is evil and good is good—in Maleficent, the characters are mostly three-dimensional. Innately good characters seek vengeance for injustice and greed can overpower a pure man's heart.
Maleficent caters to loyal Disney fans who want to see the fairytale from a different perspective. The movie also boasts of impressive CGI and top-notch production values as well as an epic fight scene between fairies and mortals.
Robert Stromberg, the award-winning art director of Alice in Wonderland and Avatar, makes his directorial debut via Maleficent. This live-action fantasy film provides a balance between the original Disney story and the Grimm Brothers' gothic feel.
In the end, Disney redefines the meaning of "true love" as it veers away from a plot that relies on a Prince Charming to solve all the problems.


Still, for all its mature themes, Maleficent is still a visually arresting film that appeals to the giddy Disney kid within all of us.


We're either looking for a modern day fairytale, or maybe just a continuation of what happened after "happily ever after."



Ed's Note: The "PEP Review" section carries the views of individual reviewers, and does not necessarily reflect the views of the PEP editorial staff.


ADVERTISEMENT - CONTINUE READING BELOW