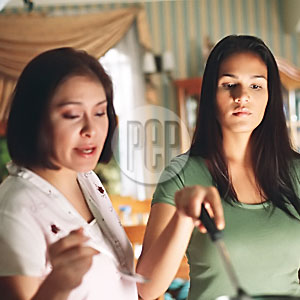 ---
This year's Metro Manila Film Fest-Philippines (MMFF-P) is screening two horror flicks.
With Matakot Ka Sa Karma and Shake, Rattle and Roll 8, Filipinos can look forward to movies that tap forces which seem beyond human comprehension.
Matakot Ka Sa Karma delves into the karmic laws that rule the universe. Penned and directed by Joey Reyes, this three-part movie is the official entry of Canary Films to the MMFF. Actress Gretchen Barretto, who stars in the episode "Kama," makes her comeback to the big screen after nine years.
Direk Joey is also the director of another MMFF-P entry, Kasal, Kasali, Kasalo, which is produced by Star Cinema.
MATAKOT KA SA KARMA
Cast: Gretchen Barretto, Angelica Panganiban, Rica Peralejo, Tanya Garcia, Bianca King, Derek Ramsey, John Wayne Sace, Rafael Rosell, Nash Aguas, and Paul Salas
Writer and Director: Jose Javier Reyes
Production: Canary Films
Plot: This is a horror trilogy "about an antique shop where the pieces of the furniture have their own stories from the past. The new owners get their little piece of horror," says Joey Reyes. In "Kama," Aleli (Gretchen) purchases an antique bed, not realizing that its previous owner is determined to claim her son (Paul). "Aparador" is about a couple (Rica and Derek) who purchase an antique cabinet where a young man many died years back. In "Tokador," an independent single female (Angelica) receives a possessed dresser out to take her soul.
Box-Office Potential: Horror films directed by Joey Reyes in the past three years for MMFF-P—Malikmata (2003), Spirit of the Glass (2004), and Kutob (2005)—reaped positive response from the viewing public, so expectations are high with this fourth one. Add to that the fact that Gretchen, one of the lead stars, has been a controversy magnet lately. The attention she has been getting from the media and the public may work to the movie's advantage.
Awards Prediction: Marvin Agustin won last year for his role in Kutob but he's not in any of the three stories this time. So it's up to the three leading ladies—Gretchen, Rica and Angelica—to match Marvin's feat. The movie might land a slot in the top three best picture winners, with some technical awards, too.
ADVERTISEMENT - CONTINUE READING BELOW
This horror/horror-comedy franchise has been doing so well for the past years that Regal Entertainment has decided to put out yet another installment of Shake, Rattle and Roll (SR&R).
SR&R 8 sticks to the same format that Filipinos have come to expect—a trilogy. This collection of mini-features is directed by three independent directors: Rahyan Carlos, Topel Lee, and Mike Tuviera. They all are young filmmakers who have made their mark in the local scene and are expected to do so in the international arena as well.
SHAKE, RATTLE & ROLL 8
Cast: Bearwin Meily, Keanna Reeves, Roxanne Guinoo, Joseph Bitangcol, Iza Calzado, Sheryl Cruz, TJ Trinidad, Keempee de Leon, Manilyn Reynes, Eugene Domingo, and Cass Ponti
Directors: Rahyan Carlos, Topel Lee and Mike Tuviera
Writers: Edzon Rapisora and Fairlane Raymundo ("13/F"); Iris Saldavia-Aniban Ben Cho and Fairlane Raymundo ("Yaya"); Lorenzo Valdez and Fairlane Raymundo ("LRT").
Production: Regal Entertainment
Plot: Just like the seven previous SR&R franchise, this has three episodes:"13/F," about a children's party held on a "forbidden" floor; "Yaya" is about a naughty kid who discovers that her new nanny is a vampire; and "LRT" is a slash-and-gore story about characters trapped in an LRT coach, where a "halimaw" is out to get them.
Box-Office Potential: Year 2006 has made horror a crowd-drawing movie genre. Considering its cast, the fresh ideas from the directors, and even the special effects--SR&R 8 has a chance of reclaiming its appeal among moviegoers.
Awards Prediction: Except for Herbert Bautista who won as Best Actor in the original SR&R movie way back in 1984, none of the stars who appeared in this horror franchise were recognized by the MMMF-P jurors, but this year should be an exception. Nash Aguas, the boy in the "Yaya" episode is fantastic in the movie, which is also far and away the best of the three episodes.
ADVERTISEMENT - CONTINUE READING BELOW