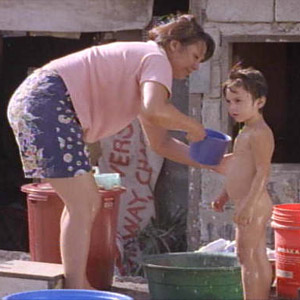 ---

Cherry Pie Picache's portrayal of a foster mother has caughtthe attention of international film critics once again. Brillante "Dante"Mendoza's documentary-style movie Foster Child has won in the Prix de laFiction at the Festival Internationaldu Film d'Environnement 2007 in Paris, France. The said film fest was held fromNovember 21 to 27.
PEP (Philippine Entertainment Portal) received a textmessage from director Dante Mendoza that goes: "Just got back from Belfort IFF[International Film Festival] in Paris." Dantewas attending the Entrevues Film Festival in Belfort, France, when hewas informed by Ad Vitam's programmanager Emmelie Gree that Foster Child bagged the Prize for Fiction fromthe International Environmental Film Festival. This Philippine entry bestedother films from Australia, Spain, Russia, Iran, and Turkey.

Ad Vitam is the French distributor of Foster Child, which was producedby Filipino production company Seiko Films. Starring Cherry Pie Picache andEugene Domingo, this indie film is set for theatrical release in France onFebruary 23, 2008. It will be released under its French title, John John.


This is the third international award of Foster Childafter the Best Actress Award for Cherry Pie in New Delhi and the Special JuryAward in Eurasia (Kazakhstan).

According to Ferdinand Lapuz of Ignatius Films Canada, Foster Child has also been invited tocompete for the Golden Lady Harimaguada award at the Las Palmas InternationalFilm Festival in Spain in February next year.
The Durban International Film Festival has also sentthe official invitation for Dante's movie to compete nextyear. Cherry Pie won the Best Actress Award this year in the samefestival for another Mendoza film, Kaleldo (Summer Heat).
Foster Child is a narrative of the day when a Filipinofamily in the slums has to say goodbye to their three-year-old foster childJohn-John (played by child actor Kier Segundo) because an American couple hascome to adopt him.
TIRADOR. Dante's other film Tirador willbe screened at the Dubai International Film Festival from December 9 to16. The director, together with Kristofer King and Coco Martin, willattend the festival. Dubai IFF writes, "From the Philippines comesthe raw and energetic low-budget Slingshot from major new talentBrillante Mendoza. From an astonishing, breathless opening sequence, policeraid a tenement building in the teeming Manila slum of Quiapo. The storythen follows the inter-locking lives of a wide cross-section of thetenement's residents." It is part of the Cinema of Asia film line upof the DIFF, which was established in December 2004.
ADVERTISEMENT - CONTINUE READING BELOW
From Dubai, Dante will proceed to Morocco where Tirador iscompeting in the Seventh Festival International du Film de Marrakech fromDecember 5 to 17. Tirador will vie for Etoile D'or/Grand Prize, JuryPrize, Best Actor and Actress awards.
Academy Award winner Milos Forman (One Flew Over theCuckoo's Nest and Amadeus) is the jury president. Other members ofthe jury include actor John Hurt, director and actor Shekhar Kapur and actressParker Posey.
Swift Distribution, Tirador's French distributor, ishandling the French festivals of the film. The gritty film about Quiapo hasalso been invited to compete at the Festival Cines del Sur in Granada, Spainnext June. It will also be shown in the Forum section of the BerlinInternational Film Festival in February next year.
Aside from Kristofer and Coco, Tirador's ensemblecast includes Jiro Manio, Nathan Lopez, Nico Taverna, Angela Ruiz, HaroldMontano, with the special participation of Julio Diaz, Simon Ibarra andJaclyn Jose. It is written by Ralston Joel Jover with Armando Lao as creativeconsultant.
The Film Development Council of the Philippines headed byJacky Atienza and the FDCP Festival Committee chaired by Christine Dayrit andexecutive director Lali Suzara is supporting the participation of both films inthe said international film events.
Foster Child and Tirador are representedworldwide by Ignatius Films Canada.