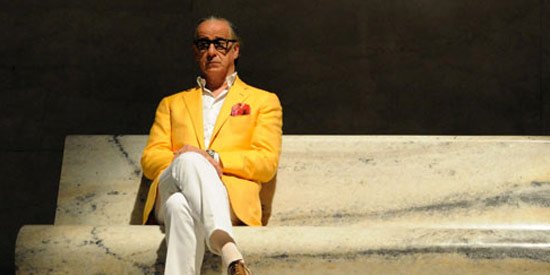 ---
Moviemov: Italian Cinema Now comes back to Manila for the third time to offer the most recent and critically acclaimed Italian films to moviegoers at the Shangri-La Plaza Cineplex from July 23 to 27, 2014.
Heralding this year's impressive lineup is Paolo Sorrentino's La grande belleza (The Great Beauty), which won the Academy Award for Best Foreign Language Film and a BAFTA award earlier this year.
La grande belleza, which chronicles the musings of an aging socialite on his life and the city of Rome, earned great acclaim and is hailed for its "Fellininesque" feel.
MovieMov will also present seven more films that have also won awards and have been featured in this year's festivals, namely Allacciate le cinture (Fasten Your Seatbelts) and Il Capitale Umano (Human Capital) from the Seattle International Film Festival, Sotto una buona stella from the Italian Contemporary Film Festival, Smetto quando voglio (I Can Quit Whenever I Want) from the Shanghai International Film Festival, and Anni felici (Those Happy Years) from the Hong Kong International Film Festival.
ADVERTISEMENT - CONTINUE READING BELOW
Two comedy and drama favorites from the Rome International Film Festival in 2012 and 2013, Benur: un gladiattore in affitto and Il sud è niente (South is Nothing), complete this impressive roster.
Alfonso Tagliaferri, First Secretary and Deputy Head of Mission of the Italian embassy, also called attention to Moviemov's emphasis on charity with the premiere of A tutto Tondo, a short film that marks the directorial debut of Italian actor Andrea Bosca.
"Andrea Bosca came here for the Moviemov last year and he was moved with the situation of the people in Tondo, so he decided to dedicate his first movie as a director to Filipinos," said Dr. Tagliaferri during the press conference held recently.
A tutto Tondo, which tells the story of a young lawyer and a cheerful Filipino family in Rome, is part of the Smokey Mountain Project, a fundraising campaign spearheaded by Bosca.
Moviemov will also pay tribute to Ettore Scola, a master of the Italian cinema, with remastered versions of three of his most popular and awarded films, starting with the comedy Drama della gelosia (The Pizza Triangle). The comedy, which tells the story of a love triangle, earned Scola a Palme d'Or nomination at the Cannes Film Festival in 1970.
ADVERTISEMENT - CONTINUE READING BELOW
The festival will also present C'eravamo tanto amati (We all loved each other so much), which won Scola a Cesar Award for Best Foreign Film. Rounding up the Scola showcase is La Cena (The dinner), a drama which was featured in the Venice Film Festival in 1998.
FREE ENTRANCE.


The schedule of Moviemov is as follows:
July 23
8 PM Allacciate le cinture
July 24
11 AM Il sud è niente
6 PM Allacciate le cinture
7 PM Drama della gelosia
8 PM La grande bellezza
July 25
11 AM Anni felici
4 PM La grande belleza
6:30 PM Il sud è niente
8 PM C'erevamo tanto amati
8:30 PM Sotto una buona stella
July 26
11 AM Sotto una buona stella
12 PM La cena
4 PM Il sud è niente
5 PM Benur: un gladiatore in affito
6:30 PM Smetto quando voglio
8:30 PM A tutto Tondo, Il Capitale Umano
July 27
12 PM Benur: un gladiatore in affito
2 PM Smetto quando voglio
3 PM A tutto Tondo


FREE ENTRANCE.