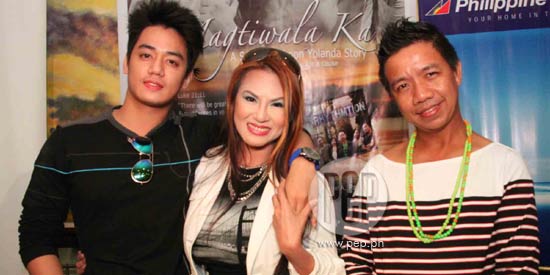 ---
An indie film about typhoon-Yolanda-survivors starring sexy comedienne Keanna Reeves seems incongruous, yet this is the premise of the Joric Raquiza-directed movie: Magtiwala Ka, A Typhoon Yolanda Story.
Made by the same filmmaker who helmed the Glaiza de Castro-starrer Cattleya, An OFW Story, Magtiwala Ka tells the story of Malaya Makatalag (Keanna Reeves) – a mother of two who suffered and survived the devastating effects of super typhoon Yolanda.
Playing Keanna's kids in the movie are actual typhoon Yolanda survivors, Simon and Melay.
Magtiwala Ka also stars Andrea del Rosario, Dr. Manny Calayan and Keanna Reeves' boyfriend Kevin Mercado.
During the film's premiere at St. Francis Theatre, Lourdes School of Mandaluyong last July 14, director Joric, a Samar-resident, tearfully confessed that he has yet to completely move on from the trauma of losing his home to typhoon Yolanda. Despite his loss, he expresses gratitude that all his family members are alive.
His intent for making the movie is to showcase "the courage of being a Filipino."
Choosing Keanna Reeves to be the lead in the movie is a remarkable surprise as she is believably credible in scenes where she is required to express anguish and sorrow at her family's situation.
Her boyfriend, Kevin Mercado, lights up the screen with his youthful appeal and seeming naiveté. He plays one of the Yolanda survivors who lost his mother during the typhoon.
However, the movie suffers from choppy editing, clumsy camera angles, intrusive background music, and in-your-face product placements.

Despite its flaws, the actual footage of storm surges destroying solid cement walls as well as scenes depicting hundreds of dead bodies lined up inside body bags make the movie memorable and chilling.
The lack of scripted dialogue in some scenes forced Keanna to ad-lib in supposed-to-be tender moments between her character and her kids resulting to awkward moments that elicited unintentional laughter from the audience.
ADVERTISEMENT - CONTINUE READING BELOW
In scenes where dialogues were scripted, the lines sounded stilted and unnatural.
Whatever little narrative existed in the film was difficult to follow because dramatic sequences were interspersed (or more appropriately) haphazardly inserted with music videos of the movie's soundtrack.
Scenes were carelessly laid on top of each other resulting to a semi-coherent story.
The grim reality of Yolanda's wrath as experienced by Keanna's character in the early part of the movie appeared incongruent with the surreal quality and contrived conditions shown in the latter half of the film.

It is where she is now seen miraculously successful in so short a time: a glaring disparity with actual situations of Yolanda survivors most of whom are still struggling to move on and some of whom are still reeling from the trauma of the natural calamity.

Though highly likely made with the goal to be aspirational, a few scenes in the second part of the film once again elicited unintentional giggles from the audience.
Magtiwala Ka, A Typhoon Yolanda Story can be considered part fiction, part documentary, part music video, and part commercial endorsements.

For all the movie's noble purpose, its execution was not at par with its good intentions.
Magtiwala Ka, A Yolanda Story is currently showing in theaters.