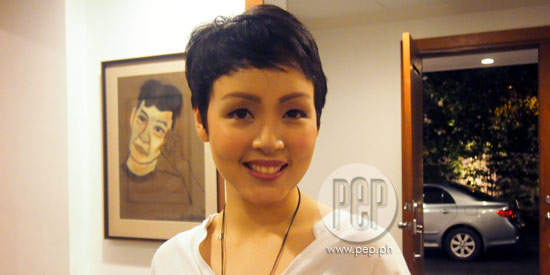 ---
Cris Villonco wears three hats. In theater, she is co-producer of Red Turnip Theater's second season offering, Rabbit Hole, directed by Topper Fabregas.

In film, Cris stars in the Cinemalaya entry, Hari Ng Tondo, directed by Carlitos Siguion-Reyna, from a script by Bibeth Orteza.

On television, she will be part of GMA-7's telefantasya Annasandra that is topbilled by Andrea Torres and Mikael Daez.

Coincidentally, her two productions open on the same weekend. On August 1, the gala evening performance for Rabbit Hole will be held at Whitespace in Makati City. On the same day, Cinemalaya X (now on its 10th year) will have its opening ceremonies at the Cultural Center of the Philippines. Hari ng Tondo is competing in the Directors Showcase category of Cinemalaya this year.
ACTING WITH COUSIN RAFA. In the Cinemalaya entry, Hari Ng Tondo, Cris Villonco works and acts with real-life cousin, Rafa Siguion-Reyna.
"We play cousins in the story. I think it's very natural, the way we relate to each other, because we are first cousins," Cris told PEP (Philippine Entertainment Portal).
ADVERTISEMENT - CONTINUE READING BELOW
"And that's really how we are. We make fun of each other all the time."
Rafa is the eldest son of Carlitos and Bibeth, the director and writer, respectively, of Hari Ng Tondo.
"I'm so excited for Rafa because he has now officially entered this world—this pretty world of show business," she said lightly.
Like cousin Cris, Rafa is being molded into a well-rounded performer in TV, movies, and the stage/theater.
"I think he will be doing straight plays eventually, since appearing in the musical Grease [in 2013].
"This time, it's the movies, but now he's currently doing a teleserye, with GMA," said Cris.


Rafa is currently part of the GMA-7 primetime series Niño.
CINEMALAYA X ENTRY. In Hari ng Tondo, Cris Villonco plays the granddaughter of the male lead character.
She revealed: "I play Anna. She is the granddaughter of Ricardo Villena, portrayed by veteran actor, Robert Arevalo.
ADVERTISEMENT - CONTINUE READING BELOW
"Robert Arevalo loses his money in a series of bad investments and he is forced to sell whatever he can sell, to pay for his debts.
"But one of the things he doesn't want to sell is his land in Tondo.
"He also wants his grandchildren to experience what he went through.
"Of course, everything is different now. What he went through in Tondo 30 years ago is very different from what Tondo is now.
"So, it's also about the way people cope with [change]," she explained.
Also in the cast are: Aiza Seguerra, Rez Cortez, Leo Martinez, Ciara Sotto, Gian Magdangal, Liza Lorena, Lui Manansala, Carlos Canlas, Mark Tayag, Raul Montesa, Jelson Bay, and Hans Eckstein; with the special participation of Eric Quizon, Ali Sotto, and Audie Gemora.


Hari ng Tondo, directed by Carlitos Siguion-Reyna, is an official entry to the 10th Cinemalaya Independent Film Festival.


This Cinemalaya 2014 entry will be screened from August 2 to August 10 in selected venues at the Cultural Center of the Philippines as well as SM Fairview Terraces, Alabang Town Center, Trinoma and Greenbelt Cinema.


(To learn more about the Cinemalaya 2014 entries, CLICK HERE)
ADVERTISEMENT - CONTINUE READING BELOW
DIFFICULT SITUATION. Cris said shooting Hari Ng Tondo, in some parts of Tondo, Manila, proved to be very difficult for the whole production.
"Logistically, it was very hard because we shot in a lot of areas and everything needed to be controlled.
"We really made it a closed set because of the time constraints; it's quite complicated.
"We have a set and an actual place…
"We have Tondo and we also have other areas that resemble Tondo.
"Under time constraints [they filmed the movie in May and June 2014], that's a little difficult," she added.
The production team of Direk Carlitos and Bibeth Orteza had veteran production designer, Joey Luna, take care of the set requirements, including costumes and props, with designated art director, Rolly Carino.
But on the last days of filming, PEP was informed that something had gone wrong. On the very last shooting day, according to Orteza, "Joey Luna didn't report for work, so we decided to take his name out of the credits."
ADVERTISEMENT - CONTINUE READING BELOW
Hence, no one gets credits as production designer of Hari ng Tondo; however, Rolly Carino is credited art director.
When asked about this issue, Cris Villonco was non-committal.


CRIS THE THESPIAN. Rabbit Hole, a play by David Lindsay-Abaire, deals with how family members survive a major loss. Agot Isidro and Michael Williams play a couple in a troubled marriage coping with the loss of their child.

(Read related article: Agot Isidro portrays grief-stricken mother in Rabbit Hole)



Producing a play wasn't solely Cris's idea; her co-producers are Ana Abad Santos, Jenny Jamora, Rem Zamora and director Topper.
"Yes... thank God, I think that we all share the same sentiments, or the same ideas.
"Well, of course, sometimes there are disagreements.
"But at the end of the day, we kind of all agree that this is what we want.
"Even in terms of casting, we allow our director to explore, to do what he wants, or what she wants," said Cris, the latter in reference to Ana Abad Santos, who directed Red Turnip's Closer by Patrick Marber in 2012.
ADVERTISEMENT - CONTINUE READING BELOW
Cris was also in the cast of Closer, along with Bart Guingona, Angel Aquino and Marc Abaya.
Last year, Red Turnip presented the controversial Mike Bartlett play, Cock, which was a hit. It will have a re-run late this year.
On being co-actor and co-producer, Cris said, "I thank God that, you know, for some strange reason, we may not all think alike, but we do come to an agreement."
She has no plans in directing a play. "I have not, and I am not planning to... not right now.
"Topper and Ana... they're more exposed in the world of straight plays and this kind of material…
"I am technically a newbie in this group, in terms of being exposed to that, so I am learning from them," she said.
An award-winning thespian herself, Cris Villonco has won two Philstage Gawad Buhay! awards for her performances in PETA's D' Wonder Twins of Boac (Best Female Featured Performance in 2013), and Tanghalang Pilipino's Noli Me Tangere The Musical (Best Female Lead Performance in a Musical in 2012).
ADVERTISEMENT - CONTINUE READING BELOW