As stellar as a Joel Lamangan film attempting to tackle human trafficking sounds, with the esteemed Nora Aunor playing the protagonist, Hustisya disappoints with an overindulgent treatment of a well-worn theme and acting fueled by a screenplay that knows no subtlety.
The Cinemalaya Director's Showcase entry ­­certainly does not struggle to convey what it means to: human trafficking is ubiquitous today and it is machinated by a powerful syndicate backed by corrupt politicians and police officers, who join forces to exploit poverty. While getting that across is great, Hustisya fails to provide novelty and insight on its subject matter, frustrating its audience with its too obvious, in-your-face juxtaposition of a filthy system and a filthy Manila depleted of morals.
Nora Aunor plays Biring, assistant to top syndicate middle (wo)man Vivian (played by Rosanna Roces).


While running errands for the human trafficking business of Vivian, Biring is not oblivious to the scheme of deceiving young women sold abroad as cybersex slaves. Biring eventually grows a brain, having served the syndicate for years, and becomes an asset to the business, earning the trust and esteem of those around her. She remains loyal to Vivian and continues to turn a blind eye on the evils of her job when she could already walk away from everything at that point where the film opens. But Biring chooses not to so long as she does no harm to anyone and no one does harm to her.
Her reliability and loyalty to Vivian unfortunately does not spare her from the perils of the business, let alone Vivian's treacherous character. Biring is framed up for a murder that she did not commit.

Despite her innocence, Biring is sent to jail where she suffers inside and is manipulated by the crooked lawyer Gerald (Rocco Nacino) to admit to the crime in exchange for her freedom. She submits and does as she is told. She is merited for her obedience and is set free after going through physical abuse in prison. Upon learning, however, of Vivian's betrayal, Biring avenges herself and connives with the syndicate who coincidentally want Vivian booted out.
The films starts out interestingly with Biring running errands, delivering bribes to sketchy characters and accompanying Vivian each time she does a "quality control" check on their new batch of victims before they are trafficked abroad and forced into acts of exploitation. The world-weary Biring has certainly learned to be indifferent, reducing crime as a perfunctory part of her job. She has become part of the normalcy of it all as she trudges the grime of the streets day in, day out. In such a way, Biring's character paves a way for the audience to learn about the works of the system.
It's fascinating to watch Nora Aunor radiate the talent on the big screen up today. She displays perfect restraint and fluidity in playing a character so candid and blunt as Biring, especially during the first half of the film prior to when her character "breaks bad." She manages to crack jokes in the face of the risks entailed by her means of living. She even flashes her middle finger during her mug shot at the police station. She puts on a tough surface in spite of the fears revealed by her eyes. And that's just about the saving grace of Hustisya.
The film's plot and characters feel contrived. For some reason, every street that Biring winds up in, a massacre or some abduction happens to explode, if only to depict the squalor and impoverished state of Manila.

The film utilizes clichéd, hackneyed stereotypes—decadent, corrupt official, sexually-abusive and -abused lesbian inmates, a mama-san with a tacky fashion sense, a crook of a lawyer, a moralistic journalist whose commitment to truth does not see the light of day. All of whom could have left a mark, something striking at least, on its audience but for the lack of sincerity or heart in how they were written they turn out dull, unremarkable characters. That goes without saying that their over-the-top dialogues and pointless exaggerated acting provided unintended humor to the film. Case in point, Chynna Ortaleza's portrayal of the sexually-violated lesbian inmate was an uncomfortable sight on screen; likewise the chase and shooting of Vivian's character delivered a comedy when it aimed to provide suspense or tragedy.
While ambitious, Hustisya attempted to tackle too many things at once, which showed in its abrupt scenes. The transition of Biring from an indifferent although innately good to a bad character was not fluid. While the film makes out that Biring had a choice to leave and start anew or stay and retaliate, Hustisya fails to stress whatever precautionary message it intends to deliver. Instead, it ends the film with a vague scene where Biring walks metaphysically in this hellish street where all crimes happen, which is perhaps symbolic of the fact that there is no more escaping the system. Biring is bound to be eternally damned.
The scene shifts into an even more cringe-inducing one where Biring walks in a function room where apparently her birthday bash is happening. She wears a bright red gown, embellished with diamonds. She seems to be affluent now. The room is filled with gaiety. Everyone is in a celebratory mode and a night of merrymaking. Guests and members of the syndicate, approach Biring to greet her. She is the woman of the hour. From across the room, Atty. Gerald approaches Biring and whispers something in her ear. Biring looks up, laughs and laughs some more. Harder, to the point of tears. She becomes a picture of madness. Freeze frame. The end.
Hustisya (or the lack of it) frustrates in its dated attempt to depict poverty.


Directed by Joel Lamangan, this film is an official entry to the 10th Cinemalaya Independent Film Festival. It will be screened until August 10 in selected cinemas at the Cultural Center of the Philippines as well as SM Fairview Terraces, Alabang Town Center, Trinoma and Greenbelt 3.


(To learn more about the Cinemalaya 2014 entries, CLICK HERE)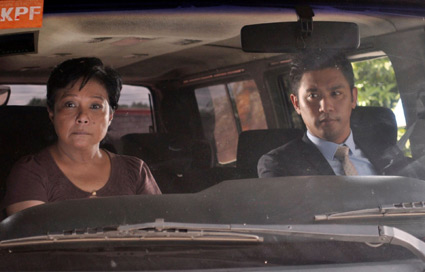 Nora Aunor's character is manipulated by a lawyer portrayed by Rocco Nacino



Ed's Note: The "PEP Review" section carries the views of individual reviewers, and does not necessarily reflect the views of the PEP editorial staff.