One of the films worth watching in the 2014 Cinemalaya Independent Film Festival, Ronda tells the story of a policewoman faced with a difficult decision, which challenges her beliefs as a law enforcer and a mother.
Ronda follows the journey of Paloma (Ai-Ai delas Alas), a policewoman who patrols the streets of Manila at night. She is looking for her teenage son (played by Julian Trono) who has been missing for days. As she searches, she discovers truths about herself and the corrupt system she works in.
The film begins with a scene between Ai-Ai and her partner, played by Carlos Morales, as they patrol the streets.

Manila, with its neon signs and crumbing buildings, seems lonely and abandoned. Nothing much is happening as their police car crawls along the streets. But there is palpable tension in the air. The smog-filled streets, dark corners, and grimy overpasses create a sense of looming fear. There is a distinct feeling that something bad is about to happen.
The scene captures the feeling the viewers get as they watch the movie. On the surface, it seems that nothing much is happening. But there is a mounting dread that things are bound to take a turn for the worst.
Direk Nick Olanka made an interesting casting choice when he cast comedienne extraordinaire Ai-Ai delas Alas in the dramatic role. Ai-Ai plays the part convincingly. She imbues her character with a sense of authority and power. In one particular scene when she beats up a bully who has been harassing her, the audience cheered. Ai-Ai gives a subtle performance that is quite believable. She shows how Paloma is a flawed character who strives to be good nevertheless.
Supporting cast members Julian Trono (who plays Ai-Ai's wayward son), Cesar Montano (Ai-Ai's lover), Carlo Aquino, Angeli Bayani, Perla Bautista and Mon Confiado portray their roles well.
Screenwriters Adolfo Aix Jr. (Presa, Chassis, Kadin), Jerome Zamora (Haruo, Bahay Bata, Karera) and Nick Olanka (Adela, Ang Huling Araw ng Linggo) do a commendable job. Even though Ronda is a drama, there are still funny scenes peppered throughout the movie. Also, the main character is tough and flawed yet she remains sympathetic. Throughout the story, Paloma tries to stay in control. She tries to get her son to come home. She tries to keep her integrity amidst the corrupt police system. She tries to persuade a street urchin to find shelter. But she fails each and every time.
Throughout the film, there are snippets of radio broadcast. The film is set at the time when President Gloria Macapagal-Arroyo was being charged for plunder. Paloma, whose surname is Arroyo, like her namesake, is a woman in power who has lost control. She maintains a strong facade even though her world is crashing around her.
Direk Nick Olanka returns to Cinemalaya eight years after making his full-length Cinemalaya film Ang Huling Araw ng Linggo. He handles the material with a deft hand. His style is unobtrusive. He uses long takes particularly during the scenes where Ai-Ai and her partner are patrolling the streets. You feel as though you are a bystander looking from a safe distance while a fight breaks out. You can take in the whole scene and absorb what you will. You don't feel manipulated into feeling emotions.
He captures a lot of action and activity in a single frame. For instance, there is a scene where Ai-Ai's character is changing her clothes inside a police car while her police buddy, played by Carlos Morales, sits outside and seduces his wife over the phone. The phone conversation is a foreshadowing of the tryst that Paloma later has with her lover portrayed by Cesar Montano. It seems like the scene is just a transition, but there is action and drama beneath the surface. Direk Nick reserves his close-ups for when they are needed. This makes the audience feel as though the story is gradually unfolding.
Director of Photography, Albert Banzon, encapsulates the experience of walking around Binondo and Quiapo at night. The film's milieu, brillantly shown in the scenes, embodies the mysterious and brooding mood of the film.
This movie is a slow burn which is not necessarily a bad thing. But mainstream moviegoers might find the pace a bit slow. Also, the ending is quite abrupt. When Paloma finally finds her son, the movie suddenly ends just as it is starting to get really interesting. It feels as though the characters' emotional journey and the story could have been pushed even further.

Ronda manages to be both relatable and mysterious at the same time. It has all the ingredients of a well-made film, and it is definitely worth watching.

It is one of the ten films competing in the New Breed category of Cinemalaya X.

(To learn more about the Cinemalaya 2014 entries, CLICK HERE)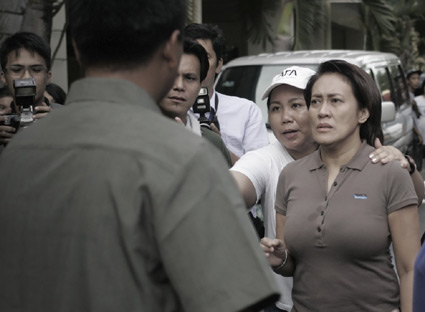 Ronda is a slice-of-life drama revolving around a policewoman (played by Ai-Ai delas Alas, rightmost)



Ed's Note: The "PEP Review" section carries the views of individual reviewers, and does not necessarily reflect the views of the PEP editorial staff.