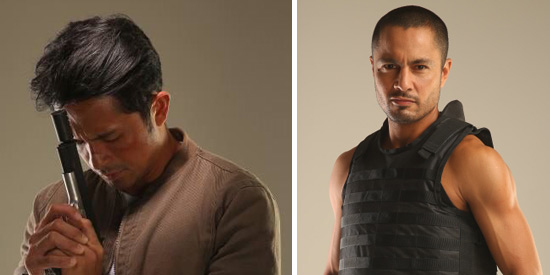 ---
In a world where everybody has claimed their share of wickedness, should justice prevail or is vengeance enough?
This, at least, is the question posed by The Janitor, a police action thriller depicting the seedy underbelly of Philippine law enforcement.
The story revolves around Crisanto Espina (played by Dennis Trillo), a policeman who was dismissed from the service for something he committed in the past. He now serves as a tactical instructor for security guards.

Crisanto remains tight with his former superior, now Laguna police chief, Rudy Manapat (Richard Gomez) who promises to have him reinstated from service once the commotion has passed. One day, Manapat recruits him into a covert operation—with the blessing of higher authorities—to assassinate the alleged perpetrators of a bank robbery that led to the massacre of 10 people.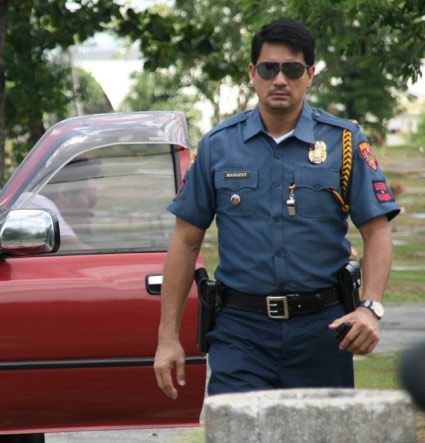 Richard Gomez as Laguna police chief, Rudy Manapat
The Janitor is built around the central theme of purging of undesirable elements: crime, desire, and resentment.
As Crisanto hunts down his targets, all identified by an accomplice placed under police torture, he justifies his mission in the name of justice as the suspects have checkered backgrounds anyway. Later on, he discovers an anomaly in the intelligence report given to him and begins to question the course of his actions.
The allure of The Janitor lies mainly in its strong visual appeal. It is a gorgeously-framed action film possessing all the trappings of pulp fiction, highly romanticized and sexy to boot with a good mix of hard and soft elements.
Also, I've never so far seen a local indie action thriller as beautifully photographed as this one. The camera work is sophisticated and yet the violence is raw. The riveting action scenes display brute force and raw energy unknown in local action films.
The cinematic appeal extends to the other senses as well: the honest sound of a knife piercing the flesh, a balled fist slamming into a torso, a tear falling down the soft curve of a woman's cheek, the sweat on the bodies of a couple feverishly making love.
ADVERTISEMENT - CONTINUE READING BELOW
Beyond its physical beauty, it is a rich, complex movie that never runs out of surprises, with the dark histories of the characters revealed though dialogues and flashbacks in snippets, a trick employed for sure to titillate and intrigue.
Despite the movie's complexity, with so many characters and parallel stories, Director Mike Tuviera displayed excellent control of the elements to make sure that scenes have just the right amount of intensity as the narrative unfolds, transitioning immediately after a seed of terror or doubt has been planted in the viewer's mind.
Each scene stands out like a photograph, complete on its own but never detached from the big picture.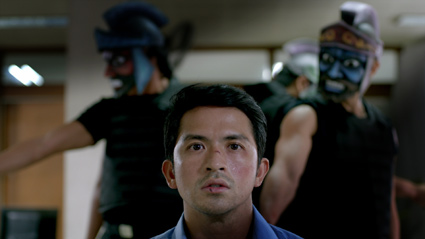 Dennis Trillo as ex-cop Crisanto Espina
I am also very impressed by the overall performance of the cast. Trillo's portrayal of a dual personality for Crisanto is convincing and endearing. I fear for him and want to see him triumph through his ordeals for the sake of his family. Trillo is also one of those actors who do not even have to undress to be perceived as sexy. But I'm glad that in this movie, he did show his ripped muscles as he worked out extensively. This may be his best work yet, the cherry on the top of his body of work, pun intended.
LJ Reyes as Crisanto's supportive wife Melba is a jewel of a leading lady, all at once delicate but strong, a perfect anchor for Crisanto's personal life.
Gomez' police chief Manapat is a veteran cop weary of the system who has accepted the machinations of the force. He is, nonetheless, a compassionate man who offers Crisanto valuable advice for surviving in the force.
"If you want to sleep well tonight, believe in the truth of the intel [intelligence report] that we were given," he tells a doubtful Crisanto.


Raymond Bagatsing, Alex Medina, Jerald Napoles, and Derek Ramsay portray the targets of Crisanto while Nicco Manalo is cast as the tricycle driver tortured by the police.

Dante Rivero plays Crisanto's drunkard father while Irma Adlawan portrays his paralyzed mother.

ADVERTISEMENT - CONTINUE READING BELOW
The Janitor may be viewed as cautionary tale of what happens when the slow wheels of justice are denied motion. At the same time, it invites us to think what the price of vengeance is. Is justice delayed really justice denied? Or is justice fast-tracked in fact injustice?
Despite being such a stylized piece of cop drama, The Janitor is a gem of a film with the potential to launch another action genre. It took a lot of work. But it was worth it.

Directed by Mike Tuviera, this film is an official entry to the Directors Showcase category of Cinemalaya X.


It is being screened at the Cultural Center of the Philippines as well as Ayala Fairview Terraces, Alabang Town Center, Trinoma and Greenbelt 3.


(To learn more about the Cinemalaya 2014 entries, CLICK HERE)




Ed's Note: The "PEP Review" section carries the views of individual reviewers, and does not necessarily reflect the views of the PEP editorial staff.