Hari ng Tondo, Carlos Siguion-Reyna's first film after 14 years, immediately hooks you in with visual ironies that make you wonder and glued in for more.
When aging businessman Ricardo Villena (Robert Arevalo) is told he is bankrupt, we – just like him – find that hard to believe. How could a man perched on one of the soaring skyscrapers in Makati have no money?
When his cold and ruthless son-in-law, played by Eric Quizon, explains the reason why, we believe it and then look to Ricardo as if to ask, now what? For some reason, we immediately care for him despite his seeming stubbornness.
When Ricardo decides to do the unthinkable (at least in the eyes of his adult children played by Ali Sotto and Audie Gemora) and reside again in Tondo with his Forbes-village-sheltered grandchildren Anna (Cris Villonco) and Ricky (Rafa Siguion Reyna) to live in a decrepit building he owns called "Alapaap," the move seems contrived but we don't care. We want to see how it all plays out until the film reaches its satisfying end.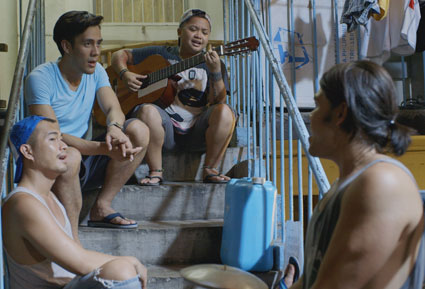 Carlos Canlas, Rafa Siguion-Reyna, Aiza Seguerra, and Mark Tayag


Hari ng Tondo has shades of sitcom humor that is polished and grinded to fit the requirements of the big screen. The usual laugh tracks heard on TV are replaced with authentic laughs from entertained audiences.
The film has its head in the clouds with cheesy lines and scenes that, with a little nudge, border on being musicals; but it remarkably also has its feet on the ground with in-your-face honesty and distinctly Pinoy humor that is cruel and tender all at the same time.
When Ciara Sotto's character becomes a battered girlfriend and beaten blue by her live-in partner, she is taken to the police station by Anna and a slew of next-door neighbors who help her file a police blotter. Unfortunately, Anna doesn't want to talk. Fortunately, someone does it for her – a man with a cleft palate (Lorenz Martinez) who passionately explains, despite his speech impediment, the specifics of what happened. If Vic Sotto were in the movie, it is easy to imagine him smacking the man on the head with a rolled-up newspaper.
Dark elements of Pinoy reality such as pagpag (trashed food that is re-heated and re-purposed to be eaten anew), the physically abused woman next door, poverty (the usual staples of indie movies) are perfectly balanced with the light and bright side of life, which is also a reality.
When a fire breaks out in the building and the tenement building Alapaap almost goes up in flames, the shocked and traumatized residents are taken to the nearest hospital. But Aiza Seguerra and company break out into a soft rendition of Mike Villegas' "Sige Lang ng Sige." Though a bit awkward and forced, it doesn't feel off at all.
Although there are narrative gaps that seem to be there just to get the plot flowing but they are easy to overlook because of the technical prowess displayed in telling the story.
The main characters in the movie are all believable and real. They are as alive and relatable as their real life Pinoy societal counterparts.
Robert Arevalo's solo scene of him crying to the heavens in regret for his sins against Tondo is affecting and moving.
Aiza Seguerra is spot on as a lesbian "tambay" who sings her way through life.
Ciara Sotto's nuanced delivery of a quiet battered girlfriend calls attention for arousing sympathy, not pity.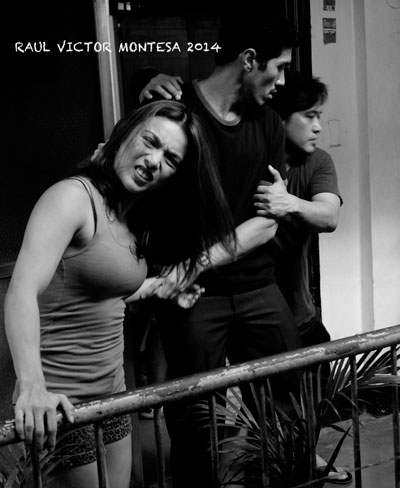 (L-R) Ciara Sotto, Gian Magdangal and Lorenz Martinez


After watching Hari ng Tondo, there is a tendency for you to feel full, light and almost giddy. Carlos Siguion-Reyna as a first time digital director should make another film, and another, and another because he must and should.

Written by Bibeth Orteza and directed by Carlos Siguion-Reyna, Hari ng Tondo is an official entry to the Directors Showcase category of Cinemalaya X.
It is being screened at the Cultural Center of the Philippines, Trinoma, Greenbelt 3, Ayala Fairview Terraces, and Alabang Town Center.

(To learn more about the Cinemalaya 2014 entries, CLICK HERE)



Ed's Note: The "PEP Review" section carries the views of individual reviewers, and does not necessarily reflect the views of the PEP editorial staff.