"Shoot na tayo!"
Julia Barretto sashays into the studio in a green round neck T-shirt and gray flared pants with side bottom edge ruffles, her blow-dryed hair swept by the wind created when the curtains were drawn, signaling her and her team's arrival.
The Between Maybes lead actress is flashing a huge smile on her face, her voice sounding saccharine, but underneath the barely-there makeup and perfectly-styled hair, she was tired.
At the time of her PEP.ph (Philippine Entertainment Portal) Main Attraction photo shoot, Julia was in the middle of the promotional tour—facing the press, accommodating bloggers, vloggers, and other members of mainstream and digital media—for her first movie and experimental pairing with fellow ABS-CBN and Star Magic artist Gerald Anderson.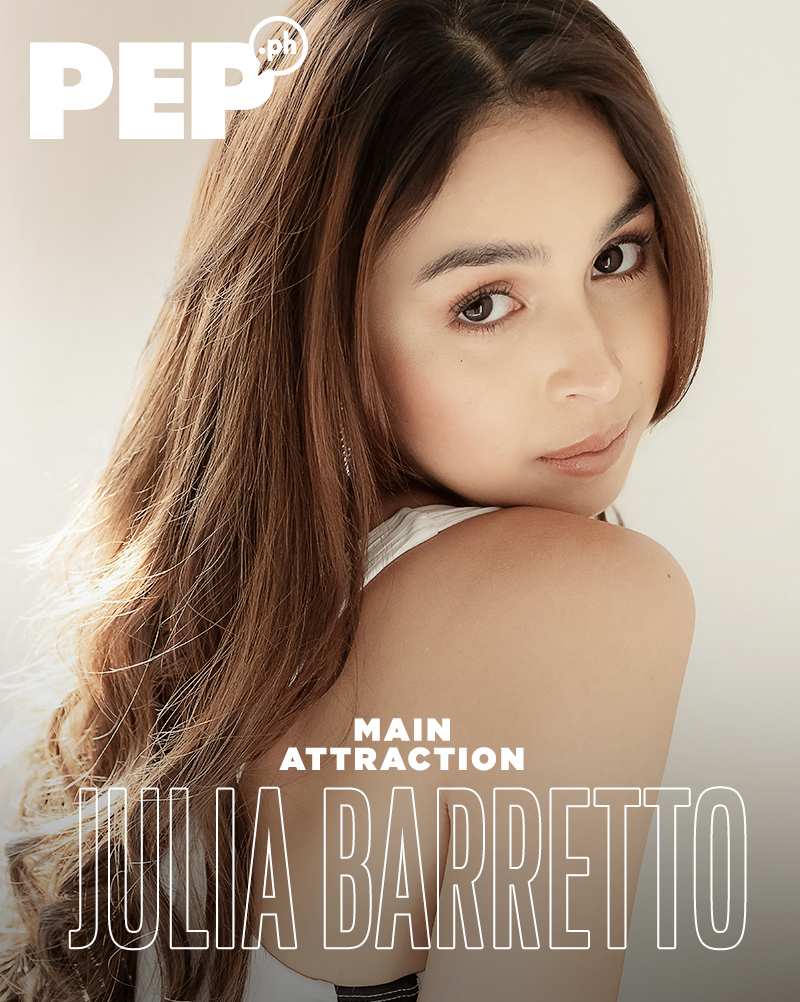 But the 22-year-old actress was raring to go to work, never mind that her morning was almost ruined by a news item's headline.
"Choose your battles," we hear her say.
The photo shoot proceeds with nary a glitch, Julia facing the lens of photographer Shaira Luna as if it was just a smartphone she had been keeping in her back pocket for her picture-perfect selfies.
Clad in a slinky nude spaghetti-strapped slip dress, sitting on the floor barefoot and pouring out emotions without saying a word, one may think that Julia the famous actress is as effortless as they come.
But a loyal fan and showbiz observer can tell you otherwise.
Julia, like gold forged in fire, has come a long way from the young child actress who was just the daughter of Marjorie Barretto and Dennis Padilla.
Julia—survivor, adapter, soldier, warrior—has finally come to her own.
In the course of our interview, the young actress tells us about how her life's culminating events helped mold her into the person she is today.
Sitting on her make-up chair after the shoot, we tell her Between Maybes seemed like a breath of fresh air, starting from the trailer: with its quiet mise en scènes, sans dialogue, voice-overs, not even a premise.
"I was so happy with how it came out because that's what we were aiming for," Julia said about the trailer of their movie that is now being screened in cinemas. "Just the quietness and the peace and the zen, the zen vibe from Japan.
"We wanted to, we wanted the trailer to translate that."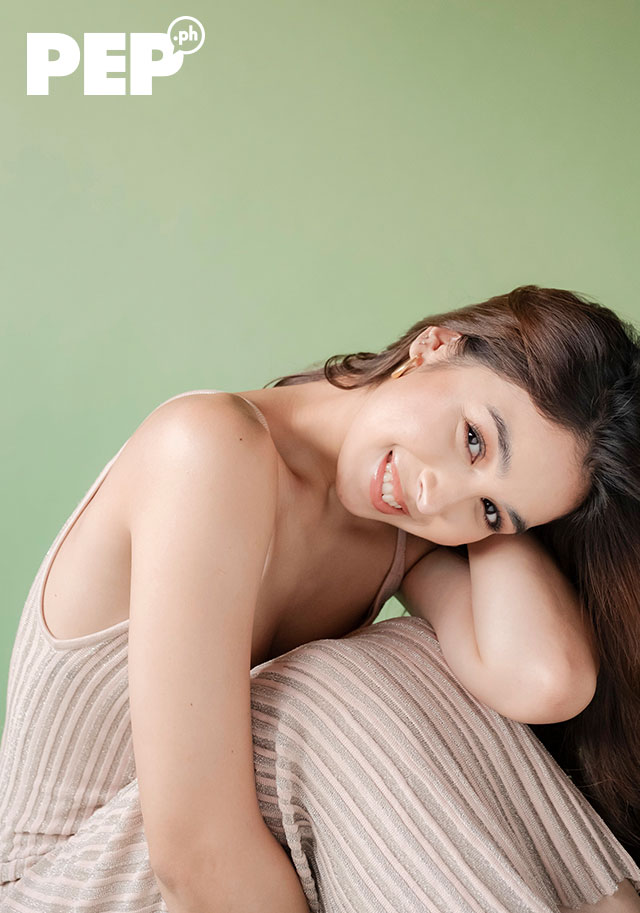 SHOOTING BETWEEN MAYBES IN SAGA, JAPAN
In Between Maybes, Julia plays Hazel, a once-popular child star struggling to get back to stardom, and grappling with having a stage mother of a mom.
Overwhelmed and nowhere to go, she ditches a scheduled audition, takes a random flight, and hops on the plane that landed in Japan, only to get lost anyway.
She ends up in a restaurant where Louie, played by Gerald Anderson, works.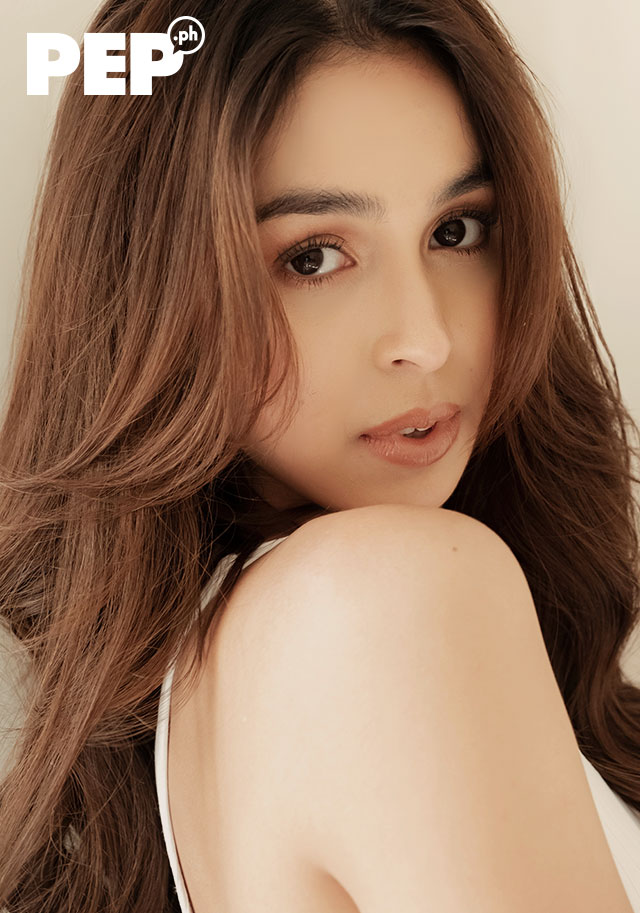 We ask her what she thought when she got offered the project, which separated her from her real- and reel-life sweetheart Joshua Garcia.
Julia answered, "I knew definitely I had to do it and I wasn't gonna allow anybody to, uhm, take that away from me."
She adds with a giggle, "I wasn't gonna let that slip away, so I said yes and I did everything that I could, just so I had time to do the film."
Like many leading ladies before her, Julia went with leading man Gerald and the film's director Jason Paul Laxamana, to a foreign land with a bare-bones crew to shoot this latest offering of Black Sheep, a Star Cinema subsidiary that targets hugot-loving millennials.
Asked about her memorable experiences with Gerald and Direk Jason Paul in the Land of the Rising Sun, Julia notes: "Every day was a fun shooting day with the both of them.
"They were such good energy to have around, and such passionate artists, so it was inspiring, encouraging and it was... it was a great experience with them."
The small cast and crew shot in the Saga Prefecture, and Julia says they had the best time.
"It was light! You know, people would expect that it would be heavy and hard but it was so light that it couldn't be felt like we're little.
"And we were moving faster when we were in Japan, with only twenty-plus people, and we moved faster there than when we started shooting here with a hundred-plus people."
Julia says they spent two weeks in Japan, before they went back to Manila to shoot the rest of Between Maybes in three days.
JULIA BARRETTO ON CHOOSING YOUR BATTLES
Julia made a discovery while shooting the film.
After being in the spotlight most of her life, the young actress has made it a point to trudge on and persevere, not minding the bashers whenever she could.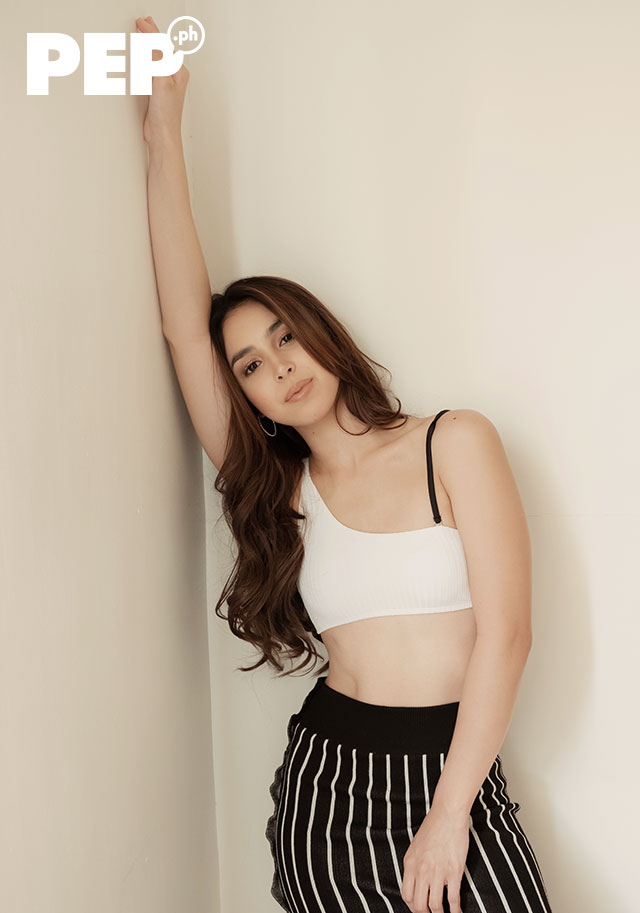 When her mood does get affected by them, she gets thrown accusations left and right.
Her Barretto surname could also oftentimes work against her, being a daughter, niece, sister, and granddaughter of empowered, liberal, and at times, feisty women.
But now, Julia says she has mastered the art of paying the non-entities no mind, especially in this day and age of social media trolls.
She narrates, "You really have to preserve yourself and your energy, and you choose where you're gonna put out your energy, right?
"And I had to learn that the hard way, I learned it later on in life.
"And I had to be reminded by my Mom that—to choose your battles because not every battle, you're supposed to fight, di ba? Some battles, you just have to surrender and let it be."
The embattled actress adds:
"But you would know that to yourself. It takes a lot of courage and it takes a lot of," and here Julia sighs with an almost surrender before saying with a grin, "patience."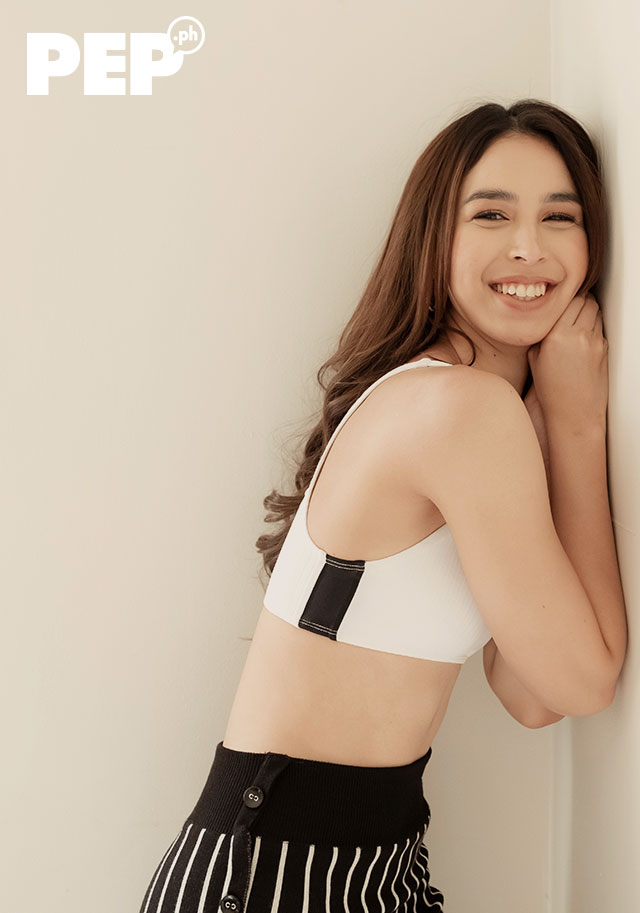 In a separate interview talking about Between Maybes, Julia mentioned having had a sort of epiphany while shooting the film.
After going through so much in climbing the ladder of stardom, now Julia has realized a lot not just about the industry, her colleagues, and the fans, but most importantly, about herself and who she is.
Asked if she can pinpoint the exact moment during filming when she felt this, she answers:
"There's never an exact moment.
"It's just the feeling that you get. There's no... it's like when you fall in love.
"There's no exact moment that you... there's no exact moment na you know na you fell in love."
She adds, "It's like you just know it to yourself, and you can feel it in your heart, di ba?"
JULIA'S BAPTISM OF FIRE
Still in reference to her earlier answers in our interview, we tell Julia she has survived a lot for someone who came into the showbiz world with so much pressure on her shoulders.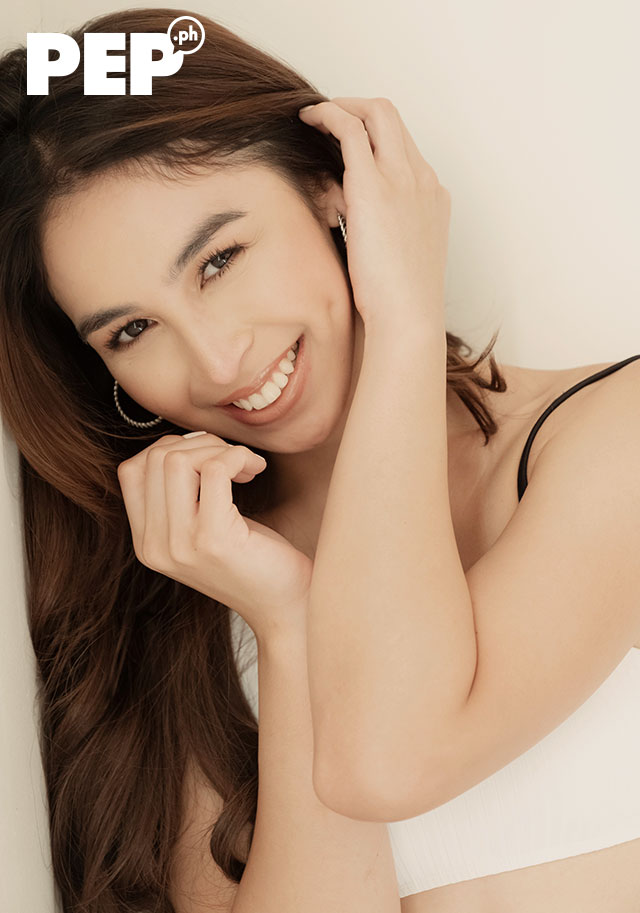 As she said, she has come out of her baptism of fire, and has learned to better herself because of it.
Displaying a sense of maturity, she reflects, "Yeah, but then it's not like that's the last time it's gonna happen in life.
"Fire's gonna keep... It's gonna try burn you all the time. What you have to do is to not let it burn you but you always have to come out stronger and better, and you don't let it burn you, di ba?
"You kind of just cross it. Di ba, but when you cross that fire, you'll have some wounds, you'll have some pain, but then you'll always come out stronger and better, di ba?"
JULIA'S SANCTUARY IS HER FAMILY
In dissecting her characters in her previous movies, the audience has seen Julia grow as an actress.
From doing teeny-bopper and small roles, to having a strong box-office pull as one-half of the JoshLia tandem (Vince and Kath and James, Unexpectedly Yours), to tackling roles that were not stereotypical (Love You to the Stars and Back; I Love You, Hater), one could say Julia has slowly earned her keep.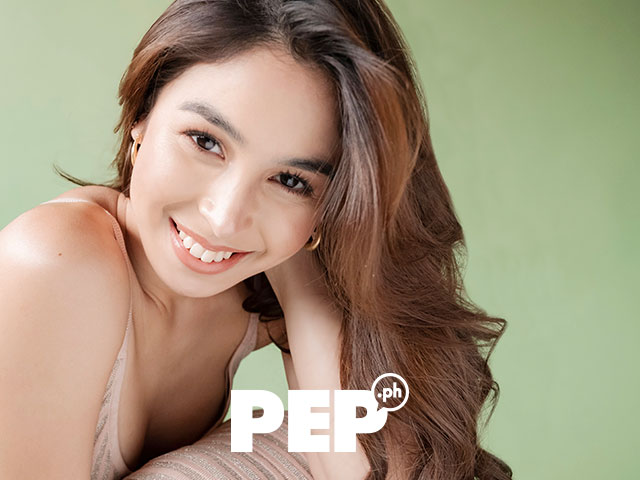 In the movies, as in her real life, Julia makes it look so effortless.
She also speaks eloquently, like a woman wise beyond her years.
But she confesses, when she feels vulnerable, she still runs to the refuge of her family.
"My family talaga. Because sa kanila ako comfortable to show my vulnerable side, which is very rare that I feel like that... because parang, it's my family."
It is often said that the young ones are those who often display the strength and vitality we all wish to get back, and to her credit, Julia knows this too.
Having been through so much while still so young, and knowing that this stage of her career is nowhere near the end, Julia Barretto knows to land on her feet and keep them squarely on the ground.
And like a true princess warrior, she takes whatever stone is thrown her way and uses it to build, not just an armor, but her own fort.
She ends with a golden nugget of wisdom:
"I feel like every person has their... every, each person, they have their strengths.
"It comes with experience I guess; it comes with what you went through.
"It doesn't come from age, it comes from whatever trial you went through."
Q&A WITH JULIA BARRETTO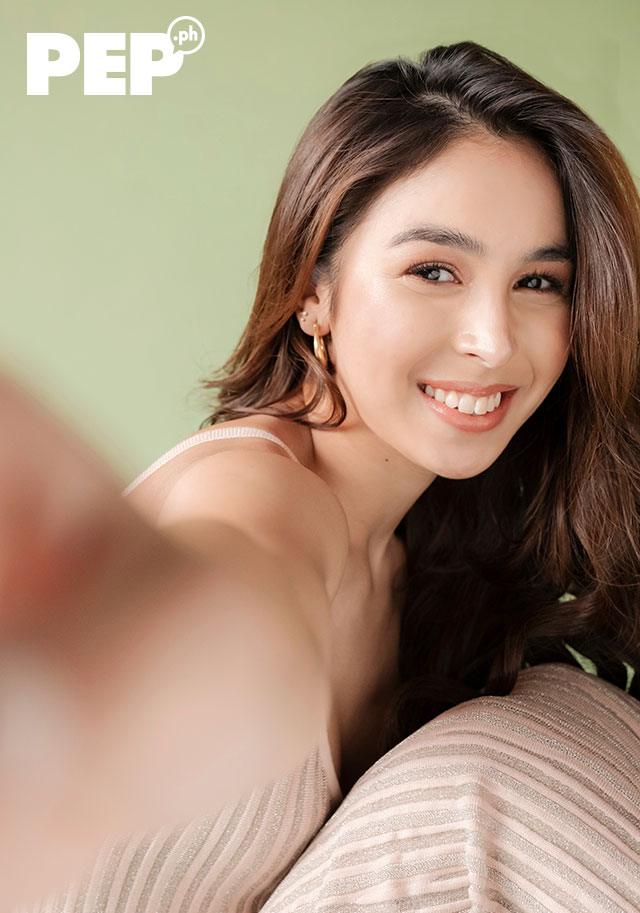 PEP.ph: When you travel, what are your necessities?
Julia: My passport, my shades, my earphones, my lip balm, my curl lash, and, di ba, a camera and money.
PEP.ph: Are you a planner or are you more of a spontaneous traveler?
Julia: Spontaneous.
PEP.ph: How do you choose where to go? Your Latin America trip was epic.
Julia: I have a travel agency to do that for me kasi I was too busy. I planned that trip days before I left. It was only finalized two days before I left.... Everything: Mexico, Peru, Cuba. [giggles] All of that, just two days before my trip.
PEP.ph: But how do you decide na, "I'll go to this part of the world"?
Julia: My travel agency.
PEP.ph: Ah, they suggest it?
Julia: Oo.
PEP.ph: Okay. What's in your beauty kit right now?
Julia: Uhm, concealer, blush, and eyelash curler.
PEP.ph: When going out, what are your makeup essentials? Like when going to a party, or to an event.
Julia: That's it. I don't do heavy make up.
PEP.ph: How about your fashion, your style? How do you describe it now.
Julia: It depends on my mood talaga.
PEP.ph: You've talked about deciding on your own and having the power to decide yourself. What can you advise your fans, the people who admire you, even the older ones, about self-empowerment?
Julia: Have confidence in yourself. Have faith in yourself and stand firm on what you believe and don't be easily bent by other people who really don't know what's in your heart and in your mind... and just knowing what you deserve and fighting for what you deserve.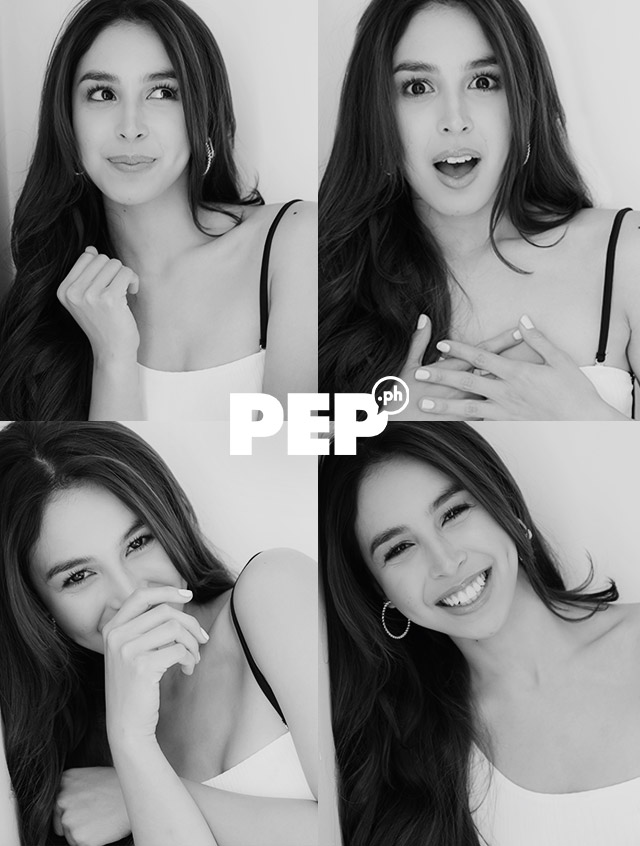 PHOTOGRAPHER: Shaira Luna
SHOOT PRODUCERS: James Patrick Anarcon and Rommel Llanes
CREATIVE DIRECTOR: Jeremiah Idanan
STYLIST: Cath Sobrevega
MAKE-UP ARTIST: Kaye Misajon
HAIRSTYLIST: RJ Dela Cruz
INTERVIEW BY: Romy Cruz, James Patrick Anarcon
VIDEO PRODUCERS: Sam Navalta, Pam Carlota, Zoe del Rosario
Special Thanks to AC Sales and James Banaag of ABS-CBN Films' Black Sheep