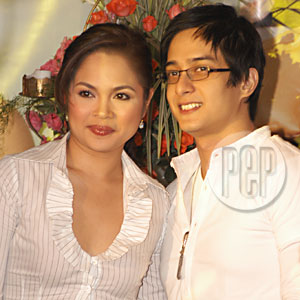 ---
Kasal, Kasali, Kasalo banks on the onscreen chemistry of reel and real-life couple Judy Ann Santos and Ryan Agoncillo. Fans of these two lovebirds will be thrilled to see their idols finally get "married" on the big screen—plus they get a sneak peek into the intimate moments of the "newly wed" couple.
In addition, most Filipinos can relate to the dilemma of having meddlesome in-laws and well-meaning-but-omnipresent friends and relatives.
KASAL, KASALI, KASALO
Cast: Judy Ann Santos, Ryan Agoncillo, Gloria Diaz, Gina Pareño, and Ariel Ureta
Writer & Director: Jose Javier Reyes
Studio: Star Cinema
Plot: Angie (Judy Ann) and Jed (Ryan) are two people most unlikely to fall in love with each other. She is a no-nonsense provincial girl turned producer, while he is a laid-back rich bachelor. When his parents force him to migrate to the U.S., Jed does the unimaginable—he proposes to Angie, whom he has known less than half a year. Hasty wedding preparations and the conflicts between their families after that almost drive them crazy. This is when Jed and Angie realize that married life isn't just "happily ever after."
Box-Office Potential: Although this a kilig movie, the tandem of real-life sweethearts Juday and Ryan has yet to prove its box-office power. We predict though that it will land in the top 5 spot.
Awards Prediction: This is lightweight compared to Juday's heavy drama films, but should be no less important. The young superstar does a great job: she plays it just right, neither campy nor understated; she has great lines that she delivers with pitch-perfect timing; and she manages to make herself simpatica even when she's being pushy. She should one of the frontrunners for the best actress award. Also, this genre is very much the turf of the film's writer-director, Joey Reyes, so it's pretty sure to be in the running for major awards, particularly the scriptwriting and editing awards.
ADVERTISEMENT - CONTINUE READING BELOW
PEP reviews Kasal, Kasali, Kasalo
When all PEP (Philippine Entertainment Portal) writers were asked to review at least one MMFF film each, I wanted to get first dibs on Direk Joey Reyes's Kasal, Kasali, Kasalo. I'm such a sucker for romantic comedies. Besides, the only Judy Ann Santos movies I haven't watched are some of the Juday-Wowee headliners.
Tuesday afternoon, I called up my boyfriend Jan, and asked him to go to Gateway Cineplex with me. I guess it's right to say that most guys would say "No," but clear threats did the trick. Obviously, I should have a "Ryan" while watching Juday!
We arrived at the mall at around 4 p.m. Much to my amazement, all tickets were sold out! The earliest screening available was 9 p.m. at the Globe Platinum Cinema, which is equipped with Lazy Boys and unlimited popcorn, going for P350 per head. I knew I shouldn't have said the tickets were on me.
After five hours of shopping and roaming around, those comfortable chairs sure came in handy.
The Plot. Juday plays Angie, a headstrong workaholic news segment producer from a middle-class family. As most romantic Filipino films go, Ryan Agoncillo will obviously play a rich pampered Mama's boy named Jed, who doesn't really seem to have a goal in life.
The two quickly fall in love and decide to get married. Their langit at lupa backgrounds cause conflicts between Angie's unpolished broken family and Jed's sophisticated brood. Tension multiplies when husband-seductress Mariel, played by Juliana Palermo, comes in the picture.
Will they or won't they survive their family, and much more themselves?
The verdict. Juday delivers without fail, while Ryan gives a convincing performance. Gina Pareño is my best bet for Best Supporting Actress for her portrayal of Angie's mom cum "politicians."
Although I thoroughly enjoyed the film, I think the movie trailer gave away too much of the plot. The highlights were all laid out there, so as a moviegoer, you simply wait for the scenes to happen and await the conclusion.
ADVERTISEMENT - CONTINUE READING BELOW
I must say the story appeals to me as more of comedy than romance. There aren't as many kilig moments as I'd want the film to have. In essence, it lacks emotional investment from the moviegoer because, for instance, it doesn't make you want to pull Juliana's eyes out for trying to steal Ryan.
There is something lacking in Juday and Ryan's on-screen chemistry. Or maybe I'm just partial to the Judy Ann Santos and Piolo Pascual tandem?
I also can't help but notice Juday's wardrobe. Pretty as her outfits may be, the greens, whites, and yellows keep on reminding me of her Fitrum commercial. Maybe it's just my subconscious kicking in.
In the tradition of May Minamahal [a Joey Reyes blockbuster hit in 1993], overall, Kasal, Kasali, Kasalo is without a doubt a simple, entertaining, feel-good Pinoy chick flick.