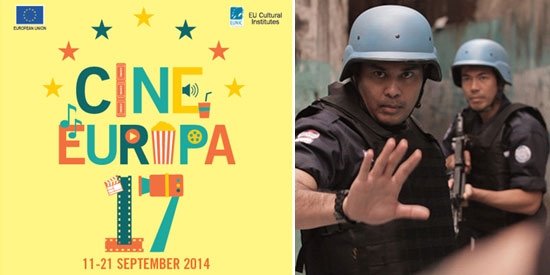 ---
For its 17th year, the annual Cine Europa celebrates the essence of family with 23 films from 17 countries at the Shangri-La Plaza from September 11 to 21, 2014.
Filmgoers can look forward to heartwarming selections from Denmark, France, the Netherlands, Spain, Germany, Italy, Switzerland, Hungary, Norway, Romania, Austria, Belgium, Sweden, Slovakia, Czech Republic, the United Kingdom, and Bulgaria.
Dr. Julian Vassallo, Political Conselor of the European Union Delegation in the Philippines, talked about family ties in Europe and its links to Filipino culture in an interview with the press last September 2.
"Some say there has been a weakening of the European family, but after watching some of these movies, I'm not so sure. What remains that there are still strong bonds, like in the Philippines, as our families are still the people we turn to in the toughest times," Vassallo said.
Filmmaker Ida Anita Del Mundo, who made her directorial debut at the Cinemalaya this year, also shared her insights about the festival and similar Filipino films about families.
"The concept of family is as universal as concept of love. Some of the best films are about families who have been broken apart, and people who would do anything to keep their families together," said Del Mundo, the director of K'na: The Dreamweaver.
The festival opens on September 11 with Romania's Child's Pose, a film about an affluent woman's efforts to keep her son, who is charged with manslaughter, out of prison. On the same day, Hungary's Thorn Castle, a drama about the friendship of two boys,and Norway's Vegas, which shows a different kind of family, will also be shown.
A selection of dramatic greats also awaits moviegoers, starting off with Bulgaria's Journey to Jerusalem, which tells the story of two Jewish kids who fly away from Nazi Germany in the early 1940s. In Broken Glass Park from Germany, a young woman is out to avenge the death of her mother in the hands of her stepfather who is portrayed by the media as a remorseful sinner and reformed man.
ADVERTISEMENT - CONTINUE READING BELOW
The festival is also featuring Metro Manila, which was chosen as the British entry to the 2014 Academy Awards for Best Foreign Language Film. The film, which stars Jake Ramirez, John Arcilla, and Althea Vega, tells the story of how a man and his family leave their impoverished but simple life in the province in search of fortune in the cruel streets of the city.
Home from Home, a four-hour black and white film from Germany, in the meantime, shows the life of a young man and his dream of immigrating to South America. Displacement is also the premise of Chinese Puzzle from France, as it tells the story of a man who decides to follow his estranged wife and children to New York. The film, which stars acclaimed French actors Romain Duris and Audrey Tautou, is the third film in Cédric Klapisch's Spanish Apartment trilogy.
The impact of drastic changes also runs deep in some of this year's selections. The Godmother from Romania takes off when an American mother and wife, who has a brilliant teaching career in Bucharest, finds herself in the middle of a real gangster story, forcing her to form her own family mafia to fight off her family's enemies. The same rings true for Denmark's The Hunt, which is a stirring account of how one small lie changed a man's life. The film was nominated in the 2014 Academy Awards for Best Foreign Language Film. Meanwhile, Lóve from Slovakia promises to be a gripping action drama, as it reveals the tale of a man who is keen on shedding his criminal past in order to live a normal life with the woman he loves.
Loss is the theme of Italy's A Second Childhood, which shows how a couple copes when one of them is discovered to have memory loss. Bon Voyage from the Netherlands, meanwhile, examines the impending sense of loss experienced by a family whose patriarch is diagnosed to be seriously ill.
ADVERTISEMENT - CONTINUE READING BELOW
Children also take center stage in dramas such as Sister from Switzerland, where the kid partners with a British crook in an effort to provide for himself and his unreliable older sister. In Sweden's Ice Dragon, an 11-year-old boy sets off on an adventure as he flees his alcoholic father and brother.
For filmgoers who are looking for more light-hearted fare, the festival offers Belgium's Everybody Famous, an amusing account of how a father devises a plan so his daughter, who lacks musical talent, can become the next big star. There is also Czech Republic's Identity Card, which tells of the adventures of four students growing up in communist Czechoslovakia and how their creative and independent souls make them a counterpoint to their country's totalitarian conventions.
Italy also offers a comedy with Scialla!, a film about a melancholy professor who discovers that the rebellious teenager he is tutoring is actually his son. The fun continues with The Netherlands' Mister Twister – Class of Fun, which shows a young substitute teacher's unique teaching antics.
Something sweet awaits film buffs in Austria's Two-Seater-Rocket, which tells of Manuel's great efforts to build best friend Mia's childhood dream to win her heart.
A gathering of Spain's most stellar male actors, A Gun in Each Hand is a musical film that shows eight confused and perplexed men in their forties who have to deal with identity crisis. Another Spanish film is the delightful animated feature The Missing Lynx, which follows a bunch of animals as they set off to save their fellows from being kidnapped and used in experiments.
Switzerland offers another gem with Planet Ocean, a documentary about marine life, to complete this year's roster. The work of the world's best researchers, oceanographers, and biologists, the documentary vividly transports viewers to the deepest, most wondrous parts of the Earth.
ADVERTISEMENT - CONTINUE READING BELOW


FILIPINO MOVIES IN THE LINEUP. Family is also the focus of distinguished Filipino films which were handpicked for special screenings in this year's festival.

On September 12, award-winning films Magnifico and Ang Pagdadalaga ni Maximo Oliveros will be shown at the Premier Theater of the Shang Cineplex at 2 pm and 4 pm, respectively. Lav Diaz's critically acclaimed Norte: Hangganan ng Kasaysayan will also be screened on September 20. The four-hour film will be screened starting 3:30 pm.
Cine Europa will also provide an avenue for educational discussions with a forum on Film Appreciation with producer and educator Alemberg Ang on September 12. Alem is best known as the producer of Cinemalaya entries Ang Sayaw ng Dalawang Kaliwang Paa (2011) and Debosyon (2013).

There is also a forum for Filipino filmmakers with the EU's cultural officers from Spain, Italy, and France on September 20.
All films are subtitled and will be shown for free at Cinema 2 of the Shang Cineplex from September 11 to 21.
The festival will also move to eight other cities: Baguio City's FDCP Cinematheque from September 23 to 28, Iloilo City Cinematheque from September 30 to October 5, and Ayala Center Cinemas in Cebu from October 10 to 12. For the first time, the Visayas leg will also be extended to Leyte from October 16 to 19, and Tacloban from October 21 to 26.
In Mindanao, Cinematheque Davao City will host the festival from October 28 to November 2, and will move to Cinematheque in Zamboanga City from November 4 to 9 before concluding at Liceo de Cagayan University in Cagayan de Oro from November 13 to 16.