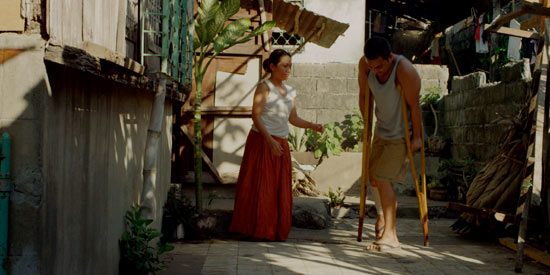 ---

The most celebrated Filipino film of the year finally opens in Philippine theatres this Wednesday, September 10. Since its world premiere at the Cannes Film Festival, Norte, Hangganan Ng Kasaysayan by Lav Diaz has not only been the toast of international film festivals, it has had successful commercial runs in the U.S. and the U.K. and soon in France and Germany.

Critics and moviegoers are united in their praise for Norte, which was named one of the year's top 10 films in the world by the venerable Sight and Sound magazine. It has been named Best Picture by the Philippine critics' circle, the Gawad Urian.

Norte is the story of a man wrongly jailed for murder while the real killer roams free. The murderer is an intellectual frustrated by the cycle of corruption and complacency in our history; the convict is a simple man who only wants a better life for his family. The free man is trapped by his guilt; the imprisoned man finds a mysterious kind of grace. Written by Rody Vera and Lav Diaz, Norte stars Sid Lucero, Archie Alemania, and Angeli Bayani, winner of the Gawad Urian Best Actress award.

Lav Diaz has long been known to the world's cinephiles, but due to the daunting length of his films, local screenings have been limited. Norte is the perfect gateway to this filmmaker's work: not only is it his most accessible film, but at four hours and 10 minutes, it is one of the shortest.

Critic Jonathan Romney of Film Comment noted that "Norte doesn't feel long in the least: with its narrative economy, clarity, and gently purposeful forward drive, the film is as streamlined and as watchable as any contemporary mainstream narrative, if not more so."

The Pulitzer Prize-winning film critic Wesley Morris hailed it as a masterpiece: "I stood with tears in my eyes, and clapped as loudly as I ever have for any movie in my life."

See this epic reimagining of Crime and Punishment on local screens. Norte, Hangganan ng Kasaysayan is showing with English subtitles from September 10-16 at Glorietta 4 in Ayala Center, Makati; at Trinoma in Quezon City; at Greenhills Theater Mall; and at Robinsons Galleria in Ortigas; and Robinsons Metro East in Cainta.
ADVERTISEMENT - CONTINUE READING BELOW