It has been three years since GMA Films, now known as GMA Pictures, has produced the AlDub blockbuster, Imagine You and Me, which was actually a co-production venture with APT Entertainment and M-Zet Productions.
Despite its success at the box office, it would take three years before GMA announced its next big screen offering. And from the looks of it, the Kapuso network has pulled out all the stops in ensuring that Family History, the production company's comeback film, comes with all the expected bells and whistles.
Not only is it written and directed by one of its biggest stars, actor-comedian Michael V., the film is also headlined by veteran actress Dawn Zulueta along with two of the network's rising young stars: Miguel Tanfelix and Bianca Umali. And there are cameos by GMA top guns Dingdong Dantes and Eugene Domingo.
So do all of these ingredients add up to a worthy comeback? Let's see.
In Family History, Michael V. or simply Bitoy plays Alex, a hotshot animator who despite his old school ways is pretty much a happy and contented family man. With his usual jolly demeanor, he is depicted as a loving husband to his beautiful wife May (Dawn) and a supportive dad to son Malix (Miguel) who is in a relationship with school mate Jenna (Bianca).
Everything seems to be all peachy. Or is it? As the film would later reveal, it turns out that May is not very happy with their union, at least not anymore since Alex has become too focused on his work and has forgotten all the reasons why they fell in love in the first place.
Malix, although smart and talented, can't do anything with the bullies in his school and is also annoyed at his father's Luddite ways and Google wisecracks.
It all comes to a head when May is diagnosed with cancer. Faced with her mortality, May later confesses to Alex that she had an affair. To make matters worse, he would later know more details about the affair from May herself. Alex ends up being attracted to the woman (Ina Feleo) who is connected to his wife's paramour (John Estrada).
THE GOOD
Family History is a throwback to some of the classic films of Dolphy (My Heart Belongs to Daddy and Home Sic Home comes to mind) where the Comedy King plays an everyman who finds himself dealing with a string of misfortunes.
Bitoy does an outstanding job of essaying Alex's gamut of emotions especially when he snapped after finding out about his wife's infidelity and also in one climactic monologue. He showed that he can be a fine dramatic actor if he can only temper his flair for comedy in some of the film's more emotional highlights.
Being a natural comedian, however, Bitoy can't play it straight for long and that's okay for the most part because comedy is his bread and butter and that's why people would come to see this movie anyway.
During his confrontation scene with John Estrada, Bitoy was expressing his anguish to the former when he suddenly said something that no one saw coming. Everyone in the theater just exploded with laughter.
Although she was bedridden for more than two thirds of the film, Dawn was her usual excellent self in the film's dramatic scenes. To her credit, she complemented Bitoy's comedic timing in one scene where she had to reveal the details of her affair.
Miguel and Bianca, more popularly known as the love team Biguel, are given adequate screen time that not only provide enough kilig moments for their fans but should also contribute well to their development as actors.
The standouts among the supporting cast, however, are Kakai Bautista as Dawn's best friend; Paolo Contis as Bitoy's office buddy; and Nonie Buencamino as his effeminate boss who would later reveal a personal secret that is, well, no secret at all. All three either provide or enhance some of the film's funniest moments.
But Family History is basically Bitoy's show through and through and thankfully, it's his omnipresence that carries the film.
THE BAD
The film's plot calls for a more dramatic treatment but Bitoy (with the help of around five or six "senior writers" that are revealed during the closing credits) just could not help adding a punchline or two in just about most of the scenes.
There are even a couple of scenes in the final act that employ slapstick humor that today's audiences may find more cringeworthy than downright funny.
The cameos of Dingdong and, especially Eugene, are also unnecessary as their roles can be easily played by any character actor. Eugene's character, in particular, does not really do anything to push the story forward and only serves to amplify a punchline.
Too many subplots also contribute to the film's overlong running time of over two hours, which could have been trimmed down to further enhance its pacing.
THE WORTHY
Overall, Family History is a fine directorial debut for Michael V. Gorgeously photographed and co-produced by GMA with Bitoy's own Mic Test Productions, the seasoned comedian has put a lot of thought, care, and attention to detail into what ultimately amounts for a labor of love on his part.
While too many cooks (yes, those senior writers) tend to almost spoil the broth and some of the subplots did not tie up as well as we would have wanted to, the film as a whole has more than enough entertainment value and yes, family lessons going for it to make it worth your while.
GMA Pictures did well with its big screen return. Here's hoping for more films from them in the near future.
Family History has been graded B by the Cinema Evaluation Board.
Ed's Note: The "PEP Review" section carries the views of individual reviewers, and does not necessarily reflect the views of the PEP editorial team.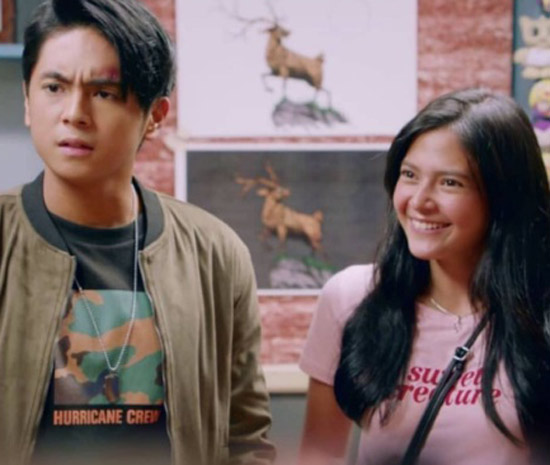 Miguel Tanfelix and Bianca Umali play a couple in the dramedy film Family History.