Through the years, many movies have depicted and shown various stories about Overseas Filipino Workers (OFWs).
Most are heartwarming films that show the hard work and sacrifices of Filipinos across the globe to improve the quality of life of their families.
PEP.ph (Philippine Entertainment Portal) lists some of these movies that celebrate the lives of our modern-day heroes. Look back at the Pinoy OFW movies that made us cry and opened our eyes to the impact of the Filipino diaspora on communities and the youth of today.
Hello, Love, Goodbye
Year: 2019
Starring: Kathryn Bernardo and Alden Richards
Director: Cathy Garcia-Molina
Shot in: Hong Kong
This 2019, Star Cinema surprised fans when they announced that their newest movie will feature stars from rival TV networks: Kathryn Bernardo of ABS-CBN and Alden Richards of GMA-7.
Directed by Cathy Garcia-Molina, Hello, Love, Goodbye focuses on two Filipino workers based in Hong Kong.
Alden is cast as Ethan, a bartender who is persistent in winning the heart of Joy, played by Kathryn.
However, Joy's priority is to provide her family with a good life, leaving love at the bottom of her priority list. The movie opens today, July 31, in cinemas.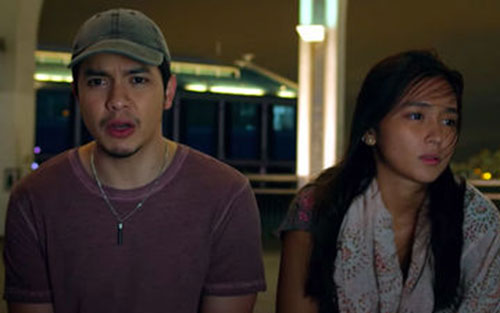 Anak
Year: 2000
Starring: Vilma Santos, Claudine Barretto, Cherry Pie Picache, Amy Austria
Director: Rory B. Quintos
Shot in: Hong Kong
Anak is the story of Josie (Vilma Santos), an OFW who returns to the Philippines, only to find that her family has fallen apart in her absence.
Josie is forced to go abroad because her husband Rudy (Joel Torre) is unable to provide for their material needs. She works as a domestic helper in Hong Kong for ten years.
When she returns to Manila, Josie's expectation of a joyful reunion with her children does not happen. Her eldest daughter Carla (Claudine Barretto) has become a rebel due to lack of parental guidance. Her son Michael (Baron Geisler) is in deep trouble in school; and her youngest daughter Daday (Sheila Junsay) doesn't even know who she is.
Unknown to her children, Josie endures five more years of hardship in order to raise money for their family. She becomes even more desperate when she loses all of her savings in a failed business venture. In addition to this, Michael gets kicked out of school, and Carla becomes pregnant by one of her lovers.
One of the most remarkable scenes in the film is the intense confrontation scene between Vilma and Claudine wherein the long-suffering mother blurts out the lines, "Sana tuwing umiinom ka ng alak, habang hinihitit mo ang sigarilyo mo, at habang nilulustay mo ang perang pinapadala ko, sana maisip mo rin kung ilang pagkain ang tiniis kong hindi kainin para lang makapagpadala ako ng malaking pera rito.
"Sana habang nakahiga ka diyan sa kutson mo, natutulog, maisip mo rin kung ilang taon akong natulog mag-isa nabang nangungulila ako sa yakap ng mga mahal ko. Sana maisip mo kahit kaunti kung gaano kasakit sa akin ang mag-alaga ng mga batang hindi ko kaanu-ano, samantalang kayo, kayong mga anak ko, hindi ko man lang maalagaan.
"Alam mo ba kung gaano kasakit iyon sa isang ina? Alam mo bang gaano kasakit iyon? Kung hindi mo ako kayang ituring bilang isang ina, respetuhin mo man lang ako bilang isang tao. Yung lang Carla, yun man lang."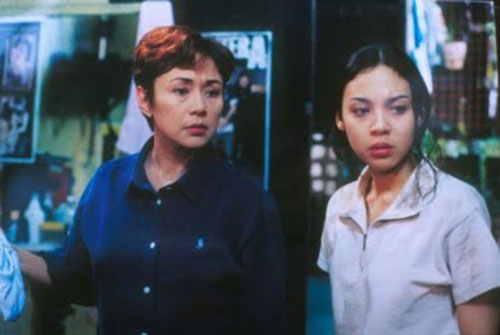 Milan
Year: 2004
Starring: Piolo Pascual, Claudine Barretto
Director: Olivia M. Lamasan
Shot in: Milan, Italy
Lino (Piolo Pascual) is searching for his wife Mary Grace (Iza Calzado), who left for Italy to work as a domestic helper. Lino is forced to give his piece of land as collateral to finance his trip to Milan.
When he arrives in Milan, Lino meets Jenny (Claudine Barretto), a beautiful Italian-speaking Filipina. Jenny takes him in as a boarder in a small apartment.
During Jenny's free time, she tours Lino around Milan and shows him sites. She also introduces him to communities where he could ask fellow Filipinos about Mary Grace. While helping Lino, Jenny finds herself falling for him.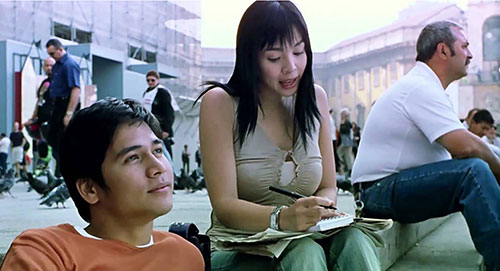 Dubai
Year: 2005
Starring: Aga Muhlach, Claudine Barretto, John Lloyd Cruz
Director: Rory B. Quintos
Shot in: Dubai
Raffy (Aga Muhlach) and Andrew (John Lloyd Cruz) are brothers who were orphaned when they were kids. Wanting a better future, Raffy spends nine years working in Dubai. Andrew eventually joins his brother in Dubai to find work.
Andrew meets Faye (Claudine Barretto), one of Raffy's many girlfriends in Dubai. Faye and Andrew hit it off well despite their age difference. When Raffy sees Faye with his brother, he realizes that he is still in love with Faye.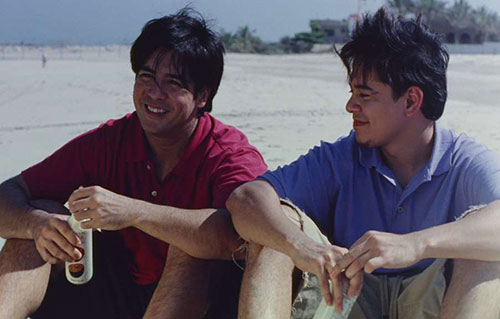 I.T.A.L.Y
Year: 2008
Starring: Jolina Magdangal, Dennis Trillo, and Rufa Mae Quinto
Director: Mark A. Reyes
Shot in: Europe
Six people are brought together on a seven-day cruise. Destiny (Jolina Magdangal) is a hopeless romantic searching for Mr. Right while dreaming of becoming a singer. She meets Paolo (Dennis Trillo), a successful businessman who is searching for the truth about a woman from his past. They cross paths with four other people who also have their own interesting love stories.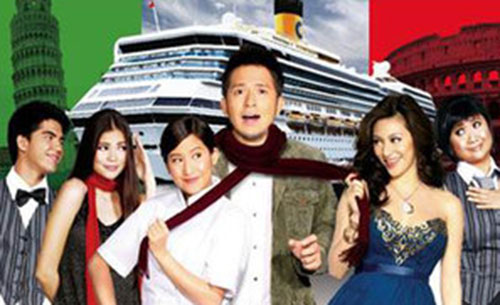 Caregiver
Year: 2008
Starring: Sharon Cuneta, John Estrada
Director: Chito S. Rono
Shot in: London
Sarah (Sharon Cuneta) is a grade school English teacher who decides to work as an OFW in the United Kingdom to help her husband, Teddy (John Estrada), give a better life to their family.
Like other Filipino caregivers, Sarah learns to cope with the physically-demanding work and the emotional toll of dealing with difficult patients.
As Sarah struggles with her work as an OFW, she puts her best foot forward and earns the respect of her wealthy old ward, Mr. Morgan. However, the distance takes its toll on Sarah and Teddy's marriage.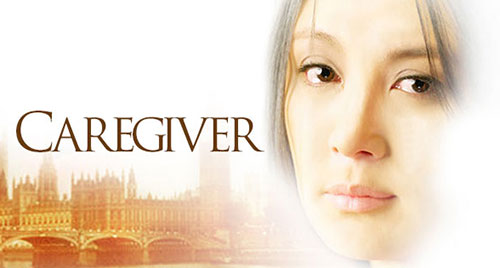 In My Life
Year: 2009
Starring: Vilma Santos, Luis Manzano, John Lloyd Cruz
Director: Olivia M. Lamasan
Shot in: New York City
In My Life opens with the story of Shirley (Vilma Santos), an ageing librarian who is bound to live alone in their family compound, after her youngest daughter Dang (Dimples Romana) decides to take her family abroad.
Shirley then decides to go on a vacation and visit her son Mark (Luis Manzano), who lives in New York.
Given Mark's busy schedule, his boyfriend Noel (John Lloyd Cruz) ends up taking care of Shirley.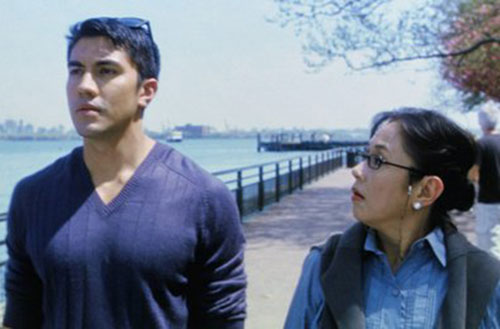 A Mother's Story
Year: 2012
Starring: Pokwang, Xyriel Manabat, Rayver Cruz
Director: John D. Lazatin
Shot in: USA
A Mother's Story revolves around Medy (Pokwang), a woman who goes to the United States to become the make-up artist of a popular star. Medy's problems begin when she meets her high school friend Helen (Beth Tamayo). Helen leads Medy to believe that she would get a bigger income if she secretly stays in the country as an illegal migrant worker.
Medy is then forced to become a stay-in housekeeper of a couple who verbally and physically abuses her.
When she returns to the Philippines, Medy is faced with even more troubles. She finds out that her husband is having an affair with another woman. Her son King (Rayver Cruz) feels indifferent towards her, but her daughter Queenie (Xyriel Manabat) is grateful for her return.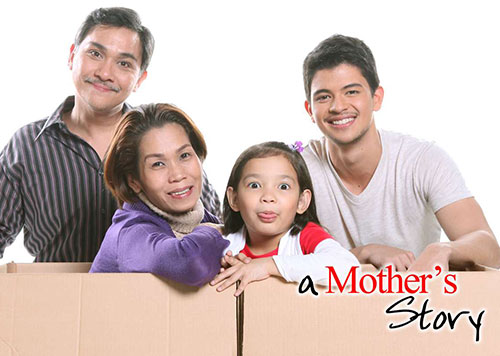 Barcelona: A Love Untold
Year: 2016
Starring: Daniel Padilla, Kathryn Bernardo
Director: Olivia M. Lamasan
Shot in: Barcelona, Spain
Ely (Daniel Padilla) is a young man who can't get over his past love, Celine. While studying in Spain, he meets Mia (Kathryn Bernardo), an OFW who is escaping her painful past in the Philippines. The two cross paths and eventually enter into a relationship. However, personal struggles forbid them from pursuing their budding romance.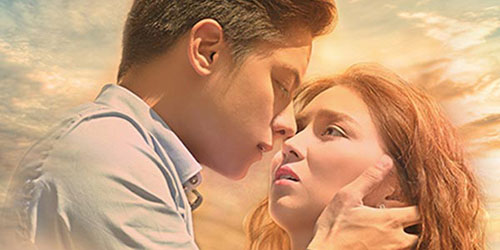 Sunday Beauty Queen
Year: 2016
Starring: Rudelyn Acosta, Cherrie Mae Bretana, Mylyn Jacobo, Hazel Perdido, Leo Selomenio
Director: Baby Ruth Villarama
Shot in: Hong Kong
This documentary follows Hong Kong-based Filipino domestic workers for four years. Viewers get to see that despite their struggles as OFWs, these workers—mostly women—find comfort and pride in competing in local beauty pageants. Sunday Beauty Queen was hailed as Best Picture during the 2016 Metro Manila Film Festival.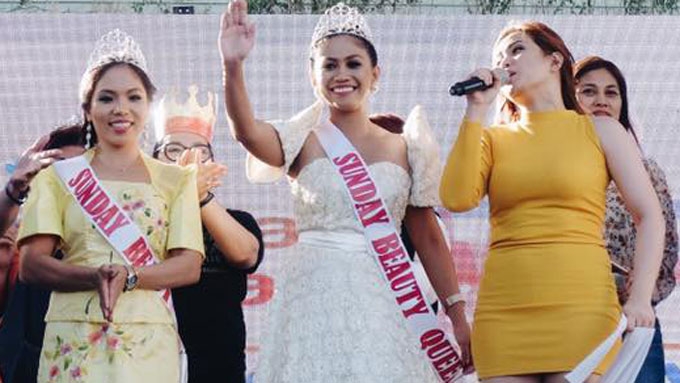 Kita Kita
Year: 2017
Starrring: Empoy Marquez, Alessandra de Rossi
Director: Sigrid Andrea Bernardo
Shot in: Sapporo, Japan
The movie revolves around Lea (Alessandra de Rossi), a tour guide in Japan who is temporarily blind after a tragic incident in her life. While nursing her broken heart, she gets regular visits from her neighbor Tonyo (Empoy Marquez).
Tonyo convinces the visually-impaired Lea to be his tour guide and, while touring Sapporo in Hokkaido, the two seem to fall in love.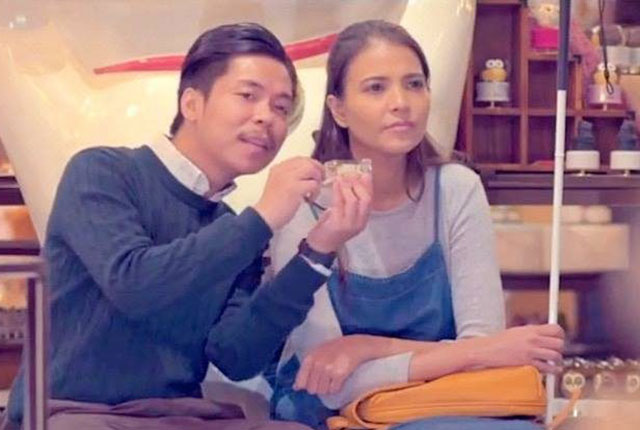 Maid in London
Year: 2018
Starring: Andi Eigenmann, Matt Evans, Polo Ravales
Director: Danilo Ugali
Shot in: London
Inspired by true events, this movie revolves around a young mother named Margo (Andi Eigenmann) and her best friend Faye (Alexis Navarro), who both plan to work in the U.K. even without a work permit. With only a six-month visa, time is running out and they may face the risk of deportation.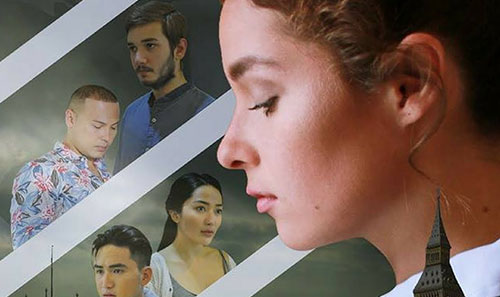 Bagahe
Year: 2017
Starring: Angeli Bayani, Arnold Reyes, Shamaine Buencamino, Boots Anson-Roa
Director: Zig Dulay
In Bagahe, Angeli Bayani brings life to Mercy, an OFW who is suspected of abandoning a newborn child in a trash bin of an airplane toilet. The film shows why she decided to flee from her employer abroad and what happens to her while being investigated in the Philippines.
The film won the Jury Award at the 19th Asiatica Film Festival in Rome, Italy. The jurors commended the Pinoy OFW film "for the rigor with which it [recounts] the complex journey of a woman who tried to get rid of her baby born of a rape. [Her] trauma and awareness are depicted with a realistic and, at the same time, painfully sympathetic point of view."