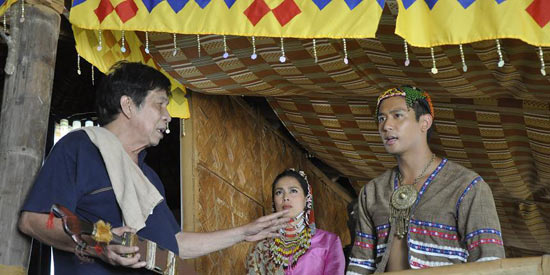 ---

Ibong Adarna is a beloved Filipino classic about a prince's quest to find the titular bird to heal his father.

The 18th century epic has been adapted several times onscreen, on stage and various school productions. Director Jun Urbano (aka Mr. Shooli) presents the latest version to modern audiences.

Rocco Nacino plays the only son of a sultan (Joel Torre) and sultana (Angel Aquino). The prince must find the magical singing bird called Ibong Adarna to cure his dying father.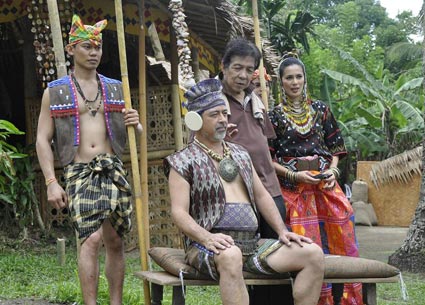 Direk Jun Urbano (wearing brown polo) instructs Joel Torre (seated) and Angel Aquino


The tale is labeled a Pinoy Adventure as it does not follow a straight adaptation of the classic story. The setting is different and new characters are introduced while others are removed. Most notably would be the loss of the two rival brothers, instead making the chief antagonist of the tale as the uncle (played by Leo Martinez) who casts a spell on the sultan.

The plot remains basically the same, with additional story arcs such as the witch's extended involvement, the beggar's secret, an added helpful boy and an evil tribe.

CGI is used for the Ibong Adarna with a few more for the unexpected monster and an extra bird. Music plays a huge role in the film, creating most of the atmosphere that is not quite established properly by the setting.

The lead is portrayed by Rocco Nacino who does a decent enough job. Pat Hernandez overplays her role as the diwata. The witch, Lilia Cuntapay, has done similar characters before. There is a small cameo by Gary Lising, emphasis on small as he portrays a nuno sa punso. Benjie Paras is the supposedly dull-witted assistant to chief antagonist.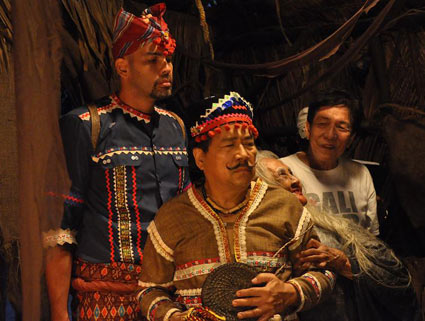 (L-R) Benjie Paras, Leo Martinez, Lilia Cuntapay and Direk Jun Urbano


Speaking of which, the evil uncle is played by Leo Martinez whose comedy stylings completely overwhelms the lead. He receives a huge chunk of screen time and doesn't bother to change his character as he basically plays himself.

Ibong Adarna the Pinoy Adventure aimed to elevate the Filipino movie viewing experience by bringing culture and dignity to the screen but it ultimately falls back to tried and true simple comedy. The exotic setting and authentic costumes won't help in competing with Hollywood adventures if the film feels like a homage to classic Filipino films.

The movie is very "pang masa" and dropping the pretension and accepting that it is what it is would only make it stronger.
ADVERTISEMENT - CONTINUE READING BELOW
Direk Jun Urbano dedicated Ibong Adarna to his late father Manuel Conde, National Artist for Cinema.

Conde directed the black-and-white film Ang Ibong Adarna that was released in 1955. He also directed and produced the internationally acclaimed Genghis Khan and social satire series Juan Tamad.

Jun Urbano's Ibong Adarna is slated to open in cinemas on October 1, 2014.