Directed by Chris Martinez and based on the novel by Segundo D. Matias, Jr., Mga Batang Poz is a six-episode mini-series that is currently streaming on iWant.
Touted as an "advocacy series on HIV awareness," the online series focuses on four male teenagers who decided to get together after learning they got infected with HIV (human immunodeficiency virus) that causes AIDS (acquired immunodeficiency syndrome).
Mga Batang Poz begins by flashing relevant statistics about the alarming HIV situation in the Philippines. We learn that 40 people get infected with the dreaded virus in the country every day. Even more alarming is the fact that as of March alone this year, there were 1,172 reported cases of HIV. Out of that total, as many as 395 patients are from the 15-24 age group.
Headlining the series are emerging young talents Mark Neumann, Fino Herrera, Paolo Gumabao, and Awra Briguela.
All four actors portray characters coming from different backgrounds and totally unrelated to each other. Mark plays Gab/Kenneth, son of a provincial town mayor who got infected by his best friend. Fino plays Luis, son a Chinese businessman who acquired HIV through unprotected sex with numerous male partners. Paolo Gumabao is Enzo, a rebellious teen who was supposedly infected by a guy he got obsessed with. Awra plays Chuchay, an impoverished young gay who was taken advantage by a sari-sari store owner.
They all met in a chat group for HIV poz (slang for positive) like them and decided to meet each other. They then embarked on a road trip as each of them recalled how they were infected with HIV.
THE GOOD
The road trip served as a good framing device for the flashback scenes for each of the four leads. But easily the best part of Mga Batang Poz are their performances.
In what is probably the challenging role of his career, former Artista Academy alumnus Mark Neumann shines in the role of a conflicted young man who had to wrestle with the realization that he is bisexual. He loves his girlfriend (Patty Mendoza) but also has feelings for his best friend (Raven Molina) who has been in love with him for years.
Fino does an excellent job of portraying a young man who fell for an older man (Arnold Reyes) whom he met through a mobile dating app. Fino became promiscuous when they couldn't get a relationship going after their initial tryst. His anguish is even compounded by the fact his older brother is also gay and was thrown out of their house after he came out to his parents.
Paolo (son of actor Dennis Roldan and sibling to Michele and Marco Gumabao) is effective as a resentful teen who is upset at being sent to a public school while his older brother continues to get a more privileged education. He later becomes obsessed with a guy (Mark Rivera) who ditches him for another man (Joem Bascon) that he once spent a threesome with.
As the character who wears his heart on his sleeve, Paolo's intense performance is a welcome contrast to the more subtle and nuanced approach of the other three.
Awra was likewise memorable as Chuchay, who fell prey to a pedophile neighbor (played by Tarek El Tayech) but was eventually lured by gifts in kind (cellphone, make-up cosmetics) that he gives him in return for the sexual favors.
Credit also goes to director Chris Martinez and the leads' respective acting coaches, as they especially, Mark and Awra have a Nora Aunor kind of thing going for them when they use their expressive eyes to convey their pain and anguish in their more challenging scenes.
THE BAD
While a work of fiction, Mga Batang Poz, the book is based on interviews with actual HIV patients, according to the author, so it isn't easy to criticize something that actually happened.
In one of his interviews, Matias said that he originally intended to have a female character in his book but decided to go with an all-male narrative as 90 percent of those infected with HIV are gays and acquired it through MSM (men having sex with men).
While it's hard to argue with the author's thesis as well as the creative team's decision to develop a more faithful adaptation, Mga Batang Poz would have been more compelling had it opted to expand on its depiction of HIV awareness.
Although HIV and AIDS were initially identified with the gay community and during its early discovery was even referred to as a "gay cancer," that is no longer the case as many other causes of contracting HIV have been revealed over the years.
(For more info, visit: https://www.avert.org/hiv-transmission-prevention/how-you-get-hiv)
The celebrated cases of basketball superstar Magic Johnson (who is straight) and Dolzura Cortez (the first known Filipino AIDS victim whose life was portrayed by Vilma Santos on the big screen) have also demonstrated that almost anyone, regardless of gender or sexual preference, can get HIV.
Even though it's essential to the series as argued by its director, the intimate slash daring scenes were also a few seconds longer than necessary. And while many parents can't control what their kids watch on the internet nowadays, there may still be some hesitation on their part to recommend Mga Batang Poz due to the slightly prolonged sex scenes.
Also, the depiction of the parents (played Gardo Verzosa, Rita Avila, Ricardo Cepeda, Marina Benipayo, Bobby Andrews, Yayo Aguila, Soliman Cruz, Irma Adlawan) tend to veer towards the stereotypical. As in most LGBTQ films, moms are the ones that are seen as mostly loving and understanding while the dads are often portrayed as indifferent and unsympathetic, although at least two of them are shown to have a change of heart towards the end.
THE WORTHY
Mga Batang Poz has its heart in the right place. It is a laudable attempt at raising HIV awareness and educating viewers about sex and sexually transmitted diseases.
However, it is somewhat weighed down by its rather limited approach, which may also send mixed messages with respect to people's perception of HIV and AIDS.
Just the same, the potential to be greater than the sum of its parts is there. Should Mga Batang Poz decide to expand on its original premise and develop it as a regular series, it would only further enhance its advocacy if it can also present "the other side" of HIV.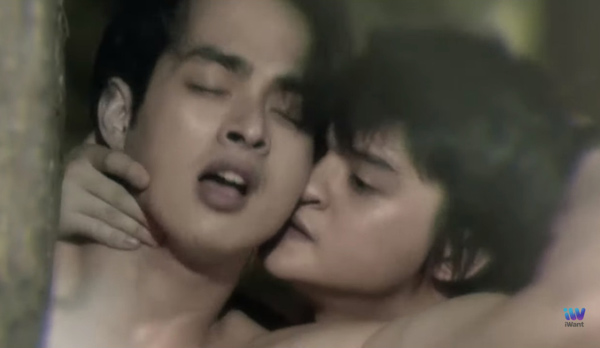 Mark Neumann (right) is cast as Gab / Kenneth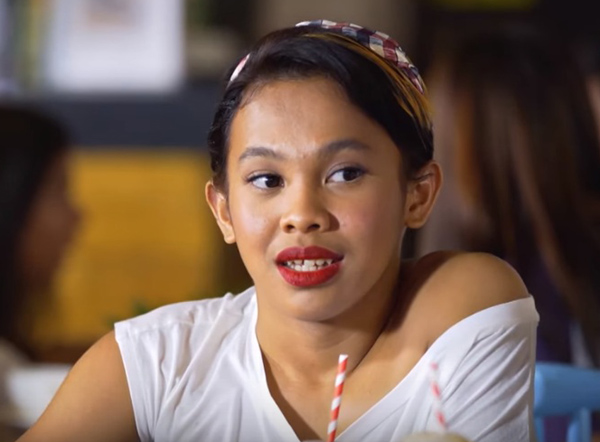 Awra is cast as Chuchay
Paolo Gumabao wears fake teeth for his character Enzo
As his character Luis, Fino Herrera (right) shoots kissing scene and sex scene with Arnold Reyes (left)
Ed's Note: The "PEP Review" section carries the views of individual reviewers, and does not necessarily reflect the views of the PEP editorial team.