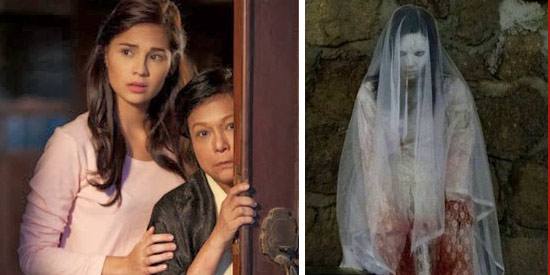 ---

There really is nothing new story-wise in Regal Films' latest suspense-horror offering Dementia save for the impressive use of Batanes to frame a ghost story that is chockfull of Gothic elements.

That does not mean, though, that this psychological horror-drama does not hold a few surprises, even if only in tiny doses of fright due to timing.

If anything, the film may be viewed as a cautionary tale on why crazy people should be taken a tad more seriously and why the wounds of childhood must be healed lest they fester and bleed anew.

For apparitions that wander the hallways, a promise disguised in child's play is a debt that must be extracted at whatever cost.

Mara Fabre (Nora Aunor), a middle-aged woman suffering from dementia is brought back by her family to her childhood home in Batanes with hopes of reconstructing her memories. Her family becomes even more distraught when, instead of regaining her memories, she begins seeing apparitions and starts doing strange things.

When these visions start doing harm to her and her family, Mara must immediately piece together fragments of her memory to confront the ghosts of her past.

Just when you thought La Aunor has already done it all, she surprises us once again by bringing to life a mentally unstable and distraught woman with such a complex character.

Surely enough, Mara seems like the ordinary harmless old woman suffering from mental illness. She is fussed over and spoken to politely by people who barely know her but is tolerated with silent contempt by some members of her family.

This dual persona is conveyed, not through dialogue but through her eyes that stare fiercely, through the way she holds her head proudly even as she ever so slightly trembles in fright and confusion.

The supporting cast composed of Bing Loyzaga, Jasmine Curtis and Yul Servo is a neat ensemble of multi-faceted characters serving to provide the background to Mara's past and present.

Bing Loyzaga is cast as Mara's cousin Elaine, the only person whom Mara remembers. Elaine's husband, Rommel, is played by Yul Servo while their daughter Rachel is played by Jasmine Curtis Smith.

In Dementia, nothing is what it seems. Timidity and calmness does not translate to virtue. Rage is not always accompanied by a storm.

First-time filmmaker Perci Intalan took advantage of the natural gloom of far-flung Batanes, using the dark beauty of its landscape to establish the mood for a pleasing kind of terror.

With its paper-thin storyline, the film relied mostly on surprises, on strategically placed apparitions to make the heart lurch and the ears reverberate with ghostly sound effects.

Dementia could have been so much more. It could have further explored the depth of the relationship between Mara and her ghostly tormentor. Their tale of woe could have been a tragedy, we would have empathized with their bond, not merely the cause and effect of their actions.

Nonetheless, the movie is still worth watching even if only to see Nora at one of her recent best and to ponder at the little details that frighten from dark corners.

Dementia, which is currently being screened in cinemas, is graded A by the Cinema Evaluation Board.



Ed's Note: The "PEP Review" section carries the views of individual reviewers, and does not necessarily reflect the views of the PEP editorial staff.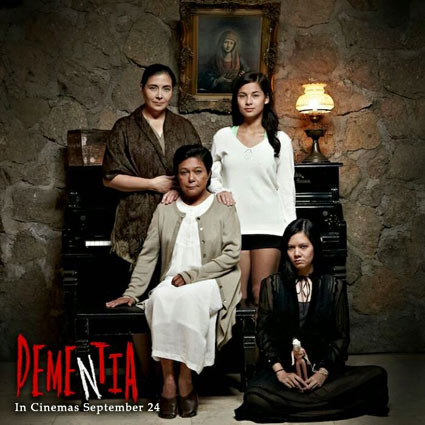 Dementia stars (from upper left, clockwise) Bing Loyzaga, Jasmine Curtis Smith, Chynna Ortaleza and Nora Aunor



ADVERTISEMENT - CONTINUE READING BELOW