For its seventh year, the annual QCinema International Film Festival shakes up its programming by melding its two major competitions into one, thus allowing foreign productions to compete against Filipino movies.
This was announced at the launch of QCinema 2019 last September 23 at the Gloria Maris restaurant in Gateway mall in Quezon City.
The Asian New Wave is now the main competition. It will have this year's recipients of production grants amounting to P1.5 million each—Arnel Barbarona's Kaaway sa Sulod, Rae Red's Babae at Baril, and Glenn Barit's The Cleaners—go head to head with entries from Thailand, Indonesia, Malaysia, Laos, and China.
Babae at Baril was initially chosen as one of the finalists of the full-length category of Cinemalaya 2018. However it did not push through.
QCinema 2019 runs from October 13 to 22 at Gateway Mall, Ayala Trinoma, Robinsons Galleria, UPFI Cine Adarna, Cinema '76 Anonas, and Cinema Centenario in Quezon City.
Untrue, starring Cristine Reyes and Xian Liam, is the opening film of QCinema 2019. It is directed by Sigrid Bernardo of the 2017 sleeper hit, Kita Kita. Untrue was shot in Georgia, which is located at the boundary between Europe and Asia.
A bruised and beaten wife named Mara (Cristine Reyes) seeks the help of Georgian police against her husband Joachim (Xian Lim). In this he said-she said film, truths, lies and the dark past will be uncovered.
PERMANENT HOME FOR QCINEMA
Quezon City Mayor Joy Belmonte, who was introduced by the program host as "the birth mother of QCinema," gave the keynote speech.
"Let me remind everyone that QCinema is the only film festival with consistent backing of a local government unit, and our budget for this year is P22 million pesos," Mayor Belmonte gleefully announced, adding hopefully that it will increase next year.
"Our commitment of support for new indie filmmakers is total and unequivocal. Although we give grants to filmmakers, the ownership rights to their works remain with them.
"You, the filmmakers, who benefit from our production grants, you own your film 100%. This is the difference that makes QCinema unique."
Mayor Belmonte also announced plans of building a permanent home for QCinema, which, since its inception in 2012, gets movie screenings from major malls in Quezon City.
"Tingin ko ay utang na loob ko na sa inyo na sana may tahanan na kayo na masasabing amin talaga," she said. "Hindi na tayo nakikigamit sa mga malls. At kapag may big time movies ay naba-bump off tayo."
"Kailangan meron na tayong tahanan. Eto ang balak nating gawin sa loob ng tatlong taong panunungkulan."
During the Q&A with the press, the recipients of the production grants for feature film entries were asked if P1.5 million was enough to come up with a full-length movie.
Directors Rae Red of Babae at Baril and Glenn Barit of The Cleaners, as well as actor-producer Perry Dizon of Kaaway sa Sulod, admitted that they had to find additional funding so they could wrap up their movies.
After the program, Direk Glenn told PEP.ph that he looked for sponsors to cover the post-production cost of his movie.
In a separate interview, Iana Bernardez, the producer of Babae at Baril under Epicmedia Productions Inc., told us that Cignal Entertainment shares their load.
Direk Glenn, who came all the way from his home in Tuguegarao City in Cagayan province, said that he was initially apprehensive about competing against foreign movies.
"Baka hindi fair kasi sa budget," he pointed out, thinking that the foreign productions will have deeper pockets. "Pero in-explain naman sa amin."
Wet Season, which is Singaporean filmmaker Anthony Chen's follow-up to the 2013 international sensation Ilo Ilo, is the closing film.
Viva Films head honcho Vicente "Boss Vic" del Rosario Jr. will be given a special Lifetime Achievement Award.
Here's a guide to what to watch for among 60 films that are categorized under 10 sections:
The Cleaners (Glenn Barit, Philippines)
This is a coming-of-age story of high school classroom cleaners that juxtaposes chalks and dustpans with the chores of cleaning the dirt of man's actions. It is set in a Catholic school in Tuguegarao City.
Babae at Baril (Rae Red, Philippines)
Direk Rae's first solo directorial effort is about a lowly saleslady (played by GMA-7 actress Janine Gutierrez), whose life changes when she comes into possession of a gun and becomes empowered by it.
In this psycho-thriller film, Janine is cast as a department store saleslady. She finds a gun right on her doorstep one night and decides that she has enough of being the underdog.
JC Santos, Felix Roco, Elijah Canlas, Sky Teotico, Ruby Ruiz, Archie Adamos, and Allan Paule also star in Babae At Baril.
Kaaway sa Sulod (The Enemy Within) (Arnel Barbarona, Philippines)
Direk Arnel, a filmmaker from Mindanao, crafts a story that revolves around rebellion and reconciliation of family versus principles, and a choice that leads to fatal consequences. Dionne Monsanto stars in this film, which features a screenplay by Arnel Mardoquio.
Lieutenant Raiza Umali was assigned to a team protecting a mysterious businessman in hiding. When they subdue his attackers, a New People's Army squad, she finds out one of its leaders, Ka Lai, resembles her.
Raiza learns they are protecting General Rapatan, an officer in hiding for the murder of activists. She questions her superiors, at the same time doubting her past. A DNA test shows Raiza and Lai are siblings. Her superior think of a mission to have Raiza switch places with her sister who is a guerrilla fighter to infiltrate the NPA. But Raiza makes a choice with fatal consequences.
Fly by Night (Zahir Omar, Malaysia)
This is a crime thriller that has taken the film festival circuit—from Busan to Santa Barbara and New York—by storm.
Nakorn-Sawan (Puangsoi Aksornsawang, Thailand)
Described by Thai media as a hybrid film for mixing documentary footage from the director's own life into the fictional story of a family's joys and sorrows, Nakorn-Sawan had its world premiere at the 2018 Busan International Film Festival.
Ave Maryam (Robby Ertanto, Indonesia)
This entry from Indonesia tackles the forbidden romance between a prince and a nun.
The Long Walk (Mattie Do, Laos)
Screened at the 2019 Toronto International Film Festival, The Long Walk is about an old man who goes back to the past to correct the mistakes of the past in the hope of saving his suffering mother.
Suburban Birds (Sheng Qiu, China)
Premiering at the 2018 Locarno International Film Festival, this movie by a debuting director is described by The Hollywood Reporter as an "unconventionally told Chinese film" that "unfurls two stories connected in mysterious ways."
QCShorts

The filmmakers of these short films each received production grants OF P200,000
Here, Here by Joanne Cesario
Tokwifi by Carla Pulido Ocampo
SPID by Mervine Aquino and Alejo Barbaza
Excuse Me, Miss, Miss by Sonny Calvento
Judy Free by Jean Cheryl Tagyamon
Isang Daa't Isang Mariposa by Norvin de los Santos
DocQC

The filmmakers of these documentaries were given post-production grants of P500,000
For My Alien Friend by Jet Leyco
A Is for Agustin by Grace Pimentel Simbulan
Spring by the Sea by Aleia Garcia
Rounding up the non-competitive documentary sections are these acclaimed Asian docu films: The Future Cries Beneath Our Soil (Pham Thu Hang, Vietnam); Talking About Trees (Suhaib Gasmelbari, Sudan); and Kabul, City in the Wind (Aboozar Amini, Afghanistan).
Screen International: Beanpole (Kantemir Balagov), By the Grace of God (Francois Ozon), Nina Wu (Midi Z), Bacurau (Kleber Mendonca Filho and Juliano Dornelles), Frankie (Ira Sachs), Synonyms (Nadav Lapid), The Whistlers (Corneliu Porumboiu), God Exists Her Name Is Petrunya (Teona Mitevska), On A Magical Night ( Christophe Honore), and High Life (Claire Denis).
Special Screenings: Lingua Franca (Isabel Sandoval); Dogs Don't Wear Pants (J. P. Valkeapaa); Top End Wedding (Wayne Blair); No Data Plan (Miko Revereza); The Cave (Tom Waller); Krabi, 2562 (Ben Rivers and Anocha Suwichakompong); A Girl Missing (Koji Fukada); and Vitalina Varela (Pedro Costa).
New Horizons, featuring debut films and second features: The Bare Necessity (Erwan Du Luc), Bouyancy (Rodd Rathjen), Homeward (Nariman Aliev), The Red Phallus (Tashi Gyeltshen), Chola (Sanal Kumar Sasidharan), and System Crasher (Nora Fingscheidt).
RainbowQC, representing the LGBTQ spectrum: Jose (Li Cheng), Song Lang (Leon Le), Port Authority (Danielle Lessovitz), Where We Belong (Kongdej Jaturanrasamee), And Then We Danced (Levan Akin), and Brief Story from the Green Planet (Santiago Loza).
Centennial Classics, in celebration of Philippine cinema's 100 years, including: Biyaya ng Lupa (Manuel Silos), Malvarosa (Gregorio Fernandez), Insiang and Maynila sa Kuko ng Liwanag (Lino Brocka), Noli Me Tangere (Gerardo de Leon), and Tisoy (Ishmael Bernal).
Viva Classics, focusing on the important movies produced by Viva Films: Bituing Walang Ningning (Emmanuel Borlaza), Scorpio Nights 2 (Erik Matti), Working Girls (Ishmael Bernal).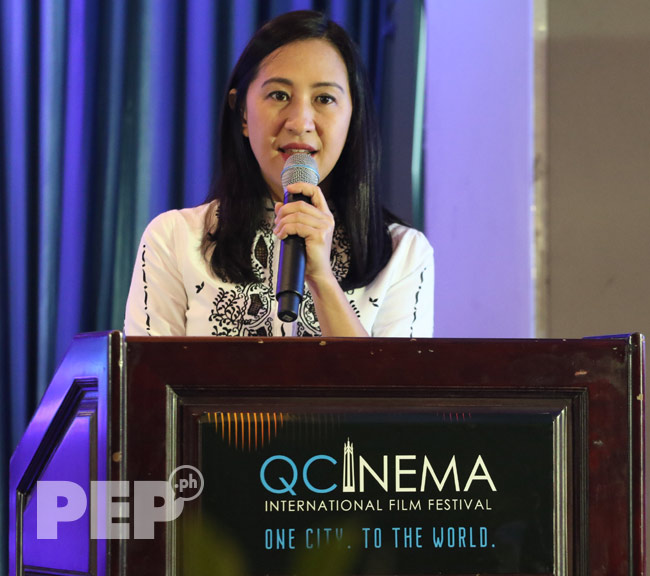 Quezon City Mayor Joy Belmonte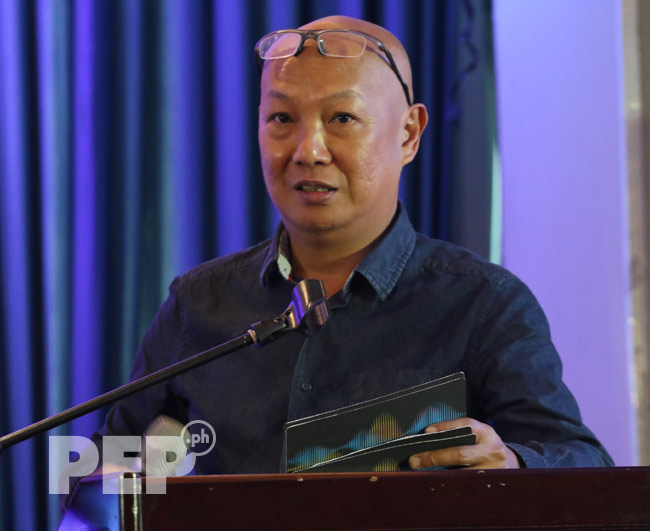 Quezon City Film Development Commission Executive Director Ed Lejano