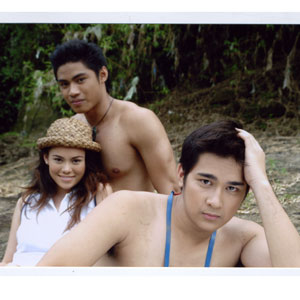 ---
The indie film Sikil (international title: Unspoken Passion) will be screened at IndieSine starting January 16, 2008.


Sikil tells the story of two men anda woman who are involved in a bizarre love triangle. These three friends grewup in a small town south of Manila. Ken Escudero plays Enzo, a young closet-gayprostitute obsessed with his childhood friend (Wil Sandejas), who happensto be a callboy and has a girlfriend (played by Ashley Silverio).


Other interesting characters arethe bi-sexual pimp (Ethan Javier), a regular bathhouse customer (MartyMendoza), and a sampaguita vendor-pickpocket-shoplifter and caretaker ofAdong's daughter (Corrine Concepcion).


This is thedirectorial debut of Roni Bertubin and produced by Juan Mario Barron III forNew Life Cinema. Sikil has also been invited to the 19th Palm Springs International FilmFestival this month. The filmfest, which will take place at Palm Springs, California, U.S.A., is scheduled from January 3-14, 2008.