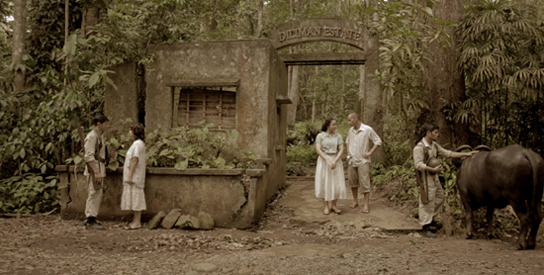 ---

Quezon City will be hosting QCinema International Film Festival as a part of the city's diamond jubilee year celebration.


Thirty-seven films are scheduled to be shown this November 5-11, 2014 at the Ayala Trinoma Mall.
Among the films, 11 films received grants from past competitions. The opening film this year, Alienasyon, received a production grant of P2 million pesos.
Alienasyon
Directed by: Arnel Mardoquio
Cast: Tessie Tomas, Art Acuña, Jess Mendoza, Bing Pimentel, and Meryll Soriano
Alienasyon is inspired by the story of Filipino playwright and teacher Wilfrido Ma. Guerrero.
Direk Arnel Mardoquio elaborates, "Parang based siya sa kwento ni Wilfredo Guerrero. Nabasa ko sa diyaryo, marami nang taon ang nakaraan, nung pinaalis siya sa UP Diliman."
The story revolves around the retired university professor "who refuses to leave his home in the campus despite an administrative order for eviction."
"With his whole life bearing witness to Diliman estate's evolution, he is the only remaining gatekeeper of the histories of his homeland."
The Davao-based director said it was a whole new experience shooting in Manila. One factor is adjusting to Manila's unpredictable weather.
"Nag-shoot kami, bagyo. [Nung] September, binagyo kami. E, hindi kami sanay sa bagyo sa Davao," he explained.
The director added, "First time ko magshoot outside Mindanao. First time ko rin na mag shoot ng mga artista ko galing sa mainstream."
For the film, Direk Arnel worked with Tessie Tomas, Art Acuña, Jess Mendoza, Bing Pimentel, and Meryll Soriano.
After shooting with the veteran actors, Direk Arnel Mardoquio realized the difference between working with indie actors and mainstream actors.
ADVERTISEMENT - CONTINUE READING BELOW
"Sa tingin ko ang mga indie filmmakers sa Mindanao ay maranasan mag-direk ng artista na mainstream, kasi doon ko lang din nakita na ibang level yung pagmamahal nila sa craft nila. Talagang iba, ibang iba. [Sa Mindanao, merong] theather actors, hindi fulltime.
"Ito yung kabuhayan nila [ng mainstream actors.] Ang indie naman di nila pinagkukunan ng kabuhayan ito, parang fulfillment ng craft nila bilang actor. Dito [sa Alienasyon] ko nakita yung kakaibang dedikasyon sa trabaho nila."
FUNDED CIRCLE COMPETITION. The following films received P150,000 post-production grants.
1st Ko Si 3rd
Directed by: Real Florido
Cast: Nova Villa, Dante Rivero, Freddie Webb, Ruby Ruiz, Lara Morena, RJ Agustin, Denise Barbacena, Coleen Borgonia, Ken Chan
The 2014 Cinemalaya entry 1st ko si Third was also chosen as an entry in the QCinema International Film Fest.
1st ko si Third tells the story of 65-year old Cory who reunites with her first love Third. Their long-delayed date finally happens four decades later, will their love rekindle once again?
Cemetery Life
Directed by: Barbara Politsch
"Social Outcasts" move in the Metro Manila cemetery to rebuild their lives. The settlers construct shops, salons, and videoke clubs around the area building it within the cemetery's premises.
Nick and Chai
Directed by: Cha Escala and Wena Sanchez
A year ago, last Nov 2013, Typhoon Haiyan struck the country and took away the innocent lives of Nick and Chai's four children. Left with nothing but a broken home, they rely on each other for strength to get by each day.
ADVERTISEMENT - CONTINUE READING BELOW
Tigbao
Directed by: Mike Cabardo
Mang Celio goes through a mental breakdown when he finds out the truth behind his son's disappearance. As the forensic team further investigates the case, Mang Celio goes through a series of emotions through the whole process.
TRES
Directed by: Jose M. Carreon, Edgardo "Boy" Vinarao, William Mayo
TRES tackles three short stories about "faith, love, and time" written by multi-awarded Filipino fiction writers, Gregorio Brillantes, Rogelio Sicat, and Fanny Garcia, translated into three short films.
NOT FUNDED CIRCLE COMPETITION. The following were independently produced.
Ang Di Paglimot Ng Mga Alaala
Directed by: Carl Joseph E. Papa
Cast: Pia Franco
Ang Di Paglimot Ng Mga Alaala's story revolves around a woman's struggle to preserve her past memories with her mother as she watches an old video filled with karaoke sessions and band practices dating back to 1997.


The film is inspired by Direk Carl Papa's personal experience. The story revolves around the character Pia's struggle to keep on remembering her mother's happy memories while trying to forget painful ones. It is said to be "a cross between a documentary and a narrative fiction" as the filmmaker adds footage from his own family's archives in the movie.
Bigkis
Directed by: Neal Tan
Bigkis depicts the problems many Filipinas go through in overcrowded public maternity hospitals. The film tackles teenage pregnancy through Mariel, who was suddenly faced with unwanted pregnancy in her teenage years. And also about workers who do not get sufficient pay through Edel, a hospital attendant who witnesses the day to day events at the unruly hospital.
ADVERTISEMENT - CONTINUE READING BELOW
In Darkness We Live
Directed by: Christopher Ad. Castillo
A group of robbers tries to escape a failed robbery but ran out of gas in the middle of the woods. They, however, was able to find shelter in an old shabby house where a peculiar woman and her grandmother live. During their stay, the elder warms them of the Ang Kumakatok, a mythical being who poses as a threat to their lives.
Little Azkals
Directed by: Baby Ruth Villarama
Philippine Football team Azkal's brought pride to the country when they won games held in Asia, showing that even Pinoys can aim for the World Cup. Little Azkal tells the story of how over 1000 men from all over the country fights against each other to qualify for the Philippine Azkals title.
Mauban: Ang Resiko
Directed by: Lem Lorca
Resiko is coined from the Mauban Quezon province, meaning "salary earned by wine-makers is set aside for a treat/blow-out." Problem is, the tradition has now become a "threat" to one family's means of survival.
QCX. The following short films received production grants amounting to P150,000.
Ang Nanay Ni Justin Barber
Directed by: Victor Villanueva
Justin Barber dreams to become a singer, and his mother, Cynthia Barber, will do all she can to make his dream come true. The catch, however, is that his son couldn't even hold a note!
Bonifacio
Directed by: Grace Simbulan
50-year-old father Jose Bonifacio "Boni" Garcia is faced with day to day battles concerning his illiteracy. Determined to go back to school and study in the same elementary school as his son to finally end the daily discrimination he receives, Bonifacio was able to give provide for his son and even realize his purpose as a father and as a person again.
ADVERTISEMENT - CONTINUE READING BELOW
Sa Ngalan ni Ultimate Warrior
Directed by: Miko Livelo
Cast: Dennis Padilla, Kim Leono
Seven-year-old Jolo is a fanboy of wrestling icon Ultimate Warrior. When rumors started to spread the champion wrestler died from a match, the kid's world started to collapse.
Direk Miko adds that the 90's wrestling shows inspired him to create the film.
"Lumaki kasi na '90s nanonood ng wrestling. Lumaki kaming mga bata na pinagbabawal ng magulang manood ng wrestling dahil bata kami, hindi namin sisunod yun, nanood kami ng wrestling.
"Based yung movie sa isang rumor na kumalat nung '90s na namatay yung wrestler na si Ultimate Warrior, na kumalat sa amin nung bata kami, syempre, wala kaming way of knowing kung totoo siya. So naniniwala kami.
"So yung story ko nag revolve sa rumor na yun and paano napaniwala yung bata in believing na yung idol niya wrestler ay namatay.
"Simple story, straightforward, coming of age of a kid, and accepting life and death in such a young age."
Direk Miko was also able to find a convenient shooting location for the movie.
"Meron kaming super large place na nakita, parang abandoned public school siya, sa may Ermin Garcia. [Yung] Victoria School.
"So lahat ng mga shots namin ginawa na namin sa loob. Medyo malaki siya, dami na naming nagawang lugar. Nakagawa pa kami ng wrestling rink para sa mga bata."
The film stars Dennis Padilla as Manuel and Kim Leono as Jolo.
Senior
Directed by: Jed Medrano
Cast: Marita Zobel, Perla Bautista
ADVERTISEMENT - CONTINUE READING BELOW
At the age of 60, Lola Susan can finally get her Senior Citizen's card. The eager elder then meets Lola Amanda while waiting for her turn in line. The two instantly click off.Lola Amanda even helps Lola Susan get an ID. But just when they were about to watch a free movie, one of the perks of having a Senior Citizen's card, the card goes missing.
Direk Jed says her inspiration to create the film was when she was trying to get a Senior Citizen's card for her own mother.
"Shinoot ko siya in memory of my mother. Inspired siya doon sa kinuha ko ng senior card yung mama ko, may sakit kasi siya, so di siya makaalis ng bahay.
"One day, kinuha ko siya ng senior card kasi 60 na siya, so narealize ko kung paano kahirap kumuha ng card kung walang kukuha sayo.
"Though hindi naman to sobrang inspired sa true events, parang na-communicate ko nalang yun sa story.
"And of course, gusto ko lang ma-enpower yung mga senior citizen, mga marginalize. Kasi parang unti lang naman gumagawa ng pelikula about old people. Ito start to na mapansin sila ng mga tao."
Tila
Directed by: Rob Jara
An unlikely love story between a flood control worker and a travel agent form in a place where continuous rain drenched the cities for 20 years, illegal multivitamins are sold everywhere, and bulalo is at high demand.
FOREIGN FILMS AND MORE. This year, the festival will also feature foreign films namely:
Australia's "52 Tuesdays," Poland's "Ida," Argentina's "Jauja," Russia's "Leviathan," Canada's "Mommy," Netherland's "Lilet Never Happened," Czech Republic's "The Don Juans," Belgium's "Two Day, One Night," and the a tribute to Park Chan-Wook through the Vengance Trilogy: "Sympathy for Mr. Vengance," "Oldboy," and "Sympathy for Lady Vengance."
ADVERTISEMENT - CONTINUE READING BELOW
Another addition would be Children's Classics "Boses," "Bunso: The Youngest," "Children of Heaven," "Dance Without Music," "Not One Less," "RPG Metanoia," and "The Color of Paradise."
Entries from last year's QCinema are also back on the big screen: "Gaydar," "Hello, World," and "Lukas Nino."