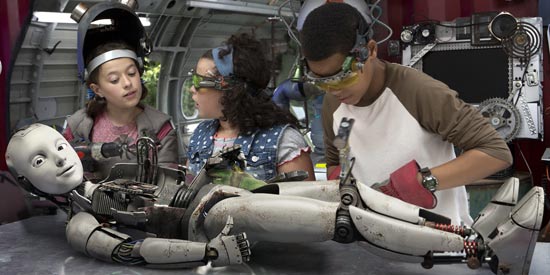 ---
Scientific films and documentaries about the future of science take the stage at the Mind Museum until December 14, 2014.
The Science Film Festival, organized by Goethe-Institut and its partners in 14 countries, is the only one of its kind in Southeast Asia, the Middle East, and North Africa.
"Film is the greatest product of science, because through films we have explored the things that we can become," said Dr. Petra Raymond, director of the Goethe-Institut Philippines.
The festival offers 32 films from 15 countries, sorted into three categories: elementary, secondary, and university level. These films, which have been dubbed in English and Filipino, will be be screened in over 200 schools, museums, and other venues nationwide. In the meantime, the Mind Museum in Taguig will be screening 20 of these films.
Annedroids, a feature film from Canada about a kid-scientist who succeeded in creating androids, was screened on November 4. Nine-and-a-Half: Life Without Plastic, a 10-minute short film from Germany, meanwhile, took the audience to a two-day experiment on life without plastic.
To enrich the film fest experience, museum guests will get to practice and learn more about science through hands-on, minds-on activities and games conducted by The Mind Museum's resident scientists, the Mind Movers. This happens six (6) times a day at 10 AM, 11 AM, 1 PM, 2 PM, 4 PM and 5 PM, from Tuesdays to Sundays.
The schedule of the film screening at the Mind Museum is as follows:
Venue: Mind Café
Robot Revolution: Will Robots Surpass Humans? (Japan) 10:00 AM
Quarks & Co: The Robots are Coming (Germany) 11:00 AM
Tomorrow's World: A Horizon Special (UK) 1:00 PM
ADVERTISEMENT - CONTINUE READING BELOW
The Joy of Logic (UK) 4:00 PM
Venue: Philippine Science Hall
Global Ideas: What is the Greenhouse Effect? (Germany) - looping
Global Ideas: What is your Personal CO2 Balance? (Germany) - looping
Venue: Atom Gallery
Annedroids-New Pals (Canada) - looping
How is Medicine Made? (Palestine) - looping
Graphene: Sketches of our Future (Germany) - looping
Show with the Mouse: LED (Germany)- looping
Cell Fate: Journeys to Specialization (UK) - looping
Venue: Life Gallery
Simply Complex (Scotland) - looping
Venue: Earth Gallery
Catalyst: 3D Virus (Australia) - looping
Venue: Universe Gallery
The Dream Flight under Microgravity (Thailand) - looping
The Aquanauts – Kuwait (Kuwait) - looping
Venue: Technology Gallery
Earth to Future-Super Heroes or Spies? Aerial Robots of the Future (Germany) - looping
Nine-and-a-Half Life without Plastic (Germany) - looping
Nine-and-a-Half : Bioplastic (Germany) - looping
Supercomputers (Spain) - looping
LEGO Turing Machine (Netherlands) - looping