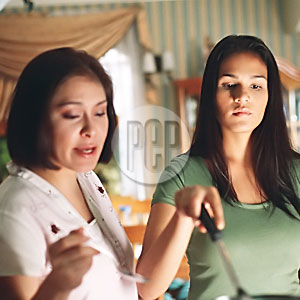 ---
This horror/horror-comedy franchise has been doing so well for the past years that Regal Entertainment has decided to put out yet another installment of Shake, Rattle and Roll (SR&R).
SR&R 8 sticks to the same format that Filipinos have come to expect—a trilogy. This collection of mini-features is directed by three independent directors: Rahyan Carlos, Topel Lee, and Mike Tuviera. They are all young filmmakers who have made their mark in the local scene and are expected to do so in the international arena as well.
SHAKE, RATTLE & ROLL 8
Cast: Bearwin Meily, Keanna Reeves, Roxanne Guinoo, Joseph Bitangcol, Iza Calzado, Sheryl Cruz, TJ Trinidad, Keempee de Leon, Manilyn Reynes, Eugene Domingo, and Cass Ponti
Directors: Rahyan Carlos, Topel Lee and Mike Tuviera
Writers: Edzon Rapisora and Fairlane Raymundo ("13/F"); Iris Saldavia-Aniban Ben Cho and Fairlane Raymundo ("Yaya"); Lorenzo Valdez and Fairlane Raymundo ("LRT").
Production: Regal Entertainment
Plot: Just like the seven previous SR&R franchise, this eighth one has three episodes:"13/F," about a children's party held on a "forbidden" floor; "Yaya" is about a naughty kid who discovers that his new nanny is a vampire; and "LRT" is a slash-and-gore story about characters trapped in an LRT coach, where a "halimaw" is out to get them.
Box-Office Potential: Year 2006 has made horror a crowd-drawing movie genre. Considering its cast, fresh ideas from the directors, and even the special effects—SR&R 8 has a chance of reclaiming its appeal among moviegoers.
Awards Prediction: Except for Herbert Bautista who won as Best Actor in the original SR&R movie back in 1984, none of the stars who have appeared in this horror franchise have been recognized by the MMMF-P jurors, but this year should be an exception. Nash Aguas, the boy in the "Yaya" episode is fantastic in the movie and should be the hands-down winner in the best child actor category. "Yaya" is also far and away the best of the three episodes--from its storytelling, lighting, editing, acting, to its overall direction--and alone makes Shake, Rattle and Roll 8 a must-see film.
ADVERTISEMENT - CONTINUE READING BELOW
PEP reviews Shake, Rattle and Roll 8
On its eighth reincarnation, Regal Entertainment's Shake, Rattle and Roll (SR&R) sticks to its time-tested formula of having three episodes. It could have been better if the movie deviates from the usual horror themes.
13th FLOOR. Shake, Rattle and Roll 8 opens up with "13th Floor,"a story about Alexandra (Jolina Reyes) who is about to celebrate her birthday party. Being an only child, Alexandra resorts to making friends with ghosts haunting their condo unit located at the 13th floor. During her birthday party, Alex invited her supernatural "friends" who caused chaos and scared the wits out of her parents (Isay Alvarez and Robert Seña). Not only that, they raised a ruckus with the party organizers (Bearwin Meily, Keanna Reeves, Janus Del Prado, Joseph Bitangcol and Roxanne Guinoo).
The plot has nothing fresh to offer the audience. The set is also confined to a condo unit, thus, limiting the movement of the characters. The special effects is not ground breaking but convincing especially when the neck of Aaron Junatas (who played the role of a child ghost) started bulging during the birthday party.
The episode is also lacking because of the way the characters told their stories. Their manner of storytelling could have been spiced up by more flashbacks instead of just plain narration. Even the scare tactics need to be improved. In one scene, Janus del Prado faces his own reflection in the mirror but it suddenly comes to life and holds a knife threateningly against him. Even the characters of Joseph Bitangcol and Roxanne Guinoo as party organizers hardly made any impact to the story.
YAYA. The second episode entitled "Yaya" relies on serious acting from its lead characters. Kudos should be given to Direk Topel Lee for bringing out the best in his actors.
ADVERTISEMENT - CONTINUE READING BELOW
"Yaya" is about a bratty kid named Benjo (Nash Aguas) who proves to be too much to handle for any nanny. Later on, the boy meets his match in the person of Cecille (Iza Calzado), his replacement nanny who turns out to be an aswang.
For once, people have a chance to see Iza play an antagonist role. Her character, Cecille, is a replacement nanny for Benjo during the day and an aswang by night. Iza's stare alone could give you goose bumps.
Child star Nash gave a sterling performance. His character Benjo proves to be very precocious for a kid his age. Imagine a seven-year-old kid who swears to protect his younger sister from the aswang Cecille. He even asks his teacher, played by TJ Trinidad, about aswangs to learn more about these paranormal creatures.
One major shortcoming of this episode is the awful wardrobe used by the cast. Production could have invested a little bit more on prosthetics. Even the mask of the aswang (played by Iza) is not convincing enough to scare horror fanatics.
Among the three episodes, "Yaya" comes closest to relating the film to Filipino culture. Nannies are very much pervasive in Filipino households. The concept of aswangs is also very Filipino concept. Others still believe it despite the dawn of modern technology.
LRT. Many people have high expectations for the third episode entitled "LRT," a segment helmed by young director, Mike Tuviera, who has just finished his earlier horror flick TXT.
Cesar (Keempee De Leon) is a middle-aged professional who accidentally bumps into his ex-girlfriend Jean (Manilyn Reynes) while riding the LRT (Light Rail Transit). Cesar is still a bachelor while Jean is now married with an asthmatic son (Quentin Alianza). The plot revolves around the LRT passengers trying to stay alive when they are trapped with a monster whose appetite can only be satisfied by eating human hearts!
ADVERTISEMENT - CONTINUE READING BELOW
The monster in "LRT" is relatively scarier compared to the one featured in the second episode "Yaya." The third episode also tries to revive the onscreen chemistry between Keempee De Leon and Manilyn Reynes.
Tuviera manages to keep the attention of the audience by having plenty of chase scenes between the monster and the passengers. The visuals of "LRT" make this episode worthwhile to watch. The night setting is even complemented by camera movements to give an eerie ambiance.
The verdict. In summary, SR&R 8 started off with a weak story about a children's party turned awry in "13th Floor," it peaked with the convincing acting skills of Iza and Nash in "Yaya" and was finally capped off with the eerie cinematography of "LRT."
Since SR&R 8 started out with a very flat episode, it may prove to be detrimental for the film since it fails to hook the viewer right from the start. Regal Entertainment made the right choice by tapping young directors such as Rahyan Carlos, Topel Lee and Mike Tuviera, all of whom showed off their unique style of directing the three episodes.
There is nothing ground breaking in terms of the themes used in the horror trilogy. However, the Shake, Rattle & Roll series should not be undermined. The franchise has eight movies to speak of, although its popularity has significantly dropped through the years.
SR&R 8 is suited for family viewing but I would think twice before bringing a date to this horror flick.