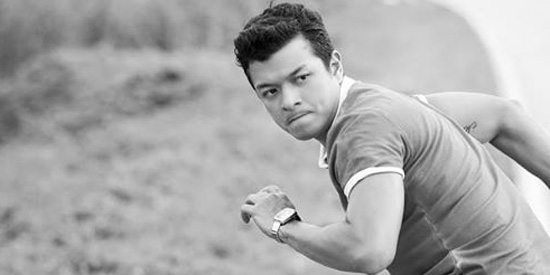 ---
Director Jay Abello's Red has enjoyed hype as Jericho Rosales' entry into the world of action movies. Yet this is not an action film. No, Jericho does not get in the middle of a heated confrontation with shoot-em-up scenes involving bad guys. But he does brood and stare from the corner of his eye, trying to channel James Dean, it seems.
Red is the name of Jericho's titular character but the film is an ensemble piece. In fact, for approximately first seven minutes (I didn't time it) of the movie, there is no sign of Jericho Rosales.
The opening sequence is beautifully shot, with life bustling around different landmarks of Bacolod. The center of the hustle and bustle—where the story begins and ends—is the public market.

In fact, the Bacolod Central Market itself is a character in the movie. Director of Photography Bernard Dacanay captured the sparkling beaches of Negros, the long stretches of green, the massive mansions impressively on the big screen; even the market's corners and alleys look romantic, nostalgic, almost clean.
The nature of the "legend" of Red is the center of an interesting and entertaining sequence—the storyteller tries to explain Red's role as "fixer" in Bacolod. He recalls some anecdotes about Red. It becomes episodic, but this is actually the funniest bit in the movie. But after three or four situations (paired with flashbacks), it remains unclear why Red does this "fixing" business when he does not earn from it and, in the end, he will not benefit from connections made through them. The audience is expected to accept that he does these things out of the goodness of his heart, as he says: Lahat ng tao, may utang sa kapwa tao.
ADVERTISEMENT - CONTINUE READING BELOW
Of these things we are sure: from various small (illegal or at least underground) businesses, Red is loaded, but he does not live the high life. And, since he first met her when they were children, he has been in love with Mai (played by Mercedes Cabral). Theirs is not a quiet companionship but an intense relationship. Eventually, Mai decides to leave, purportedly to find a good job in the capital city, but more plausibly, to escape from Red's perpetual presence.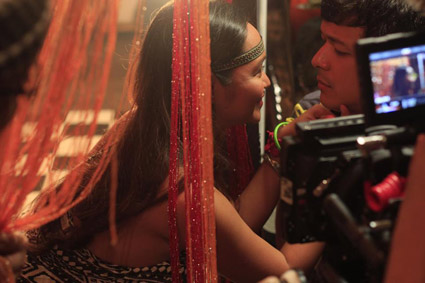 Mercedes Cabral and Jericho Rosales
Nico Antonio is amazing as Red's best friend Ton, the movie's narrator/storyteller, who works as a radio series voice talent. He likes being the center of attention and, though he figures only as a peripheral character in the stories, likes to recount Red's adventures.
Mercedes Cabral is painfully effective as Mai, love of Red's life. There are holes in the story, though, so much so that when she reveals that she wants to know Red more, it is somewhat a surprise.
ADVERTISEMENT - CONTINUE READING BELOW
Mylene Dizon plays a convincing Manila socialite who marries into a rich family. JM Rodriguez fills the stereotypical spoiled brat with too much money to spend and bored with nothing substantial to do. Monsour del Rosario has limited screen time, but he is convincing as a helpless scion of a rich, influential family. Pepe Smith does a turn as the bar owner, Molo, who takes the young Red under his wing and becomes his father figure. The group of listeners from the central market deliver performances that set each apart from the rest, without veering too far away from their roles.
I appreciate that Jericho made an effort to use a Hiligaynon (Ilonggo) accent to deliver his lines. It would not be so jarring if the rest of the cast with whom he has scenes did the same. As it turns out, only those in the cast who are actually Negrense, do. Even Monsour del Rosario speaks sans that malambing lilt in his voice, and he's from Bacolod!
Yes, the movie's message is clear: that there are many different "truths", depending on the storyteller (and, of course, the listener too).
The two sex scenes feel unnecessary. Well, one of them makes sense at the end of the sequence. But they are gratuitous. The movie puts together all the elements: sex, violence, and drugs, in hopes of grabbing and holding the audience's attention.
If you wouldn't mind staring at Jericho's biceps and handsome face, then this movie is worth the price of a movie ticket and your two hours.

This film is one of the entries competing in the 10th Cinema One Originals film festival ongoing until November 18 at Trinoma, Glorietta 4, Fairview Terraces, and Greenhills.




ADVERTISEMENT - CONTINUE READING BELOW
Ed's Note: The "PEP Review" section carries the views of individual reviewers, and does not necessarily reflect the views of the PEP editorial staff.