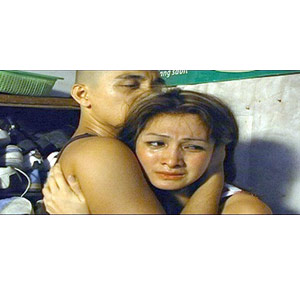 ---

Ynez Veneracion stars in an indie film that features her asa battered wife who is sexually and physically abused by her husband, played byRay-an Dulay. Ynez is paired with another woman, Angela Antonio, who is thedaughter of Kubrador producer Atty. Joji Alonso. Retaso takes alook into the fragmented lives of factory workers.
Directed by Crisaldo Pablo, this film will be screened atRobinson's Movieworld Galleria from January 9 to 15. Retaso is a full-length feature film adapted from ashort film by Dianne Marie Combalicer, a student at the University of Santo Tomas. Itpremiered locally during the third Cinemalaya Philippine Independent Film Festival last July 2007.
Retaso (2007)
Director: Crisaldo Pablo
Screenwriter: DianneMarie Combalicer and Crisaldo Pablo
Cast:
Ynez Veneracion as Lena
Angela Antonio as Delsa
Ray-an Dulay as himself
ADVERTISEMENT - CONTINUE READING BELOW
SYNOPSIS.
Delsa(Angela Antonio) does her work as a sewer in a garments factory where even thevisits to the comfort room are regulated. Her husband and child passed away in atraumatic stampede some years ago and she now lives alone in a small room in asquatter's area in Quezon City. Her routine is towake up each morning, go to work, come home, make rags out of pieces of clothshe gets from the factory, cry over the loss of her family, and open her doorto her neighbor Lena (Ynez Veneracion) who runs to her every time she is beatenby her husband Ray-an Dulay.
Lena is a former dancer who does laundry to earn a living for her husband andherself. She understands that her husband Ray-an has been trying to find a jobbut he seems to be running out on luck. This misfortune hits Lena too as shebecomes an outlet for Ray-an's frustrations. Lena is abused as a wife, bothsexually and physically.
Delsa and Lena live in a compound composed of frustrated, desperate, angry citydwellers jaded by the harshness of urban living. They are trapped in theoppression of their work and family lives.
Retaso
is the story of two women who think that together they can bestrong enough to escape everything. But only when the two become one can theytruly be free.