"Matakot na... ako. Ako. Ako po."
This is what Rita Avila said addressing the accusations she is receiving for her character's controversial line in the dislodged 2020 Sinag Maynila Film Festival entry Walang Kasarian ang Digmang Bayan.
Rita played the role of Virgie, who is angry at President Rodrigo Duterte for implementing the war on drugs that caused the death of her loved one.
A publicist of the film confirmed to PEP.ph (Philippine Entertainment Portal) on February 21, 2020, that the movie, directed by Jay Altarejos, is "Anti-Duterte."
Virgie's line, "Ako mismo ang papatay kay Duterte!" has been drawing flak, with some publications and netizens directing their attack on Rita.
Rita reacted with a post on her Instagram account uploaded on February 22, 2020 with the caption (published as is):
"Talaga po ba? As an actress, I have the professional obligation to do this movie as this is part 2 of "Kasal". I played mom to the lead actor.
"Ganito na lang po: pag yang linya kong 'yan ay sinabi ko sa tutoong buhay... MATAKOT NA... ako. AKO. AKO PO.
"Ni hindi ko makukurot ang Presidente. Ni hindi ko siya mamumura sa tutoong buhay.
"Parang iyong mga high sa drugs lang ang matatakot sa isang linya sa pelikula.
"Isip isip naman po mga kapatid.
"Sensibilidad po."
Rita continued to address the issue with a photo she uploaded on Instagram with the text (published as is): "Nung sinabi kaya kay Barbara ang "PAPATAYIN KO SA SINDAK SI BARBARA!" nasindak ba siya?
"It is so crazy, a line in our movie scares many people because Pres. Duterte might get mad?
"I don't think he would take that against me. Baka matawa pa nga siya.
"I don't think that line would threaten him. Siya pa ba? Ako ang matakot di ba?
"Pero 'di naman ako dapat matakot dahil linya 'yun sa script. Eh 'yun ang kwento ng pelikula.
"If I will say that line as a person, I think that would be wrong."
Shortly after, Rita also posted a screenshot of the comments that she and a netizen named Narciso Rodriguez made last February 19 on the Abante News Online Facebook page.
Abante News Online's post is a link to their article, "Rita Avila may 'banta' kay Digong."
On it, Rita commented (published as is): "Ang karakter ko po sa pelikula ang nagsabi ng linya, hindi po ako.
"Hindi po si Rita Avila bilang tao.
"Ako po ay may obligasyon bilang artista para gawin ang aking karakter.
"Hindi ko po masasabi 'yun sa Presidente bilang tao sa tutoong buhay.
"Isip-isip din po."
And below her statement is Narciso Rodriguez's comment that says (published as is), "Kainin ang p*ki mo ni Digong. Pakyou Rita."
Rita retaliated with a post on her Instagram account with the caption (published as is), "Narciso Rodriguez, give respect to ur President.
"Bilang supporter, ganyan mo ipapagtanggol si Pres. Duterte?
"At sa isyung title lang ang nakita mo ay ganyan ka pumutak? Wala kang isip? Isip muna.
"Alamin mo muna ang kabuuan ng pelikula.
"Anak mo ata yang nasa profile pic mo, kung may anak ka, mas maganda para mas makita mo sa pelikula kung bakit may ganung linya.
"Wag mo pababain ang pagkatao mo. Sayang ka.
"Be a good blessing on earth. Dami na tayong problema.
"Pakita mo ang kabutihan mo. Meron ka nyan.
"Andyan lang yang kabutihan sa yo. Ilabas mo yun. Mas sasaya ka."
Rita also defended the movie and its director with a comment on her first post on February 22 (published as is): "I respect the decision of #sinagmaynila2020. They have their rules and sentiments.
"Director Jay Altarejos has his own vision and perception for the story.
"Should all stories in movies please each one of us? No, di ba? Impossible, di ba?
"We have different tastes, intelligence or reasons to like or dislike a story—fiction or non-fiction."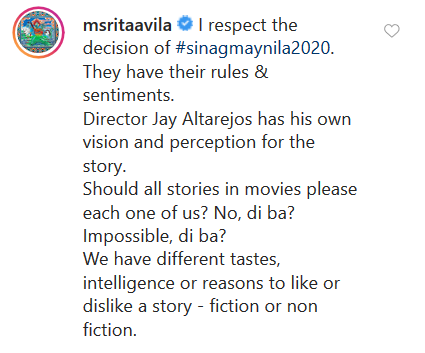 Walang Kasarian Ang Digmang Bayan tackles extra-judicial killings in the Philippines, and was pulled out from Sinag Maynila 2020 on February 21, 2020.