Misery loves company—and two miserable people may eventually find love in each other. Case in point: the protagonists of English Only, Please.
Julian Parker (played by Derek Ramsay) is a New Yorker business analyst who hires (through the Internet) a tutor who can teach him how to speak Tagalog fluently.

He finds Tere Madlansacay (Jennylyn Mercado), a Bulakenya who teaches English to Korean students, among others.
Julian pays Tere to translate, from English to Filipino, his hate-filled letter to his ex-girlfriend Megan (Isabel Oli). He is still hung up on his college sweetheart who, after graduation, returned home and met another man.

He flies to Manila and learns Tagalog from Tere, so he can personally deliver and recite with feelings his letter to Megan.
Tere herself is lovesick. She continues to see her ex-boyfriend Rico (Kean Cipriano) and lavishes him with expensive gifts in the hope of getting him back.
It takes a while for Julian and Tere to break the ice. For starters, Julian is aloof and he can't stand her tardiness. Tere, on the other hand, is perky and friendly, but she appears ditzy and unrefined.
Realizing that they needed each other's help—he, in stalking his ex at a cineplex; and she, in pouring out hurt feelings over her ex—Julian and Tere become friends and they start spending more time together.
What happens next is everyone's guess, whether the viewer is a fan or a non-fan of romantic comedy, or what is commonly referred to as rom-com.
After all, a rom-com movie is supposed to make people believe that true love happens, and that it conquers all.
English Only, Please is able to do that, but only to a certain degree because the kilig scenes are woefully inadequate and disappointingly pared down.
Examples: the scene on the bus where Justin carefully positions the head of sleeping Tere on his shoulder; the scene on the jeepney where Justin's and Tere's fists accidentally touch; the scene where Justin engages in a hotness contest with a buff admirer of Tere. And the list goes on.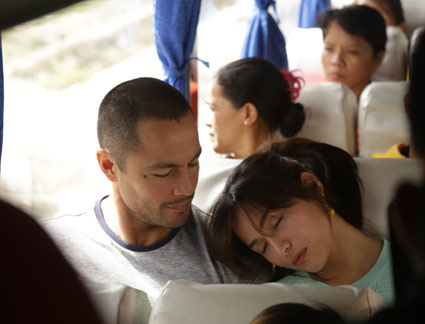 Maybe director Dan Villegas and writers Antoinette Jadaone and Anj Pessumal have opted for restraint and chose not to overindulge the audience, lest the movie becomes sappy?
To their credit, they have woven a coherent and sensible story that may lack in major conflicts but is loaded with nuggets of wisdom, truth, and reality.
Examples: Tere finally realizes that her ex-boyfriend Rico is just using her, so she stops chasing after him. But when she finds out that her family has been mismanaging their finances, she readily forgives them. Well, family is family.
Justin learns to let go of his pursuit of Megan and to understand why his mother left him and his father.
The creative trio also used devices, like word translations that appear in between the scenes, which proved to be entertaining and made the movie current and relevant.
Derek and Jennylyn, as Justin and Tere, respectively, make a good-looking and charming pair. It does make perfect sense why they eventually fall for each other.
Jennylyn succeeds in making her character sassy and street smart yet stupid in love. But it is really in tender and dramatic scenes that she is most comfortable and adept in.
Derek, having been raised in the U.K. and schooled in the U.S., fits his character to a T. Apparently, English is his mother tongue and speaking Tagalog with a twang comes natural to him. This way, he's able to express his emotions with clarity and believability—be it anger, sadness, hurt, being loved, and being in love.
The secondary cast, particularly Cai Cortez and Isabel "Len-len" Frial, add laughter and sense to the movie. Cai plays Tere's best friend Mallows, a single mother who's forever on a lookout for a man. Isabel is Mallow's daughter Kay-Kay.
It is also refreshing to see faces that don't regularly appear in movies or in teleseryes. In fact, Lynn Ynchausti-Cruz, the wife and manager of veteran actor Tirso Cruz III, makes her film debut, and it turns out fairly well.
English Only, Please is the only rom-com/love story/light drama entry to the 2014 Metro Manila Film Festival (MMFF), and it's still a good pick.

(To learn more about this MMFF 2014 entry, CLICK HERE)


Ed's Note: The "PEP Review" section carries the views of individual reviewers, and does not necessarily reflect the views of the PEP editorial staff.