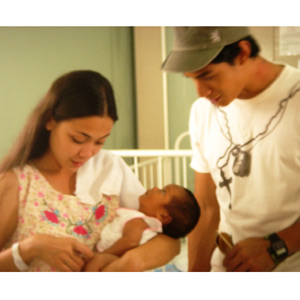 ---

Cinema One organizesits annual digital film fest in hopes of providing a venue for localgeniuses to produce digital films on a limited budget without compromisingcontent. It has turned out to be a success as Filipino filmmakers havevictoriously showcased their passion, talent, creativity and ingenuity throughthis awaited annual event.
Now on its thirdedition, Cinema One offers indie films that have a right mix of entertainmentand substance. Borne out of their vision and belief in the Filipino talent,Cinema One is contributing to the roster of quality Filipino movies via theCinema One Originals which started in 2005. Five remarkable, must-seedigital films have been chosen to be part of the 2007 Cinema OneOriginals.

For those who missed the firstspecial screenings in Glorietta and Trinoma, there's another chance to catchthese Cinema One Originals entries at the UP Film Institute Cine Adarna. From January 28 to 31, Monday to Thursday, the new Cinema One Originals—Confessional, Prinsesa, Maling Akala, Tambolista and Altar—will be reshown.


Multi-award winner Confessionalgarnered an incredible 7 awards: Best Picture, Best Director: JerroldTarog and Ruel Dahis Antipuesto, Best Supporting Actor: Publio Brioness III,Best Screenplay: Jerrold Tarog, Best Sound: Jerrold Tarog, Best Editing:Jerrold Tarog and a Special Award from Star Cinema.
Confessionalcenters on a former politician, who may or may not be dying and confesses his sins—all the crimes he committed while in office—infront of a small-time filmmaker's camera.


The OFW family drama Prinsesafrom director Lawrence Fajardo was honored with three awards: AudienceAward for Best Digital Film, Best Actress: Shamaine Buencamino, and BestSupporting Actress: Ermie Concepcion.
ADVERTISEMENT - CONTINUE READING BELOW
The film tackles the issue of having an Overseas Filipino Workeras a parent and how this affects a child's life. The first Filipino film toprobe into the psychology of obesity, Prinsesa views this in a new light,connects it to the Filipino diaspora and tackles the mechanism ofover-compensation.


Maling Akala, a light romantic movie from directors Veronica Velasco and PabloBiglang-awa,won two awards: Best Cinematography forLarry Manda and Best Production Design for sisters Baba Velasco and VilmaVelasco.
How will a confused man and troubled woman's relationship work?Maling Akala tells a story about two people meeting in anunlikely situation and having a bittersweet relationship that is both queer anddysfunctional.


The realistically chillingperformance of Sid Lucero comes from the intriguing drama Tambolista ofAdolf Alix,which is about a young boy's (Jiro Manio) desire to have hisvery own set of drums. Sid won the best actor trophy in the festival playingthe amoral neighbor. Coco Martin, playing the brother of Jiro Manio,tries to make that wish come true. But instead, the brothers are caughtup in a web of deprivation, violence and betrayal. Ricky Davao and Anita Lindaco-star.


The spine-chilling Altarof Rico Ilardewon the Best Musical Score through Malek Lopez. Aformer boxer (played by Zanjoe Marudo) comes back to the Philippines and findshimself jobless and destitute. He then finds a job to renovate an old anddecrepit house which turns out to be haunted. Blood curling events follow one after another.


Catch the new wave of originaldigital movies by brilliant Pinoy filmmakers for one whole week. On the firstscreening day, January 28, Monday, the film Maling Akala will start theweek-long showing at 5pm, followed by Confessional at 7pm.
ADVERTISEMENT - CONTINUE READING BELOW
On January 29,Tuesday, Altar will be shown at 2pm, Prinsesa at 5 pm and last for the day isTambolista at 7 pm.
During the mid-week, January 30, Wednesday, Confessionalwill be shown at 5pm while Altar can be watched at 7pm.
On the last night ofthe special screening, January 31, Thursday, Maling Akala will be shown at 2pm,Tambolista at 5pm and Prinsesa at 7pm, capping the week long film showing.


Tickets are available at P100 atthe UP Film Institute Cine Adarna, UP Diliman Campus, Quezon City. Call the UPFilm Institute at 9262722 or 9263640 for details.