For the 40th Metro Manila Film Festival (MMFF), Vic Sotto and Ryzza Mae Dizon once again teamed up for the family comedy film My Big Bossing.

The three-part movie shows Ryzza Mae brought life to different characters in the fantasy Sirena, the horror-comedy Taktak, and the family story Prinsesa.

In Sirena, Ryzza Mae studied scuba diving in order to portray her role as a mermaid.

Marian Rivera joins Vic in the Taktak episode wherein she portrays a executive producer seeking for the truth about a spirit medium (played by Ryzza).

The Prinsesa episode features Ryzza Mae as Biiktoria, a young girl who grew up in a piggery. It stars Nikki Gil, Zoren Legaspi, Sef Cadayona, and Buboy Garovillo. Child star Alonzo Muhlach is cast as a prince in this episode set in a medieval looking village.

My Big Bossing lead star and co-producer Vic Sotto promised this films is bigger and better than last year's My Little Bossings.

For one, Vic teased, the title has "Big" in it. And while My Big Bossing still capitalizes on the onscreen rapport of Vic and Ryzza Mae Dizon as it did in the previous movie, Vic makes good on his promise in five ways:
1 Shifting to the trilogy format
This benefits both young and old viewers: the very young ones with limited attention span (the movie is rated General Patronage, after all), and the older crowd who has lost patience for overstretched storylines. My Big Bossing's three episodes Sirena, Taktak, and Prinsesa have simple yet interesting and varied plots that are easy to follow. Plus, you get to the exciting parts quickly, be it the part where Ryzza's character Dyesabilbil actually turns into a sirena as she wished, or the one where her other character Biiktoria is recognized as the true princess.
2 Doing away with shameless product endorsements
My Little Bossings received a lot of flak last year for product placements and endorsements that had little relevance to the story. In My Big Bossing, there are only a couple of subtle endorsements that naturally blend into the story and the dialogues. (If there are more, they are likely not that noticeable.)
3 Showcasing Ryzza Mae's versatility
The child star undoubtedly has a natural flair for acting, but portraying three different characters in one movie has given her the chance to show her talent in various genres, from fantasy to horror to adventure. Ryzza is adorable as Vic's inaanak-turned-mermaid, funny yet scary as a young spiritista with an uncanny ability to communicate with the dead, and hilarious as an unsuspecting princess who grew up thinking she was a pig.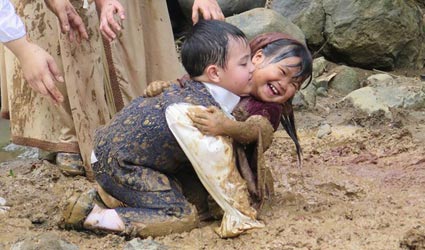 Ryzza Mae Dizon and Alonzo Muhlach in a scene from Prinsesa


4 Including other co-stars outside of the Eat Bulaga gang
Put Jose Manalo and Wally Bayola together in a movie and you know you'll get audiences laughing. The same goes for Ruby Rodriguez. But adding Marian Rivera, Nikki Gil, and Niño Muhlach to the equation is definitely refreshing, with Nikki as the very regal queen, Marian as the feisty TV executive producer-slash-researcher, and Niño as the evil duke out to wrestle the crown from an ailing king.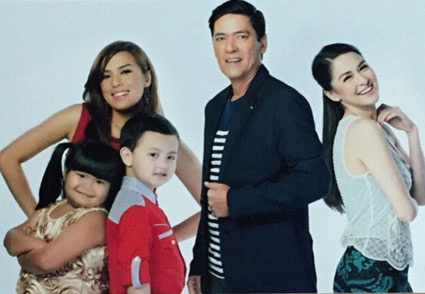 Nikki Gil, Ryzza Mae Dizon, Alonzo Muhlach, Vic Sotto and Marian Rivera
5 Spending a nice chunk of the budget for production design (without going over the top)
Particularly for the Prinsesa episode, one gets a feeling of being transported to another time and a faraway land where women wore petticoats and elaborate gowns, and men were dashing in their gold garments with swords tucked on their sides. Much attention was also given to the palace interiors, which look impressive enough.
Among the eight MMFF 2014 entries which run the gamut of horror, romance, historical, and action movies, My Big Bossing seems to be the most appropriate choice if you have young kids whom you want to entertain during the holidays. Each episode comes with a simple story that is easy to digest and a lesson that young minds will not find difficult to comprehend.