In M. (Mother's Maiden Name), Zsa Zsa Padilla plays the icy, sharp-tongued lawyer, Bella Montecarlo, who is suddenly diagnosed with pancreatic cancer—"not curable but treatable."

Having a formidable career and the resources to exhaust, Bella will do everything in her power to battle her disease.

Written and directed by Zig Dulay, his film offers a nuanced melodrama about dying—not death—meanwhile delivering a stark commentary on the disparity between the medical assistance available in the country for the rich and poor.
A dark comedy, M. sketches a strong lead in Bella, a person with a disdainful attitude towards everyone inferior to her. Indulged by an engagingly biting and funny screenplay that puts the spotlight on her vileness, Bella isn't one to be changed or moved by her sickness. The film isn't about to purge its main character or render her vulnerable like most movies tackling cancer do. Resonating Bella's incurable disease, her iniquity is irredeemable. M's tone is consistent, its theme coherent all throughout.
The role is perfectly apt for ZsaZsa who delivers a stirring performance. She incites terror when asked of her character and in doing so still manages to display comedic timing. When in pain, she commands empathy without losing her character's composure. Despite her character's despicable conduct around others, the actress achieves in winning her audience's affection, obviously not for her failure to show compassion, but for being genuine.
The actress is reinforced by a reliable cast. Leading the pool of supporting actors is the talented Nico Antonio who plays Bella's son, Joven, perhaps the only person in the story who understands and accepts Bella's overall meanness.

While his love for her is unconditional, Joven often engages in sardonic banters with his mother which is utterly fun to watch. In one of the scenes Joven gently tells off Bella, "Mas maganda pa rin daw ang panloob na kagandahan kaysa panlabas," to which Bella retorts, "Argument yan ng pangit." Nico and Zsa Zsa's repartees are one of the films' strengths, often serving as comic relief.
Joven stands by his mother's side throughout her quest to find medication, trying out chemotherapy, stem cell treatment, and finally seeking help from a faith healer in a remote province. Mother and son set out to find their longtime helper (Gloria Sevilla) who left their household to look after her sick daughter (Sue Prado) believed to be wooed by a tikbalang. Contrary to what the faith healer tells them, Sue's character was in fact suffering a chronic kidney disease.
The film poignantly succeeds in comparing the medical attention and help that the affluent and the impoverished get without getting all preach-y. It rolls out into a compelling drama that portrays such social reality. Although death knows no social class, sickness does—and money has the ultimate say in a sick person's survival.
At a high point in the film where Bella's helper's daughter is fighting for her life and the hospital (as per rules) refuses to give aid without money, Bella steps in. She uses all she can—force and finances—to extend help. Nothing cathartic is attained, however, in the main character's display of sympathy. M. is set out to hand its audience only the tough realities of life and that includes people unchanged even by the most shattering experiences.
After it drives at what it means to, M. comes full circle as mother and son, Bella and Joven, fully come to terms with Bella's condition. Nothing is renewed in their relationship. Just that mother and son have a deeper sense of worth in each other's lives which always happens when one passes away.

M. (Mother's Maiden Name) knows no drama as it concludes but it does leave behind a disquieting notion about mortality.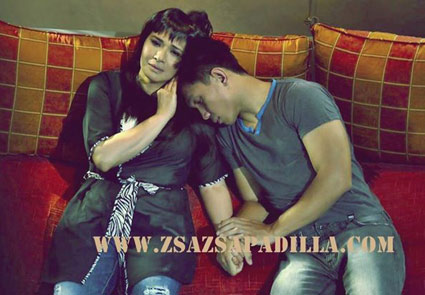 Zsa Zsa Padilla plays the single mother of Nico Antonio's character



Zsa Zsa won the New Wave Best Actress award during the Gabi ng Parangal of MMFF 2014.

M. also bagged the Special Jury Prize during the MMFF Awards Night.

This film, which is one of the New Wave entries of the 2014 Metro Manila Film Festival, will be screened anew in SM and Ayala cinemas starting January 21, 2015.

(To view the complete list of winners of MMFF 2014, CLICK HERE)




Ed's Note: The "PEP Review" section carries the views of individual reviewers, and does not necessarily reflect the views of the PEP editorial staff.