Presenting Nos. 11-15 in the Philippine Entertainment Portal's list of The 15 Greatest Movie Actresses in Leading Roles, 2000-2020.

We focus on actresses who appeared as lead stars in mainstream movies over the last 20 years.

We, therefore, eliminate actresses in supporting roles. We also do not count appearances in independent films. Neither do we include appearances on television or the stage.

The only exception we have made to this rule is Jacyln Jose, our Top 5 pick, for reasons explained in the commentary accompanying our vote.

Read the full story here: 15 Greatest Movie Actresses in Leading Roles, 2000-2020: No.1 - No.5
From November 2020 to early April 2021, PEP.ph—a team made up of 11 editors and writers—had been deliberating on this list, as a group, via Zoom.

We did the voting in roughly five stages.

In the first stage, each one was asked to draft an individual list of 15 actresses. Everyone of us ended up naming at least 20, some even 25. Also during this stage, the team members began to watch and rewatch as many of the significant movies of the actresses in their lists.

In the second stage, we used an e-chart showing the names of all the actresses listed by any of the 11 members. At this time, on the chart there were still more than 15 names. As it was in the earlier stage, the exchange of opinion was intense, particularly when certain members felt strongly that their lists were the smartest.

The third stage was tougher. Now the 11 members had to rank their choices from No. 1 to 15. This was a stressful period and one that could no longer be resolved by subjective, personal views. Choices had to be defended. Adjustments in thinking had to be made. To go about this rationally, certain members were assigned to fact-check the actresses' filmographies. Then followed another round of debating, arguing, disagreeing, accommodating.

The fourth stage was when the math was applied to the rankings made by the 11 members. Essentially, the actress who hit the No. 1 spot most frequently in the list of most of the 11 members went up the ranking. The results automatically showed up in the e-chart. At this point, the names being flashed were still going up and down and vice versa.

In the fifth stage, the Top 15 ranking was more definitive. But there remained many discussions around certain rungs even at this time. Questions like this or variations of this: Should No. 5 not be No. 6? Should No. 8 not be No. 10? Often, the grittiest arguments centered on the difference between one or two rungs. Debates got emotional, returned to rational, got emotional again. People could really be protective of their lists, and with everyone feeling free to say his piece, the Zoom sessions ended up going from two to four hours.

During the various stages, as needed, the editor-in-chief, who led the review team, would come in. Much of the time, it was to remind everyone of the basics: This must be a credible list. Facts and figures—and, of course, taste—must back up our choices. This is not about personal favorites. This is not about which actress is your friend or, for that matter, your pet peeve. This is about a list that reflects the judgment of PEP.

When we finally came to the Final Top 15, we felt like we had gone through a crash course in acting. It was exhausting, but it was also exhilirating. We knew this was a bold thing that we had done. We were putting our choices on the line. We were going to open ourselves to public scrutiny.

Still, we knew we had done our level best. We had taken this seriously. We had studied. We had researched. We had discussed and debated. We had rewatched films as needed. We had data supplement opinion. We did everything aboveboard.

Now, we were ready to explain ourselves. This is the reason an introductory text— like this one—begins the presentation of each batch of five actresses. This is also the reason each actress in the list has an accompanying commentary.

The PEP TEAM includes: Editor-in-Chief Jo-Ann Q. Maglipon; Executive Editor Karen AP Caliwara; News Editor Erwin Santiago; Video Editor Rommel Llanes; Deputy News Editor Rachelle Siazon; Chief of Reporters Arniel Serato; Senior Reporters
Bernie Franco and Jet Hitosis; Lifestyle Reporters Nikko Angelo Tuazon and FM Ganal; Guide Reporter James Patrick Anarcon.
Here is THE PEP LIST of THE 15 GREATEST ACTRESSES IN LEADING ROLES (2000-2020): No. 11 Jennylyn Mercado, No. 12 Bea Alonzo, No. 13 Toni Gonzaga, No. 14 Anne Curtis, No. 15 Kathryn Bernardo.
KATHRYN BERNARDO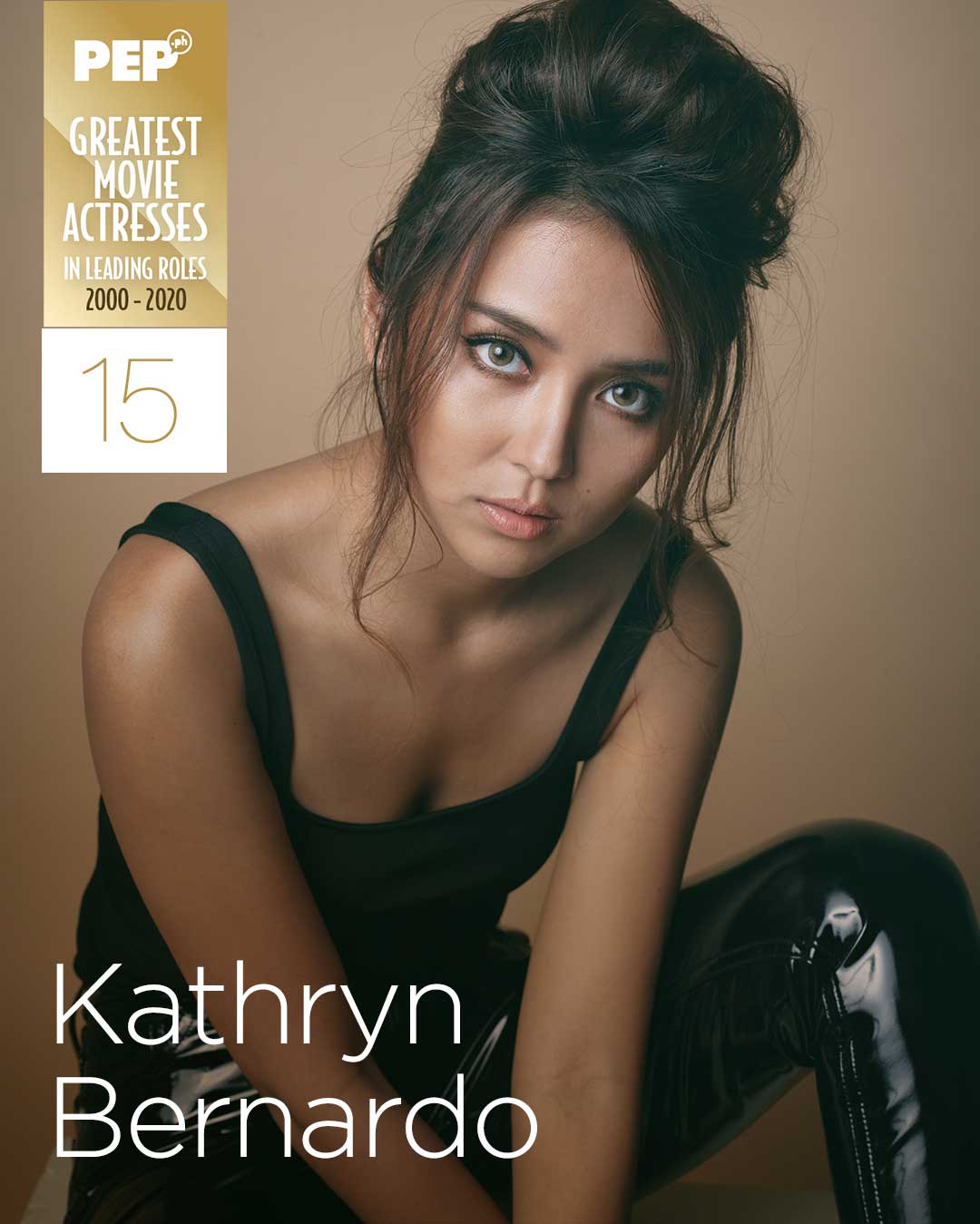 BY NIKKO TUAZON
KATHRYN BERNARDO IS already, to go by movie tills, the biggest movie star of her generation.

But like most child stars, Kathryn started with cutesy, sometimes almost cringe-y roles. Clearly, her full range was yet to be revealed.
With an excellent director, Kathryn showed everyone what she was capable of. Both times with Cathy Garcia-Molina, she was fun and engaging in She's Dating the Gangster (2014) and warm and real in Three Words to Forever (2018).
Barcelona: A Love Untold, under Olivia Lamasan, and The Hows of Us, again under Garcia-Molina, had her making viewers believe the characters she played, which should be given some credit for the film's box-office success. But, to me, her best film is her last movie, 2019's Hello, Love, Goodbye, again under Garcia-Molina. In this one, Kathryn just came across as true and sincere, as she played the hardworking, no-nonsense domestic helper Joy Marie Fabregas.
Despite a career filled with formulaic films, Kathryn bagged acting awards from the country's big groups, including the PMPC Star Awards and Guillermo Mendoza Box Office Awards. Acting trophies from FAMAS and Urian remain elusive.

But, as Kathryn once put it: "Trophies do not make an actress. It's also not about the sales or how much a movie has earned. It's about the many hearts that you're able to touch through your films."

Perfectly said.

Awards are not infallible. Many factors play into getting that statuette, including promotional considerations, personal ties, and spoken and unspoken biases. These formal accolades are always welcome, of course, but in the end, they are always subjective. They are a reflection of an individual's and an institution's taste; they are not necessarily a reflection of an actress's real worth.

And Kathryn, at 25 years of age, is already more than the sum of her trophies.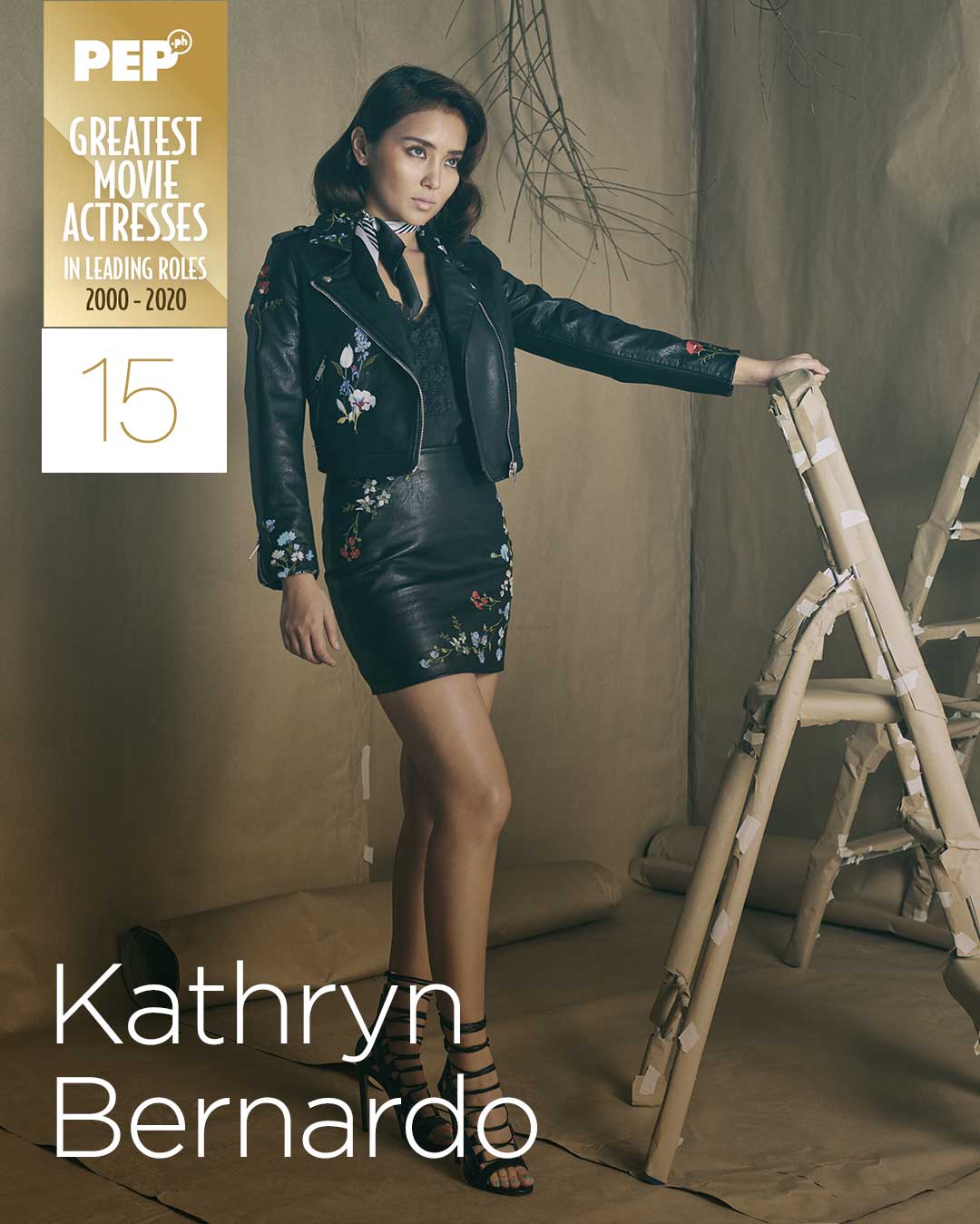 BY CHEZ GANAL
KATHRYN BERNARDO HAS come a long way as an actress.
She began her movie career playing the younger version of the lead actress or rounding out the children cast in a film.
As she transitioned into her teenage years, Kathryn got her first shot at a lead role— first on television, as is often the case—in the remake of the '90s classic Mara Clara.
Its success elevated Kathryn's status to promising young star, with the Kapamilya network testing her growing star power with a first lead role in a movie, through Way Back Home (2011).

By 2014, Kathryn had become a top teen idol, thanks to the box office hit, She's Dating A Gangster (2014). The actress always shines when her roles allow her to act her age. Part of the reason why She's Dating A Gangster worked was because it's a teen love story starring actual teens.
But Kathryn couldn't stay a "Teen Queen" forever.
Barcelona: A Love Untold (2016) gave Kathryn, and perennial onscreen partner Daniel Padilla, the chance to transition from teenage star to dramatic lead. However, despite efforts to change her look, Kathryn still looked like a teenager in the film, and it didn't help that her character Mia was like a lost child trying to navigate the city of Barcelona.
For her next role in Can't Help Falling in Love (2017), studios decided to ease audiences into the idea of seeing Kathryn in a mature role in a lighthearted story. It was back to kilig romance, but with Kathryn and Daniel playing characters in their early 20s. No problem there.
Studios again tested her dramatic skills in The Hows of Us (2018), in which Kathryn's character George graduates from college and experiences the ups and downs of a young adult.
Here, the young actress showed how much she had grown in her craft. She no longer relied on tears to make a scene dramatic. I even think the "What makes that 'sorry' different?" sequence in the film had the same emotional resonance as Bea Alonzo's "Sana ako na lang" sequence in One More Chance.
But Kathryn's ultimate transformation came, not in the love-team structure where she nails it every time, but in her first major work outside it.
Hello Love Goodbye (2019) gave Kathryn the perfect role. Different from anything she had done so far, it was not too far-fetched that she would become miscast or would alienate followers. Everything just fit.
In the film, she is an OFW motivated by the ultimate dream to live a better life. Her character Joy in Hong Kong is something like her character Mia in Barcelona: A Love Untold, but with a big difference. This time she walks around the city with a sense of purpose.
Again, Kathryn tackles her emotional scenes without relying on tears. She allows her eyes to speak more. She clearly internalizes the emotions of the scene and even embraces the film's moments of silence. In her dialogue is a different beat. It no longer feels like she is consciously matching emotions to words. Now, words roll off her as she allows emotions to flow from within her.
Kathyrn, only in her mid-20s, is clearly the country's most bankable female lead.

Her Hello, Love, Goodbye in 2019 brought in P880.6 million, which still stands as the biggest box-office gross in local movie history. The year before, her the Hows of Us came in at P805 million at the box office, which stood as the highest-grossing movie for 2018.
Her other films that sent theater cash registers ringing include: She's Dating the Gangster (2014), P286M; Crazy Beautiful You (2015), P320M;
Barcelona: A Love Untold (2016), P321M; and Can't Help Falling in Love (2017), P320M.
It has been a steady climb. Kathyrn's first movie with Daniel Padilla, Must be Love (2013), grossed a modest if respectable P61M; and her first starrer, Way Back Home (2011), grossed just P25.78M.
With more of the right material, handled by the better directors, Kathryn has the potential to emerge as possibly the greatest among movie actresses of her generation.

Already, she is beloved by her public. Happily, she has the talent to deserve to be beloved.

ANNE CURTIS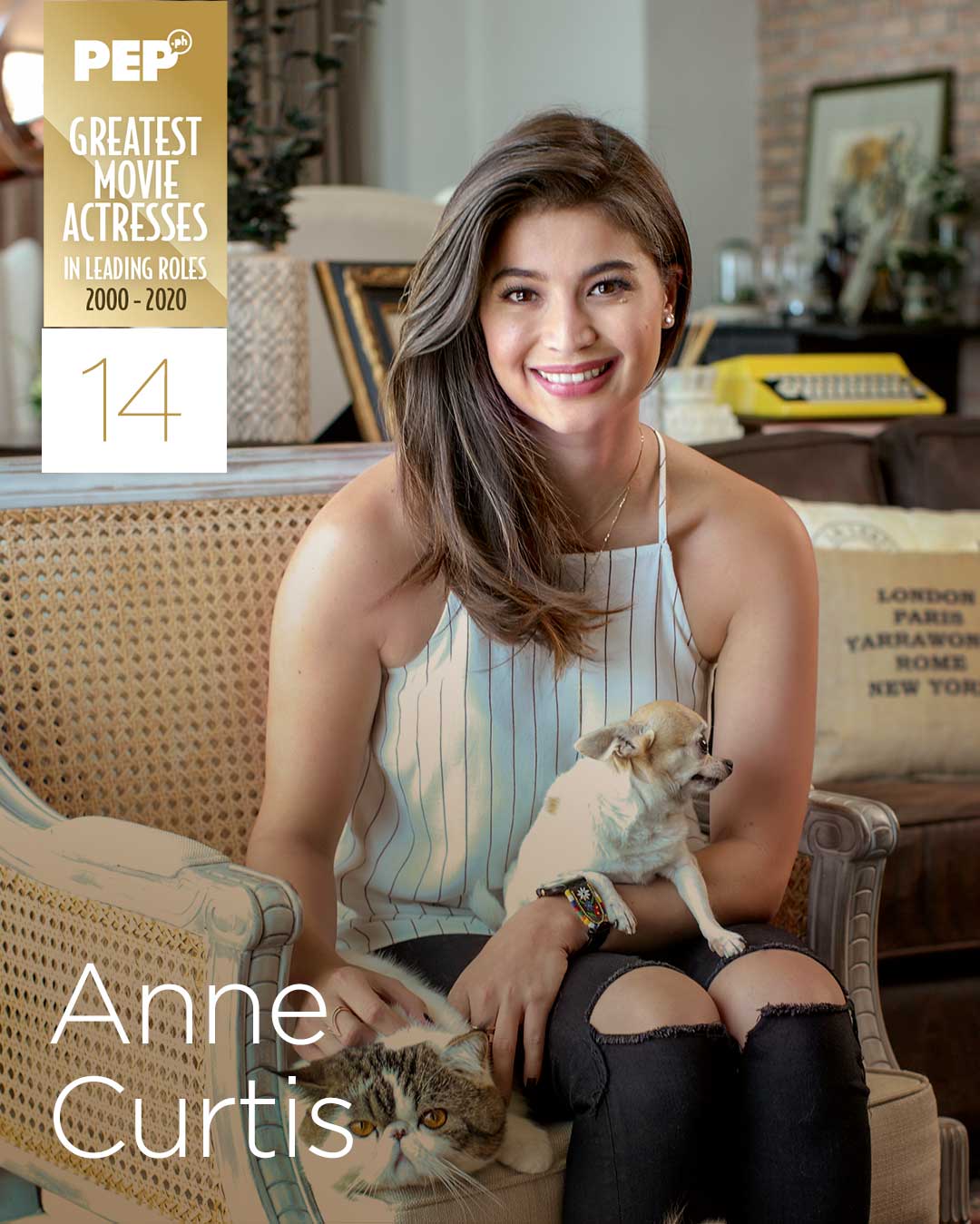 BY CHEZ GANAL
NO OTHER WOMAN (2011) was a defining movie in Anne Curtis's career. Before the movie's release, Anne was like any other actress of her generation. She was versatile enough. She could play the demure and sweet characters that were especially popular in the movies of the 2000s. If the studios wanted Anne in a comedy, she could also pull off the loud and sometimes tomboyish character, like her counterparts could.
But in No Other Woman, Anne embodied a character that men secretly desire and that women secretly want to be. She had the face, the body, the sex appeal to back it up.
Her character Kara Zalderiaga was an alternative take on the strong female protagonist, which would be a common thread in her roles moving forward. The character's strength did not come from having masculine qualities, it came from tapping into a woman's innate sense of power.
And even if Kara were the kind of woman you prayed your husband would never meet in his lifetime, Anne managed to portray her so that you could not help but root for her happiness. The audience understood that Kara was a bitch, but that she was being so to protect herself from pain.
In the movie, Kara declared, "I will never be a pathetic, boring housewife." This proved to be prophetic, as Anne would choose fun roles for her films after No Other Woman.

In her succeeding comedy films, The Gifted (2014), Bakit Lahat ng Gwapo may Boyfriend (2016), and The Mall, The Merrier (2019), Anne embraced camp. What followed was a wacky and animated Anne who was a delight to watch on the big screen.
Anne also continued to star in drama and romance films, finding new ways to show feminine strength and enigma.
In between the lighthearted films, she challenged herself by exploring different genres, such as action and crime in BuyBust (2018), and suspense and horror in Aurora (2019).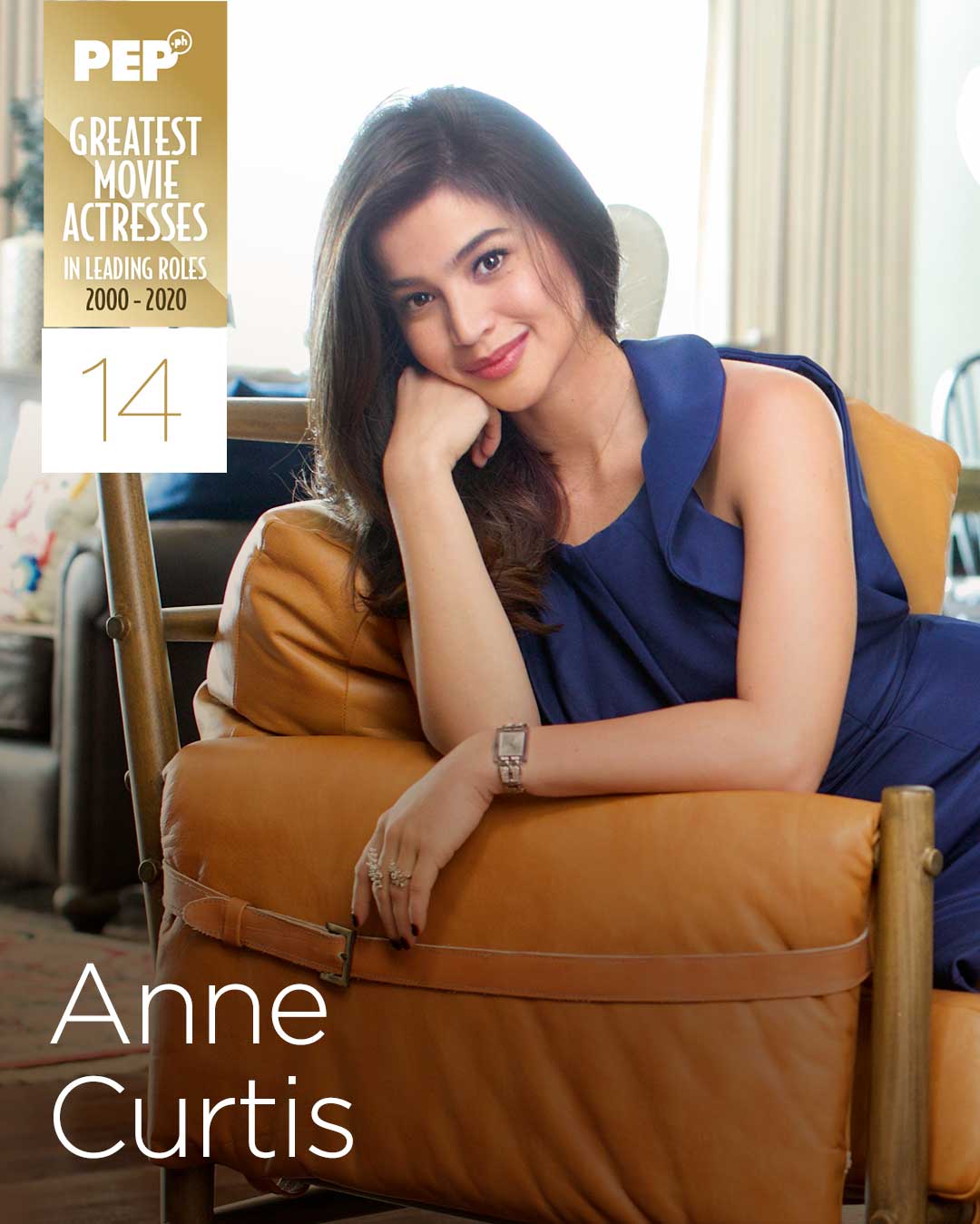 BY NIKKO TUAZON
"JUST SHUT UP and kiss me, and don't you dare fall in love with me." This is possibly the most iconic movie line ever delivered by Anne Curtis, and she nails it!
Ruel Bayani's romantic drama No Other Woman had an ordinary infidelity story, but the exceptional performances of its lead stars made the movie a multimillion peso success. Anne most definitely stood out. She looked gorgeous as Kara Zalderiaga, a resort heiress who falls in love with a married man.

Her performance earned her a Best Actress nod at the 60th FAMAS Awards in 2012.
The "sosyalera" has been her comfort zone, to go by her portrayals of Rafi Delgado in Nuel Nava's A Secret Affair (2012), Zoe Tuazon in Chris Martinez's The Gifted (2014), and even Morisette Molina in Barry Gonzalez's The Mall, The Merrier (2019).

No one does them better.
But Anne stepped out of her comfort zone and dove into unorthodox roles.

My personal favorites are her portrayal of Aya, a woman full of mystery, in Irene Villamor's Sid & Aya: Not a Love Story (2018); and the rebellious Officer Manigan in Erik Matti's BuyBust (2018), which she considers her most challenging role to date. Anne then showed an even wider range when she took on the role of Mae, a married woman caught in a May-December love affair in Portugal, in Jason Paul Laxamana's Just A Stranger (2019).
It has been amazing to see how Magic Kingdom's (1997) Princess Dahlia has emerged as one of the most sought-after actresses in Philippine movies, while essaying many types of roles, as a proper artist would.
TONI GONZAGA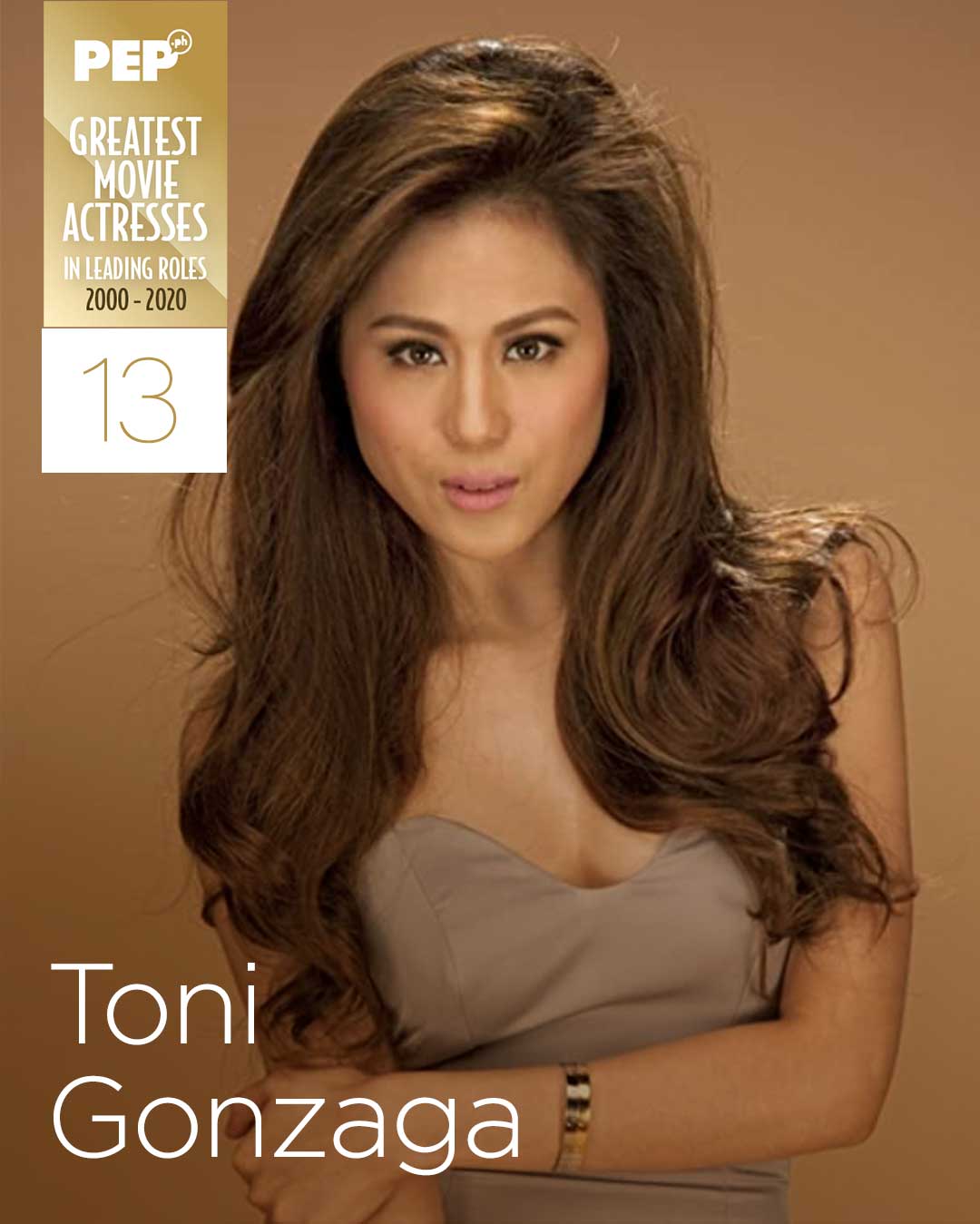 BY JET HITOSIS
ROMANTIC COMEDY ANG comfort zone ni Toni Gonzaga, mapapelikula man o teleserye.
Madalas ay perpekto ang bitaw niya ng punchline na, kung sasamahan pa niya ng poker face, tiyak na huling-huli niya ang kiliti ng rom-com fans.
Ito marahil ang lamang ni Toni, 37, sa mga aktres na ka-contemporary niya: kayang-kaya niyang patawanin ang manonood, pero tumatagos sa damdamin ang kanyang dramatic moments.
Ganito ang kumbinasyon na napanood kay Toni sa My Amnesia Girl (2010) at sa Starting Over Again (2014).
Kuwela ang maraming eksena ni Toni, kasama si John Lloyd Cruz, sa My Amnesia Girl, na idinirek ni Cathy Garcia-Molina.
Pero unforgettable para sa marami ang breakdown scene ni Toni (Irene), nang pasimple niyang sumbatan si John Lloyd (Apollo) dahil sa pagtalikod nito noon sa kanilang kasal.
Nanggigigil pero nagpipigil si Irene na diretsang kumprontahin si Apollo sa naging atraso nito, dahil kailangan niyang panindigan ang pagkukunwaring may amnesia siya.
Napakagaling doon ni Toni, wala yatang hindi naapektuhan ng eksenang iyon.
Sa Starting Over Again ni Olivia Lamasan, nakipagsabayan naman si Toni ng aktingan sa isa pang mahusay na aktor, si Piolo Pascual.
Bilang Ginny, larawan ng desperation si Toni sa malaking parte ng pelikula, habang tinatangkang makabalik sa buhay ng ex-boyfriend na si Marco (Piolo).
Markado para sa akin nang hindi sinasadyang matanaw ni Ginny nang halikan si Marco ng girlfriend nito.
Nang hindi na natagalan ang kanyang nakita, naluluhang bumaling si Ginny sa painting na nasa kanyang harapan at pinakatitigan iyon habang pinipigilang mapahagulgol.
Payak at napakaikli ng nabanggit na eksena at very minimal lang ang kilos ni Toni, pero nagawa niyang iparamdam sa manonood ang halu-halong selos, pagsisisi, at pagkaawa sa sarili.
Sa mega-blockbuster film na ito—na humakot ng PHP25 million sa opening day—nag-uwi ng Best Actress trophy si Toni mula sa 63rd FAMAS Awards noong September 20, 2015.

Walang makapagsasabing may ibang aktres na dapat gawaran noon. Tanging para kay Toni ang tropeo.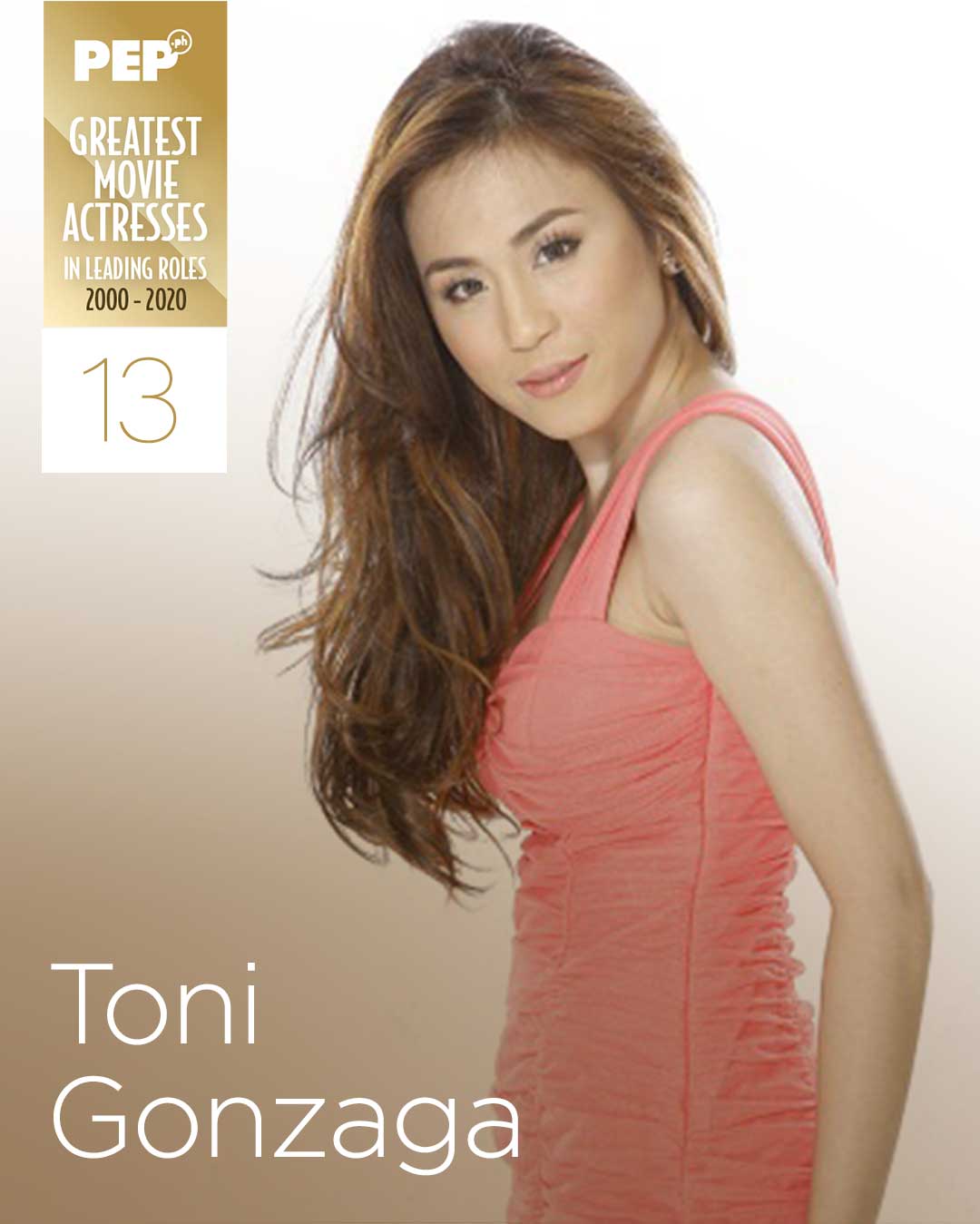 BY JAMES PATRICK ANARCON
THERE REALLY IS something about Toni Gonzaga that affects me, especially when it comes to crying, breakdown scenes.
A scene that stands out is her meltdown-confrontation with John Lloyd Cruz in My Amnesia Girl (2010). Sa eksenang ito, bumigay na ang karakter ni Toni dahil naalala niya ang oras na iniwan siya ng karakter ni John Lloyd sa altar on the very day of their wedding, dahilan para magpanggap siyang may amnesia nang magkita sila ulit.
Tumatak ito sa akin dahil kahit na para lang siyang nagkukuwento, punong-puno ng emosyon ang delivery ni Toni sa panunumbat niya kay John Lloyd, kaya tagos ito sa puso, na di mo mapapansing ikaw rin pala'y naiiyak na kasama niya.
Siyempre, kasali rin dito ang Four Sisters and a Wedding (2013), kung saan kapani-paniwala ang portrayal ni Toni ng the favorite daughter who did not live up to expectations. Isa talaga si Toni sa nagdala ng big, all-star-cast confrontation scene kung saan mari-reveal ang tunay na trabaho sa Spain ng kanyang karakter na si Teddie.
Isa pa sa hinahangaan ko kay Toni ay kahit pa sabihin mong halos puro romantic-comedy ang pelikulang ginagawa niya, hindi siya katulad ng ibang leading lady na dreamy, perfect characters ang parating pino-portray. Madalas pa nga ay may complicated side ang karakter niya, gaya ng sa You Are The One (2006) bilang jealous sister ni Jodi Sta. Maria; sa Four Sisters and a Wedding as the favorite daughter; at sa You're My Boss (2015) as Coco Martin's strict and uptight boss.

Hindi lang siya matapang mag-tackle ng ganitong roles, napapanindigan niya, nagagawa niyang totally believable.
BEA ALONZO
BY BERNIE FRANCO
CONSISTENT SI BEA sa pag-deliver ng moving performances sa mga roles na ipinagkakatiwala sa kanya, lalo na sa genre ng drama na kanyang forte.
Ang strength ng Kapamilya actress ay kaya niyang i-convey ang emosyon na dapat iparamdam sa eksena, lalo na iyong mabibigat. Kamado niya ang dramatic scenes. Iyong tipong makikidalamhati ka sa kanya kapag nasasaktan siya, kapag inaapi siya. Iyong pakiramdam na gusto mo siyang damayan.
Natural kung paano niya i-portray ang kanyang ginagampanan kaya't parang hindi siya umaarte.
Obvious ito sa dramatic scenes ng kanyang mga pinagbidahang pelikula, gaya ng A Second Chance, A Love Affair, at The Mistress.
Sa The Love Affair, walang sigawan o sabunutang nangyari sa confrontation scenes nila ni Dawn Zulueta, pero intense ang eksena.
May kirot sa puso ang breakdown scene niya nang kasama niya si Richard Gomez sa parking lot.
Nakaka-excite isipin ang iba pang roles na pwedeng magawa ni Bea.
Sa ngayon, kung papansinin ay hindi nalalayo sa kanyang tunay na pagkatao ang halos lahat ng ginampanan niyang roles: mabait, nag-aaral, mahinhin, at konserbatibo.
Kaya naman nakakaintrigang mapanood si Bea sa role na malayo naman sa kanyang personality; halimbawa, yung maingay, magaslaw kumilos, madungis, at laki sa hirap.
Hindi rin kaila na masarap panoorin si Bea dahil sa maamo niyang mukha. Tatak Bea na ang magandang shots ng mukha at masaganang pagdaloy ng mga luha.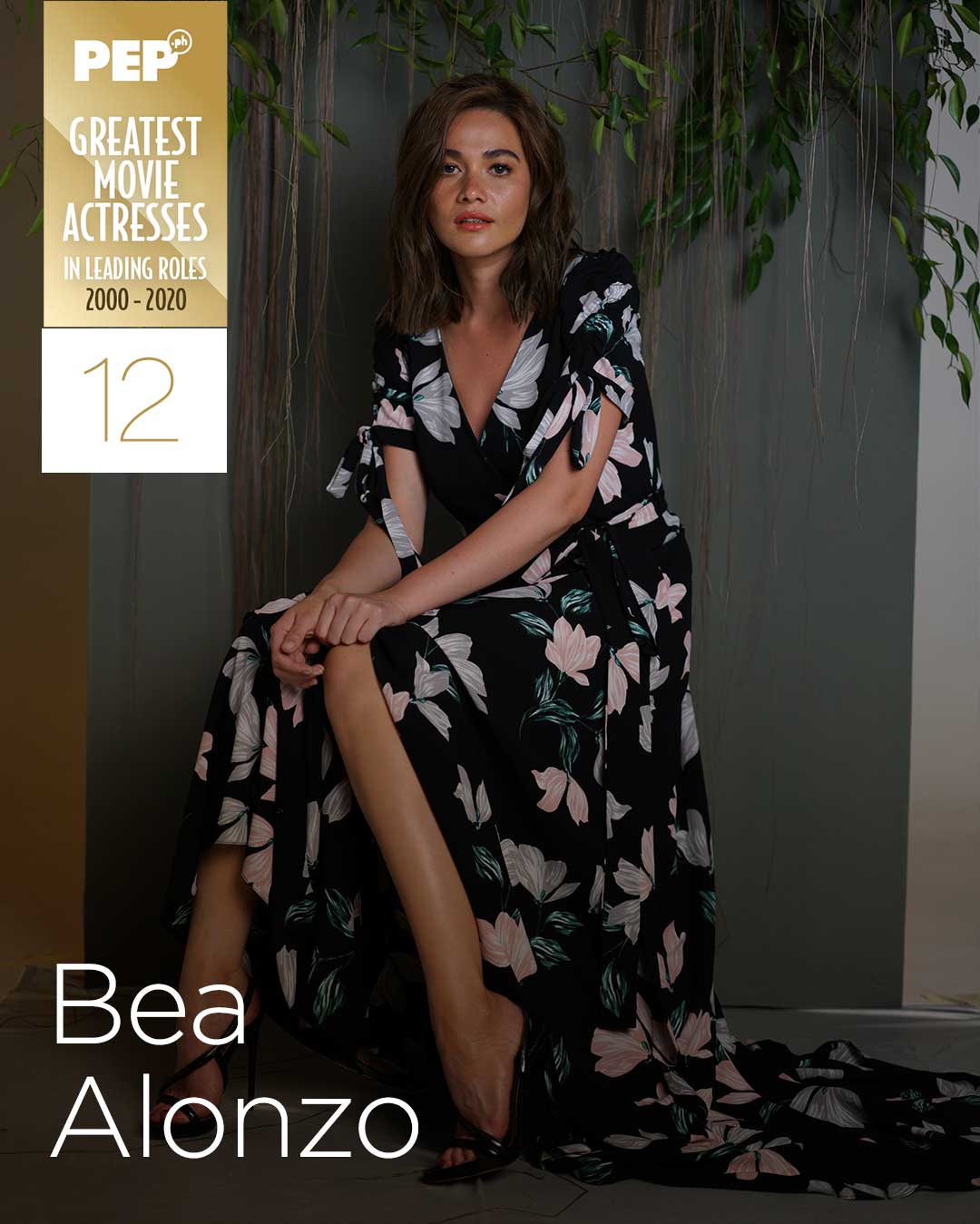 BY RACHELLE SIAZON
HASA NA SI Bea Alonzo sa romance drama movies na maraming crying scenes.
Bukod sa maganda ang rehistro niya sa camera kapag umiiyak, wala siyang awkward moment kapag sasabak na sa dramahan.
Isa na rito ang A Second Chance (2015), ang sequel ng One More Chance (2007), kunsaan nakilala siya bilang Basha at si John Lloyd Cruz bilang Popoy.
Conflict nila dito ay miscarriage at financial crisis—o mga problema ng married couple na lampas na sa honeymoon stage ang relasyon.
Ramdam ang magkahalong panic, takot, at galit ni Basha nang kumprontahin si Popoy dahil nalaman niyang baon na sa utang ang construction company nila. Na ang sikretong iyon pala ang dahilan kung bakit malamig sa kanya ang asawa.
Tagos ang bagsak ng mga linya ni Basha, "Poy, you made me feel like I'm your life's biggest mistake. Tanong ako ng tanong sa iyo kung anong problema, inisip ko pa kung ako ba ang diperensiya. Para akong gaga, tanong ako nang tanong, 'Ako ba? Ako ba?' T******, ikaw pala ang problema!"
Madamdamin din ang breakup scene nila kunsaan walang sigawan, pero ramdam ang sakit ni Popoy sa pagkabigong tuparin ang mga pangarap nila ni Basha.
Larawan naman si Bea ng isang babaeng nasaktan pero nais pa sanang ilaban ang kanyang marriage.
Pero walang magawa si Basha kundi pakawalan si Popoy, na kailangang ibangon ang tiwala sa sarili nang mag-isa.
Hindi na kailangang ipaliwanag ni Basha sa salita, pero ang luhaang pagsuko niya at pag-uunawa kay Popoy ay maiintindihan ng manonood.
May tahi ito sa One More Chance, kunsaan nanghingi si Basha ng space dahil kailangan niyang may patunayan sa sarili.
Sa mga ganitong heavy-drama scenes mapapansin na si Bea ang ka-loveteam ni John Lloyd na kayang sabayan ang mahusay na aktor.
Bagay din kay Bea iyong mga swabeng aktingan tulad ng sa My First Love (2018), kunsaan bida sila ni Aga Muhlach.
Sa pelikula, naging bukas si Addie (Bea) sa paghahanap ng heart donor para sa kanyang sakit, habang si Nick (Aga) ay itinago na may tumor siya sa utak.
Hindi kailangan ng napaka-intense na pagtatalo. Swabeng iyak lang at malumanay na kinumpronta ni Addie si Nick tungkol sa hindi nito pagiging tapat sa kanya.
May isa pang eksena sa pelikula na mas intense ang pag-iyak ni Bea. Ngunit gamay na gamay na niya ang ganoong lebel ng emosyon, dahil may nauna na siyang mga pelikulang mas matindi pa ang lebel na hinihingi.

Ganunpaman, maganda ang dating nina Aga at Bea rito, nagpapaalaman man o nagkakakilanlan. Kapag kasi nagsama ang dalawang mahuhusay na aktor, saan ba papunta ang daloy ng kuwento kundi sa maganda?
JENNYLYN MERCADO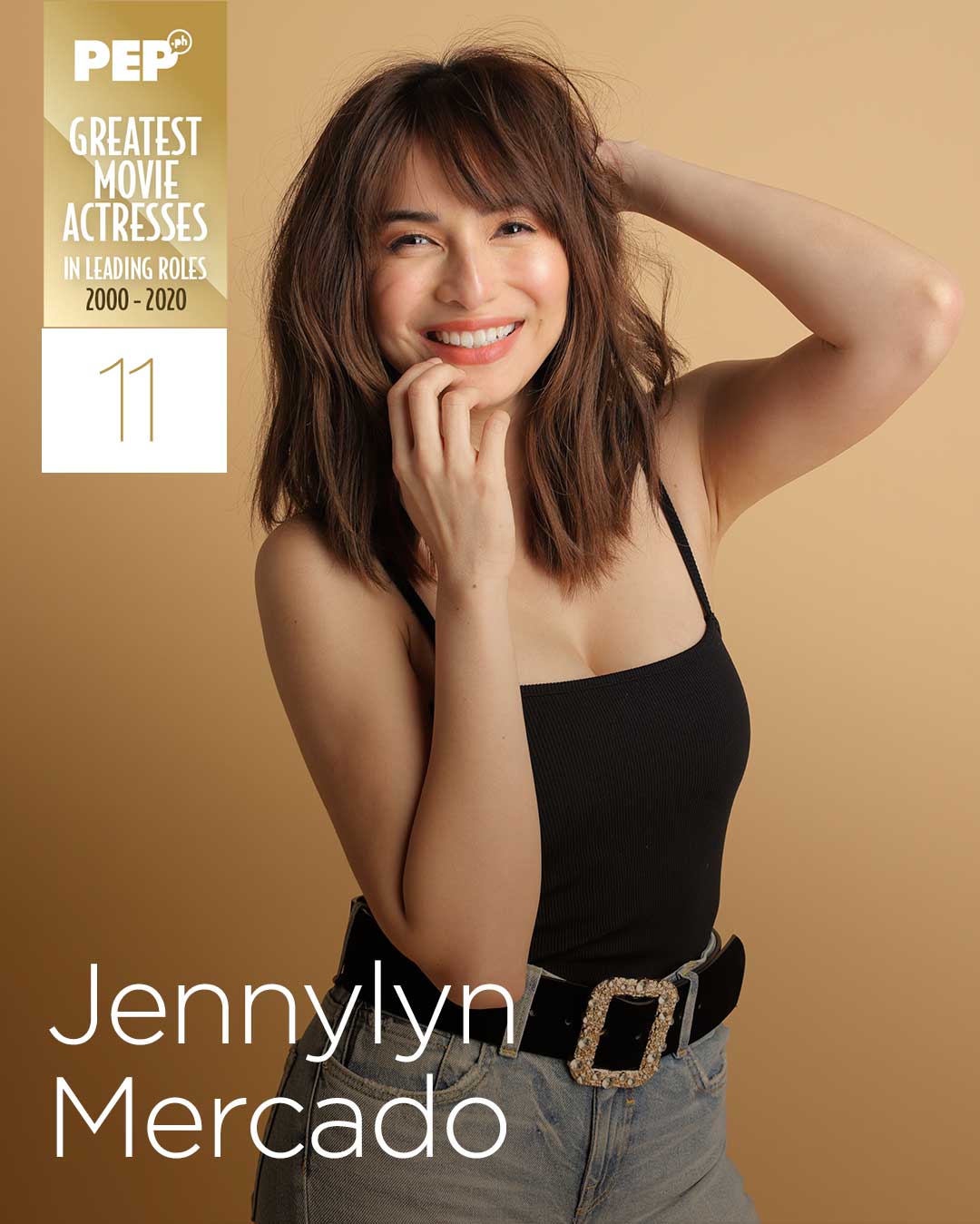 BY JET HITOSIS
WALANG DUDANG MAHUSAY sa rom-com si Jennylyn Mercado.
Sa mga pelikula niyang English Only, Please, Walang Forever, at All Of You, laging sakto ang timing ni Jennylyn, 33, sa pagbibitaw ng dialogue, at natural sa kanya ang pagpapakuwela.
Maning-mani na lang talaga siguro kay Jennylyn ang rom-com dahil nauna na niyang gampanan ang very challenging title role sa period drama na Rosario noong 2010.
Sa direksiyon ni Albert Martinez, kinailangang ipakilala ni Jennylyn ang pambihirang karakter ng isang prominenteng personalidad na matagal nang pumanaw: si Rosario Perreira, ang Filipino-Portuguese grandmother ng business tycoon na si Manny V. Pangilinan.
Bilang si Rosario, binigyang-katauhan ni Jennylyn ang isang makabagong babae na nabuhay sa konserbatibong panahon noong 1920s: buo ang loob magpasya para sa sarili, malayang nagmamahal, hindi nagpapadikta sa sinuman, at pinaninindigan ang sariling pagkakamali.
Mula sa simula hanggang sa matapos ang pelikula ay bitbit ni Jennylyn ang karakter ni Rosario.
Matagumpay niyang naisabuhay ang mga unti-unting pagbabago sa pagkatao at sitwasyon ni Rosario habang isa-isa nitong hinaharap ang napakaraming hamon na resulta ng mga naging desisyon nito sa buhay.
Pinakapanalo, para sa akin, ang huling eksena ni Jennylyn.
Malinaw kasing naiparating ni Rosario kay Carding (Sid Lucero) ang lahat ng nais niyang sabihin—pasasalamat, pagbabago ng pasya, pagbibigay ng pag-asa, at pamamaalam—nang walang kahit isang salitang sambit. Basta tinatanaw lang niya si Carding sa hindi kalayuan.
Parang walang hirap si Jennylyn sa pagbuo kay Rosario, gayo't isang 23-year-old actress lamang siya noon, na pawang supporting roles sa feel-good movies ang mga nagampanan.
Para sa kanyang portrayal sa Rosario—isang Metro Manila Film Festival (MMFF) entry—nakakuha ng Best Actress nomination si Jennylyn mula sa 29th Luna Awards at 59th FAMAS Awards noong 2011.
Noon pa man, nasilayan na ng mga hurado ang kayang gawin ng isang Jennylyn Mercado.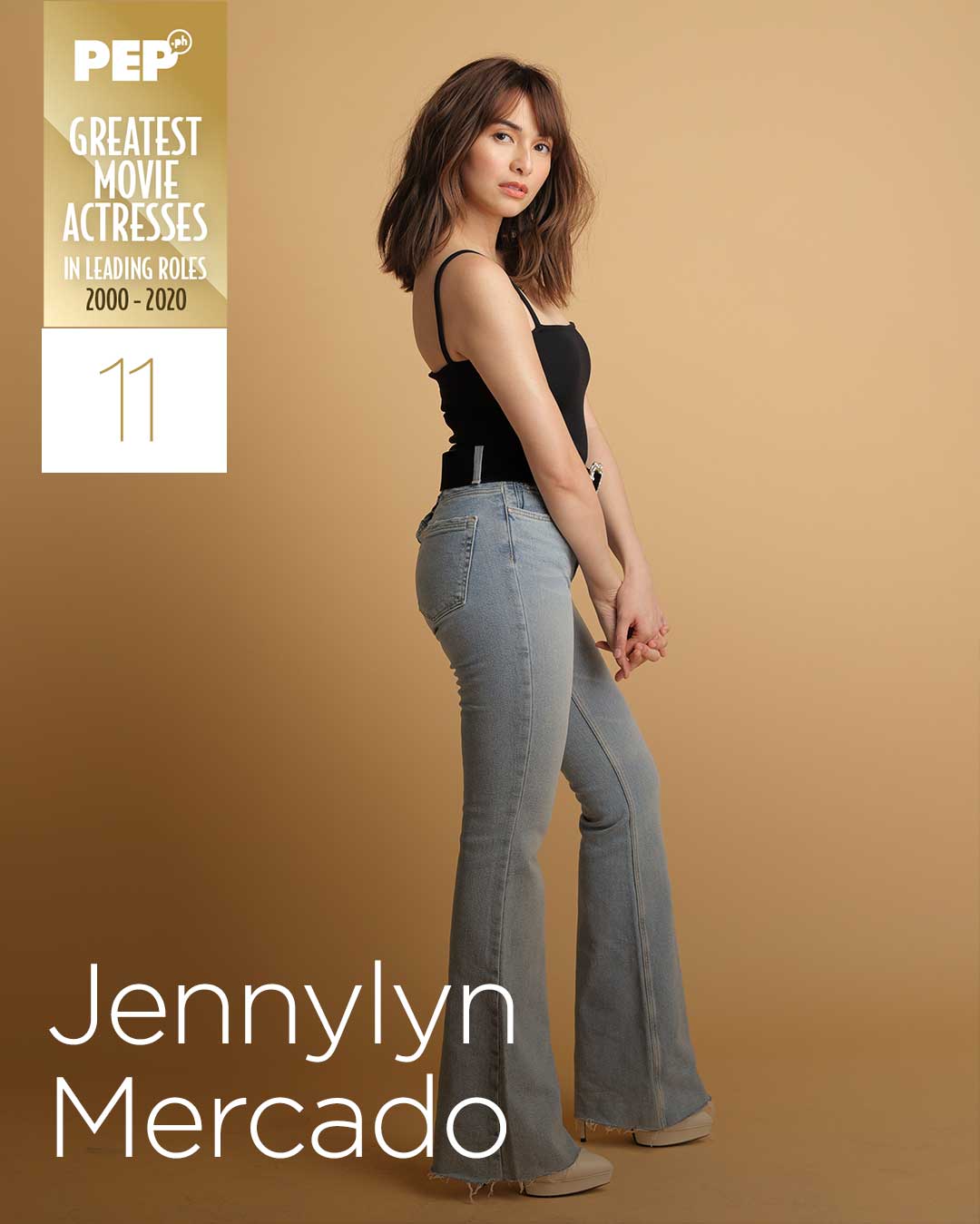 BY NIKKO TUAZON
Of the many actresses emerging in the last two decades, GMA-7's homegrown talent Jennylyn Mercado has most proven her worth, not just on television but also on the silver screen, earning her the "Ultimate Star" title.
Whether it be heavy drama or romantic comedy, StarStruck's first-ever female survivor shapes her roles excellently and displays fine acting skills.
It was in Joel Lamangan's period movie, Blue Moon (2016), where she played the role of young Cora, that I first witnessed Jennylyn's talent. For this role, Jennylyn was voted Best Actress by the public during the 2006 Metro Manila Film Festival.
Jennylyn was also the epitome of beauty and strength as Rosario Herrera, the grandmother of TV5 chairman and businessman Manny Pangilinan, in Rosario (2010). Her brilliant performance as the liberated young Rosario was enough to earn her a nomination, even if her performance was snubbed at the 2010 Metro Manila Film Festival.
Jennylyn has only become more in-demand, thanks to her work in light-hearted love stories. She's good at getting an audience to laugh with her, and just as good at making her characters relatable. To name three: The Prenup (2015), Just the 3 of Us (2016), and All of You (2017).
But it was in English Only, Please (2014) and #WalangForever (2015) where Jennylyn gave her best performances, both of which earned her the Best Actress trophy at the Metro Manila Film Festival.
#WalangForever struggled with its story-telling and brought viewers on a strange journey, as it started off light and ended in melancholia. But Jennylyn gave the film the right balance of gravity and humor, enough to carry the film to commercial success.

As for English Only, Please, people are still talking about it. If arguably, it is the sleeper hit that raised the bar on all romcoms.


RACHELLE SIAZON
Kahit ilang beses panoorin, no-fail na mapapaiyak ka talaga sa simple pero tagos-sa-pusong bitaw ni Jennylyn Mercado ng kanyang final monologue sa Walang Forever (2015).
Ito ang romantic-drama film na pinagbidahan nina Jennylyn (Mia) at Jericho Rosales (Ethan).
Nakakadala ang saya at pait sa boses ni Jennylyn, hindi lang sa breakdown scene nila ni Jericho, kundi pati sa pinakahuling eksena kunsaan mag-isa na lang si Jennylyn na inaalala ang huling sandaling nakapiling ang nobyong napangasawa niya.
Bago ng heavy scenes, swabe ang pag-arte ni Jennylyn sa mga eksena namang mala-aso't pusa ang bangayan nina Mia at Ethan.
Kakapit ka sa kuwentong si Jennylyn, isang dating box-office screenwriter, ay bumagsak, naging uninspired, moody, at cynical sa muling pagkukrus ng landas nila ni Jericho.
Malaking bagay na charming si Jennylyn, malakas ang appeal, at maganda ang rehistro sa screen kahit pa pinagsuot pa siya ng reading glasses sa movie.
Kaya kapag nakipagtitigan na siya kay Jericho, hindi mo maiiwasang kiligin. Ramdam din kasi ang pilit na itinatagong pag-ibig sa mga mata ni Jennylyn.
Alam niya kung paano timplahin ang boses para mas epektibo ang pagbagsak ng linya, nang hindi kinakailangan ng maingay na aktingan at malaking galaw para umangat siya sa eksena.
Animo'y in love na in love talaga sila ni Jericho sa isa't isa kahit na sa tunay na buhay ay pareho silang masaya sa kani-kanilang relasyon.
No wonder tinanghal na Best Actor si Jericho at Best Actress si Jennylyn sa Metro Manila Film Fest 2015 para sa pelikulang ito.
Sa English Only Please, na ipinalabas the year before, sa MMFF 2014, pinatunayan naman ni Jennylyn bilang Tere na bagay din siya sa romantic comedy.
Kayang-kaya niyang magpakilig kasama ng ibang partner, gaya ni Derek Ramsay, na gumanap bilang Julian, isang Inglisero nais matutong mag-Tagalog para makumpronta ang ex-girlfriend na haliparot. Si Jennylyn ang kukunin niyang English-Filipino tutor.
Parehong bigo sa pag-ibig ang kanilang mga karakter, dahil si Tere ay isa namang martir na hindi na nadala sa boyfriend niyang manloloko na'y manghuhuthot pa—at siya ang hinuhuthutan.
Na-own ni Jennylyn ang karakter niyang sexy, babaeng bakla, masa ang dating, at tanga sa pag-ibig.
Nakakatawa iyong nakipagkita siya kay Julian at halatang may malaking hickey si Tere sa leeg.
Sa simpleng eksenang ito, makikita ang pagka-artista ni Jennylyn, na kapani-paniwala ang inosenteng facial expression habang nangangatwirang hindi iyon hickey kundi kagat ng malaking lamok.
Dahil mas madalas siyang makitang nagda-drama sa telebisyon, refreshing na makita si Jennylyn na may kapasidad ding sumabak sa kilig at comedy movies.
We are now on Quento!
Download the app
to enjoy more articles and videos from PEP.ph and other Summit Media websites.