We present the list made by the Philippine Entertainment Portal of the "15 Greatest Actors of Philippine Cinema in Leading Roles, 2000 to 2020."
In so doing, PEP.ph formally and publicly applauds these artists, as they deserve.

These are the actors who make us thrill to the talent that abounds in our movies today.

They bring stories to life. With their presence, what was once just a plot becomes one or more of these magical things—powerful drama, hilarious comedy, sweet romcom, riveting action, suspenseful thriller, lovely fantasy, or macabre tale. With them inhabiting a character, what was once just a good sketch becomes a real, living person with a face and a name whose ups and downs hit us in the gut and settle in our heart.

These actors have a range that is stunning. Shifting from poor swain to determined hustler, from romantic innocent to pitiful married man, from object of ridicule to heroic leader of the pack, from funny person to human being—they have us believing. In so doing, they bequeath magic and gravitas to our cinema.

In their performances is a level of artistry that is not only high but constant. This gives us a peek into the actors' intuition, their intelligence, their giftedness, their work ethic. Some are considered naturals. Some get there by the pure drive to do better. But all manage to give us a view of the world we inhabit—the family we are born into, the community that surrounds us, the city we breathe, the country that is ours, the human race we are part of.

They make us see ourselves.

They make life out of art and art out of life.

All this, we applaud.

Of course, as with any listing, PEP.ph has to set its parameters.

Our list does not attempt to name every actor who is excellent that has ever graced the big screen. We will not go from the first movies ever made in this country to the present, which covers at least 100 years. We are not even going for the icons; they merit another special list of their own. Neither are we after the greatest character actors—they who've shown us, time and again, that they deserve more of the accolade audiences routinely reserve for lead stars. Nor are we picking the one-hit wonders who earned the right to make us sit up and take notice. We also exclude actors whose body of work, impressive as it may be, is largely in television and on the stage.

We have set the parameters thus: We name only 15 actors. We limit them to actors in leading roles. We consider only movie appearances. We set the time frame to the years 2000-2020, and name only the actors who made their mark during these two decades. We rank the 15 from No. 15 going up to No. 1.


GREAT ACTORS WHO COULD NOT BE INCLUDED

Given these parameters, many superior actors could not be included in the list.

Christopher de Leon, for one. On the basis of film achievement, this actor is rightly revered as a present-day icon.
With all the major roles he has played in significant movies under giant directors, from the time he broke out on the big screen in 1974 to the year 2020, he is the actor in whose company other actors can only be grateful to be welcomed to. Just the mention of Lino Brocka's Tinimbang Ka Ngunit Kulang (1974), Eddie Romero's Ganito Kami Noon Paano Kayo Ngayon (1976), and Ishmael Bernal's Relasyon (1982) should stop anyone who might think of contesting this actor's place in the movie industry. Christopher de Leon owned the silver screen from the mid-Seventies to the late Nineties—and anyone saying otherwise knows nothing about Philippine cinema.
Eddie Garcia, for another. With even more films to his name, Eddie is the actor who goes from hero to villain and then back again in the second it takes to flash another movie title on the silver screen.
He is the thespian who has shone in every genre—the hated contravida to box-office action stars, the beloved patriarch in sweeping dramas, the mastermind behind the breakdown of happy families, the exaggeratedly funny man in his Manoy series, and an ageing homosexual in heartbreaking movies like Bwakaw (2012) and Rainbow's Sunset (2018).
His body of work is unparalled, and his passing in 2019 has left a void.

Many veteran actors in leading roles have, of course, earned their place in the rarefied company of Christopher de Leon and Eddie Garcia.

These include, in no particular order: Bembol Roco, Tirso Cruz III, Joel Torre, Nonie Buencamino, John Arcilla, Phillip Salvador, Michael de Mesa, Albert Martinez, Allen Dizon, Ronaldo Valdez, and Cesar Montano.
With the rise of indie films, which have reaped local and international acting awards for both our veteran and newbie actors, any upcoming greatest-actors list has necessarily become even longer.
Social media, where clout and virality count in the making of a star, has also contributed to this growing list. Young and old actors are getting proper acclaim from netizens, if without the affirmation of conventional awards and trophies. Some of these actors have also had one or two box-office smashes, beating even some Hollywood actors in popularity at a given time. Some have dominated a particular genre, gaining fierce and loyal movie fans, like Jiro Manio in Magnifico (2003) and John Arcilla in Heneral Luna (2015).
Already, there are young actors who have proven their mettle as matinee idols, or were in the cusp of proving so when the pandemic struck, and are seen as one day potentially joining the ranks of the greatest.

The names that come to mind, again in random order, are: Carlo Aquino, JM de Guzman, JC Santos, Paolo Ballesteros, Rocco Nacino, Edgar Allan Guzman, Paulo Avelino, Joshua Garcia, Ben Alves, Ruru Madrid, Tom Rodriguez, Arjo Atayde, and Ken Chan.

Ahead of the game is Enrique Gil, who has had more exposure as lead star than most of these other young names. Given more projects in various genre, with or without a love team, his apparent bankability and growing versatility make him an actor to watch.
But, no, these actors did not make it to the list.

We repeat: The PEP List excludes those whose leading roles fell outside the two decades of 2000 to 2020. The number of leading roles played during this period also count; the more lead roles, the bigger the chance of making it to the list. Actors in mainstream films have an advantage, given the reach of their film studios in pre-pandemic days. Supporting roles have not been included in the count.

THE PROCESS OF DELIBERATION

Since November 2020, PEP.ph—composed of 11 editors and writers—has been deliberating as a group via Zoom. The team has also been watching and rewatching movies for the purpose of making a credible list.

Voting happened in roughly five stages.

The first stage was the shortlisting of the Top 15. During this time, we still kept 5 additional names tacked onto the tail of the Top 15, in the event that the next voting sessions moved names up or down.

The second stage was the creation of a versatile e-chart that tallied the names of the actors listed by the 11 team members. During this phase, any member finding it difficult to cut down the list to 15 was allowed to make a list of up to 20 actors.

The third stage was more particular. Now team members had to rank their choices from No. 1 to 15. This proved to be a slow and stressful period for the team. It was at this stage that the members fully realized that, in fact, there is a wealth of talent in our cinema.

The fourth stage was when an application was used that mathematically computed which actors ranked No. 1, more often, with more members of the 11-person team. Then it went down the line. The resultant ranking then automatically showed up in the e-chart.

The fifth stage was coming down to the final, final, final list of 15. Just as it was in the earlier four stages, discussions were plenty and impassioned. Personal biases were questioned by cold data; cold data were tempered by subjective reviews. Arguments ensued, sometimes extending the Zoom sessions from the expected two hours to a surprising four hours straight. Always, it was a free for all. Everyone worked to prove his choice right. Some still rooted for their personal favorites, but this was battered by the rule that someone's favorite star could not be on the list on that entirely subjective basis. In other words, each actor in the Final 15 had to withstand the scrutiny of all—in a group when all had an opinion. Negotiations were in order, especially when the ranking came down to a matter of 1 vote. Sometimes, more hard research was called for. Sometimes, another review of the actors' movies was encouraged. Facilitating the discussion was the editor in chief, who was part of the 11-member team.

In the end, everything was resolved peacefully. We can safely say that we have all remained friends.
Then we came to: How do we tell readers why we chose as we chose?

Our first step is to put out this introductory text to explain our motivation, our criteria, and our voting process.

Then some team members volunteered to write the text for the individual actors they voted for. Not everyone would write about everyone they voted for, of course. We had to distribute ourselves. So we got volunteers of from one to three writers for each actor. Their written text would, in effect, be the commentary about the actor, and this would say exactly why the actor is on the list of our greatest actors.

In the next days, we shall be releasing this text, along with the photos, for more of the PEP LIST of the 15 Greatest Actors in Leading Roles, 2000-2020.

The PEP TEAM includes: Jo-Ann Q. Maglipon, Karen AP Caliwara, Erwin Santiago, Rommel Llanes, Rachelle Siazon, Arniel Serato, Bernie Franco, Jet Hitosis, Nikko Angelo Tuazon, FM Ganal, James Patrick Anarcon.

And this is our list, with the actors ranked from No.1 to No. 15.
1. Jericho Rosales
2. Aga Muhlach
3. John Lloyd Cruz
4. Dennis Trillo
5. Vic Sotto
6. Dingdong Dantes
7. Piolo Pascual
8. Robin Padilla
9. Coco Martin
10.Richard Gomez
11. Alden Richards
12. Daniel Padilla
13. Derek Ramsay
14. Vice Ganda
15. Gerald Anderson

This is our own list of the 15 Greatest Actors. What would your own list be like?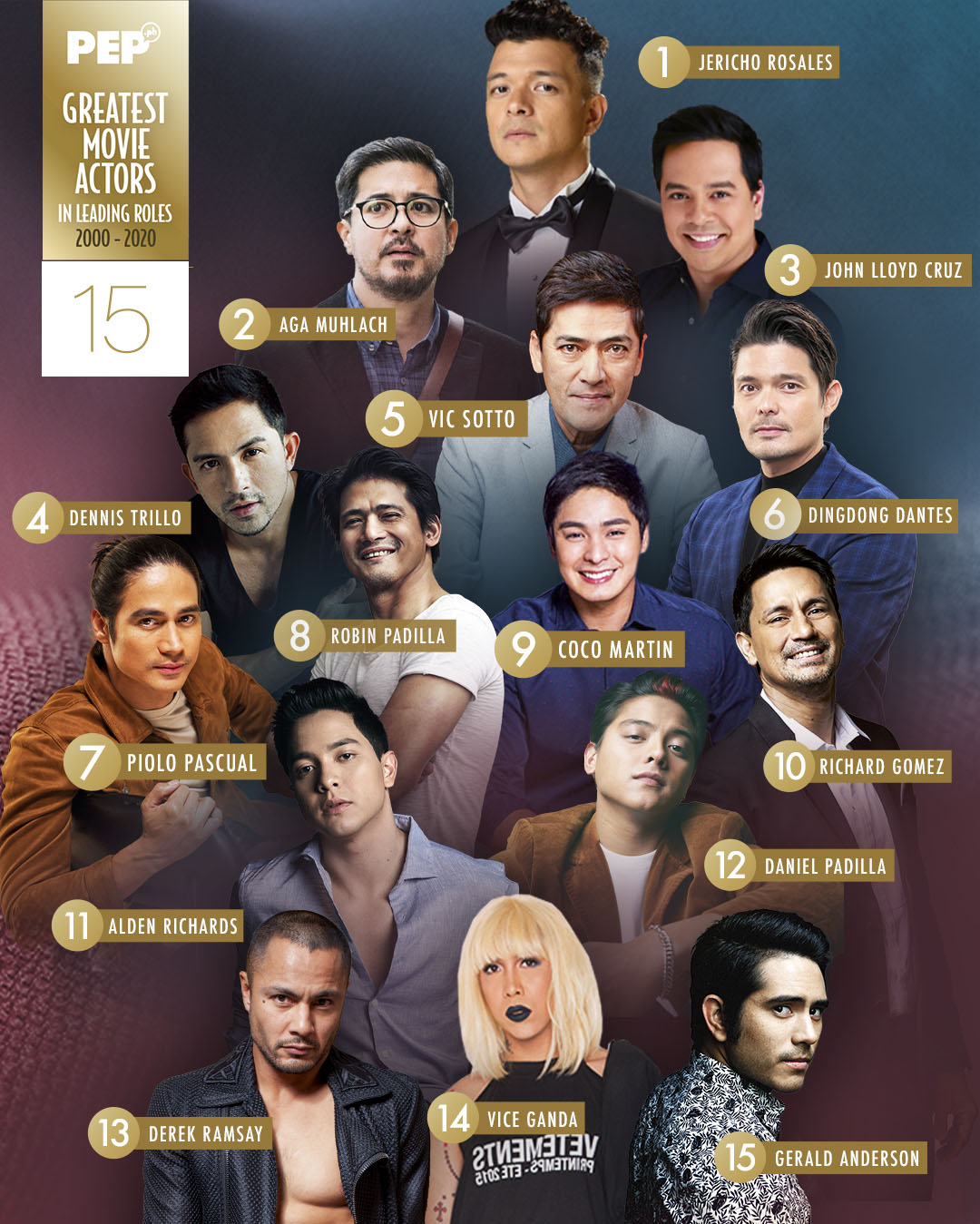 Read the commentaries: Nos. 11 to 15, Nos. 6 to 10, Nos. 1 to 5