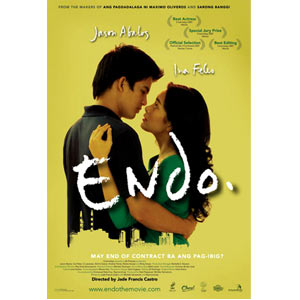 ---

Graded "A" by the Cinema Evaluation Board (CEB), Endo is the story of Leo (played by Star Magic talent Jason Abalos), a contractual worker who is used to temporary situations. Typical of many young Filipinos, he hops from one contractual job to the next in order to earn a living for himself and his family. He has tried working in fast food chains, grocery and department stores. His relationships are similarly fleeting. When he meets the spirited dreamer Tanya (played by stage actress Ina Feleo), he is suddenly faced by the promise of a better future, but he doesn't seem equipped to handle it.


The CEB lauds Endo for showing "a certain pride in indie filmmaking that is... very timely, very human. The problem of labor contractualization, though a glaring truth both in real and reel, is brilliantly crafted by the director in a style that is understated and unobtrusive."
Endo is short for "end of contract," or what temporary workers call their last day of work until the next job comes along.
The CEB also praises Jason Abalos and Ina Feleo for their "very real and excellent" performances. Ina Feleo, who is the daughter of Johnny Delgado and Laurice Guillen, was named Best Actress in the third Cinemalaya Philippine Independent Film Festival, where the film premiered in July 2007. The latest project of ufo Pictures took home the Grand Jury Prize in last year's Cinemalaya Film Fest. JD Domingo was named Best Editor for this film.
Jason is currently starring in the mini-series "Muntik na Kitang Minahal" of Your Song, whichairs every Sunday on ABS-CBN. He plays a character in the love triangle with Erich Gonzales and Heart Evangelista.
Endo opens in Gateway Mall, Glorietta 4, and SM digital cinemas (Megamall, Manila, North Edsa, Fairview, Southmall, Centerpoint) starting today, February 13.