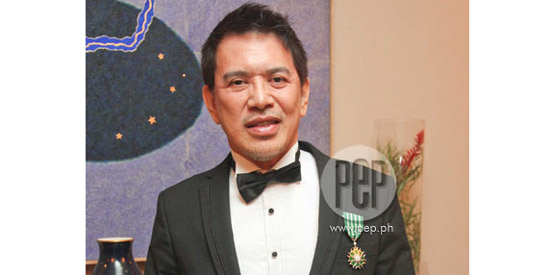 ---

The Singkuwento International Film Festival offers moviegoers a chance to watch critically acclaimed movies during Arts Month this February.

From February 21 to February 28, a total of 51 filmmakers and 53 films will be showcased in this year's Singkuwento IFF.

Filipino filmmaker Brillante Mendoza will be the recipient of this year's Singkuwento International Lifetime Achievement Award for his invaluable contributions to the movie industry.

In 2014, the Cannes award-winning director was inducted into the Order of Arts and Letters, one of the highest honors in France.

The Singkuwento IFF will kick off on February 21 (6pm) at the Tanghalang Leandro Locsin of the National Commission for Culture and the Arts, at the NCCA Building, 633 General Malvar Street, Intramuros, Manila.

Three short films that tackle the harsh realities faced by impoverished Filipinos here and abroad, will open the weeklong film derby this Saturday.

These include Roberto Reyes Ang's TNT (Always on The Run), a short film that tells of the life of an illegal immigrant living in the United States.

Ang's short film recently won the Best Ensemble award from the 2014 International Film Festival Manhattan in New York City.

Perry Escano's Ang Platinong Buhok, a short docu-film about the late theater, TV and film actress Amable "Ama" Quiambao. The docu talks of the much missed Quiambao and her life as mother, friend, teacher and actress.

Nash Ang's Paraiso, a 60-minute documentary that follows the lives of child survivors and their remaining families one month after the tragedy of Supertyphoon Yolanda. It reveals their struggles as they live on and rebuild their lives in what was once their "paraiso" or paradise.

These screenings will be followed by Jun Lana's award-winning drama Barber's Tales, which features Eugene Domingo, Iza Calzado, Nonie Buencamino and Eddie Garcia.

The Singkuwento Film Festival Fest, with screenings until February 28, started in 2013 as a non-competition festival that showcased short films by a small group of filmmakers.

This year, it will start its first competition that is open to the public. Fifteen short films will battle for awards for Best Short Film, Best Cultural Short Film and Best Documentary Short Film, among others.

The festival aims to "give Filipinos both here and abroad a channel where they can share their impressions of the Philippines and its people," said festival director Perry Escaño.

Winners will be announced during the awards ceremony on February 28.

Aside from the competing short films, the Singkuwento International fest will also exhibit 15 shorts as well as full-length films from directors Jason Paul Laxamana, Nick Olanka Olanka, Rica Arevalo, Ellen Ramos, Sarah Roxas, Diane Ventura, Sigrid Andrea Bernardo, Mes de Guzman Will Fredo, Francis Xavier Pasion, Benito Bautista, Peque Gallaga and Lore Reyes.

Films by young directors Kip Oebanda (Tumbang Preso) and Don Gerardo Frasco (Waves) will likewise have their first international film fest screenings during the Singkuwento fest.

Tumbang Preso, starring Kean Cipriano and Kerbie Zamora, is a film about the human trafficking conditions in a factory.

(View photos: Yeng Constantino, Kean Cipriano, and Dominic Roco advocate against human trafficking)



Screening schedules will be announced soon.

The closing film of the Singkuwento Film Festival is Joselito Altarejos' Kasal on February 28 at 6 p.m.

The movie, a slice of life of a gay couple played by Arnold Reyes and Oliver Aquino, bagged the Best Film award (Directors' Showcase) at the 2014 Cinemalaya Philippine Independent Film Festival.

After the screening, awarding of the Best Short Film, Best Cultural Short Film and Best Documentary Short Film happens at 8pm.

The weeklong event is in cooperation with the National Commission for Culture and the Arts (NCCA) and MPJ Entertainment Productions. For tickets, visit Ticketworld Online.


ADVERTISEMENT - CONTINUE READING BELOW