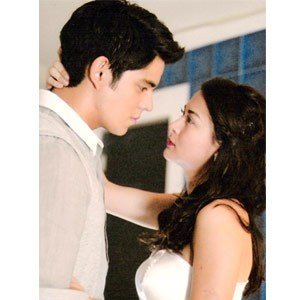 ---
Marian Rivera and Richard Gutierrez prove to be a good match when their first Valentine movie together grossed P50 million on the first four days of showing in more than 100 theaters nationwide.
Co-produced by GMA Films and Regal Entertainment, My Bestfriend's Girlfriend is a romantic-comedy about two people who come from different backgrounds but find the chemistry to overcome their differences.
BFGF is Richard's fourth Valentine film after starring in Let the Love Begin (2005), I Will Always Love You (2006), and The Promise (2007). The matinee idol starred in the first three films with former GMA-7 contract artist Angel Locsin.
GMA Films president Annette Gozon-Abrogar is very happy about this development. "We are overwhelmed with the box-office success of BFGF. So far, this is our highest grossing Valentine movie on its four days. We hope that the good word of mouth continues to that more and more people will get to enjoy the movie," she says.
ADVERTISEMENT - CONTINUE READING BELOW
Regal Entertainment's Roselle Monteverde-Teo proudly states, "Both Richard and Marian have proven themselves to be number one not only on television but also with the paying audience. This movie is the biggest box-office team up."
Joey Abacan, GMA Films supervising producer, takes pride in his bold forecast prior to the release of BFGF. "Once I was quoted that this is the best Valentine's movie that we have produced so far. I thank God that what I said was confirmed by the numbers. We're happy that our objective to create a quality blockbuster was met in BFGF."
The simple story of this romantic comedy was told on the big screen by director Mark Reyes. "It is really gratifying that the Filipino audience accepted a non-traditional type of story," he says with relief. "It's always tricky to do a romantic comedy in the Philippine context. But with the success of BFGF, it proves that as an audience, our cinematic sensibilities are evolving. A big Kapuso thank you to everyone who watched!"
ADVERTISEMENT - CONTINUE READING BELOW
SYNOPSIS. Evo (Richard) has an awkward encounter with Grace (Marian) at a stag party, only to find out that the girl is his best friend's girlfriend. In exchange for keeping quiet about what happened at the party, Evo asks the girl to pretend to be his girlfriend, just to make his ex (played by Ehra Madrigal) jealous. But as they spend more time together, they find unexpected love beginning to blossom.
My Bestfriend's Girlfriend is currently being screened at cinemas nationwide.