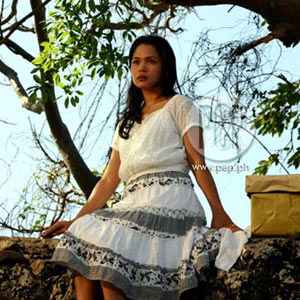 ---

Ploning fever has hit the sleepy town of Cuyo, Palawan. There are two logos of Ploning painted on stage of the town plaza. The oblong-shaped logo bears the name Ploning, prompting tourists to wonder who or what is Ploning.
It turns out that Ploning refers to the movie starring Judy Ann Santos as the town beauty who is torn between keeping two promises: to look for her first love Tomas or stay in Cuyo for the young boy Rodrigo who relies heavily on her motherly care.
PEP (Philippine Entertainment Portal) was able to visit the set of Ploning in Cuyo, Palawan, to see Judy Ann, Mylene Dizon, Gina Pareño, Meryll Soriano, Ces Quesada, Jojit Lorenzo, Joel Saracho, and Crispin Pineda in action. Documenting the filming process was Judy Ann's boyfriend Ryan Agoncillo. PEP went behind the scenes for an inside peek into how film outfit Panoramanila Pictures shot this period film in the hometown of director Dante Garcia.


Direk Ga, as Dante is often called, was born and lived in Cuyo until Grade 6. He transferred to Manila to study high school and, eventually, he enrolled in Theater Arts in San Sebastian College.


He based this movie on certain people from Cuyo and his childhood haunts became the setting of this full-length film that is expected to open in theaters nationwide on April 30. Dikek Ga co-wrote the screenplay with Benjamin Lingan and it is estimated that 40 percent of the movie will be spoken in the Cuyonon language.
There is an unfinished pier on the island of Cuyo that serves as the waiting place of Ploning (Juday). Intigban beach is where Ploning and Rodrigo (played by first-time actor Cedric Amit) walk hand in hand.


The basketball court of Igabas served as the place where Rodrigo and Celeste (played by Mylene Dizon instead of Iza Calzado) meet for the first time. The esposada (bridal shower) of one of the characters is set in Emilod and took three nights to shoot.
ADVERTISEMENT - CONTINUE READING BELOW
The producers built a cemetery from scratch in a part of the town called Republic of Cuyo to serve as the setting for a key scene in the movie. They even decided to keep the cemetery intact so that tourists can visit the place and locals can narrate how Judy Ann Santos once shot her scenes there.
Even though Panoramanila Pictures Co. is still a fledgling company (it was established only in 2007), it took great pains to ensure the authenticity of this period film set in Cuyo during the 1980s. Unique practices of Cuyo will also be shown in the movie Ploning. The female characters of the movie will be demonstrating the process of making cashew nut brittle, a delicacy of the province. Judy Ann and Gina will also be harvesting salt from an asinan. Ati-atihan groups will also perform in celebration of the town fiesta, which is held annually on August 27.
Ploning, played by Judy Ann, is the town beauty who waits patiently for the return of her beloved Tomas (whose identity remains a secret). He went to Manila to work but ten years later, Ploning still holds on to his promise that he will return for her. At 29 years old, she is already considered an old maid by rural standards but she still holds on the memory of her great love.


Aside from being the dream project of Direk Ga and Judy Ann, Ploning also allows four great comediennes to establish themselves in the drama genre. Gina Pareño, Eugene Domingo, Ces Quesada, and Tessie Tomas will make viewers cry as they showcase the various kinds of women who live in Cuyo.


ADVERTISEMENT - CONTINUE READING BELOW
As Tessie puts it: "Hindi ba weird na lahat kami komedyante tapos drama ang pelikula?" To this, Direk Ga answered, "Weird pero bago. Hindi ba nakaka-excite to see Juday na nasa gitna ng mga komedyanteng lumuluha samatalang siya pinipigilan niya ang luha niya."
Ploning is scheduled to open in theaters nationwide on April 30.


Click MORE PICTURES to view behind-the-scenes photos of Ploning.