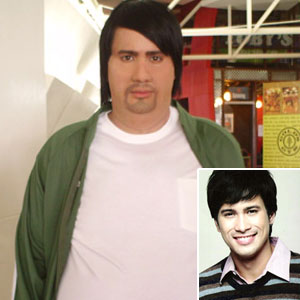 ---
When the advertisement of My Big Love started airing on ABS-CBN, a lot of people were unable to recognize the matinee idol who played the huge guy who cooked in front of the camera. It was actually Sam Milby who wore a fat suit to play the role of Macky, a 300-pound chef who eventually loses weight in order to catch the attention of his lady love.
Star Cinema offers a new kind of love triangle in its post-Valentine offering directed by Jade Castro (who helmed the poignant love story of casual employees in Endo). As its title implies, My Big Love is the story of a big (literally) guy torn between two beautiful ladies. Chef Macky pursues the socialite Nina (played by Kristine Hermosa) but he doesn't realize that his fitness instructor Aira (Toni Gonzaga) has fallen for him.
"It's the funniest role I've played so far," said Sam. "It's also the hardest because with the synthetic prosthetics that makes me look fat, I have to move my facial muscles to register all kinds of emotions as if it's the most natural thing to do. We used the same material as the one in Hollywood."
ADVERTISEMENT - CONTINUE READING BELOW
In fact, the maker of the prosthetics, Joe LaPenna told PEP (Philippine Entertainment Portal) in an email interview that this process is similar to the way the fat suit was made for Adam Sandler in Click (2006). He also detailed the process of making prosthetics for My Big Love, which is now showing in cinemas nationwide.
Where did you study prosthetics?
I studied prosthetics for about 30 years now. Most of my training was on the job in the United States since I am American. I worked for some of the best people in the business and they taught me a lot of what I know and do now.
Why does it take two hours to put on the prosthetics of Sam? Could you describe the process?
The material I used, which is silicone, is also applied with a silicone adhesive; it is a catalyzed material, which means it uses a chemical process to solidify. The adhesive takes about six minutes to dry, and then when the prosthetic is adhered then I begin the blending process. This takes a long time because I do my best to seamlessly blend the edges into his skin so that I can get the most realism. Then when it is blended I have to begin the coloration process, this requires three to four bases colors, then up to nine different blending colors to achieve a realistic skin color. Then there is hair work, the hair guys have to add extensions to Sam's hair and that can take up to thirty minutes with it being applied and then styled.
ADVERTISEMENT - CONTINUE READING BELOW
How heavy does the fat suit weigh?
The suit itself isn't all that heavy. I think it weighs about 5 kilos. It was custom formed over a body form taken of Sam. I made the suit the same way the fat suit was made for Adam Sandler in Click. It was light but hugged Sam very snug and allowed him to move freely but still simulate the appearance of someone 303 pounds. It was entirely constructed using molded urethane foam rubber and nylon.
What is special about the silicone prosthetics used on Sam Milby?
What Star Cinema wanted was a convincingly realistic prosthetic make-up that could look and move like real skin; the silicone material I used achieves that. The way they normally do prosthetics here in the Philippines with latex and urethane rubber just does not come close to the realism that the material I use can create.
Are the prosthetics made here or in the United States?
ADVERTISEMENT - CONTINUE READING BELOW
The material was imported from the United States and I was the one who created the sculpture, molds, and finally the prosthetics for Sam.
Does Sam have complaints regarding the fat suit? How do you prevent him from overheating while inside the suit?
Sam—like a lot of people who have to wear extensive prosthetics to create a role—did indeed have some discomfort wearing the make-up and fat suit. The suit, which is much like wearing a winter coat and then having a costume on, would get very hot but Star Cinema provided him with air-conditioning to keep him cool as much as possible. The prosthetic inhibited his sweating for many hours but when he would be under the lights or doing scenes for long periods he would then begin to sweat. It was a constant fight to keep him cool and comfortable.
Does he wear the prosthetics for long periods of time?
ADVERTISEMENT - CONTINUE READING BELOW
Yes and no. Some days he would wear them for up to 18 hours, and there were days it was only a few hours. It depended on the scenes required that day. It also took about three hours to apply so that had to be included in his total hours wearing the prosthetic. Usually the prosthetic application would begin to degrade after ten hours, thus requiring touch ups.
I heard that he underwent eleven make-up tests for the movie. Why did it take so many make-up tests?
The reason for the tests was to see what he would be like in the final make-up. I initially wanted to use a material I can fabricate locally which is a gelatin material. But Sam being from the States like myself, he is still acclimatizing to the humid weather here and it makes him sweat profusely. The adhesive I use which is a professional prosthetic adhesive would dry on his skin and then as he began to sweat he would then re-liquefy the adhesive rendering the make-up application a failure. I tried many ways to stop his sweating or at least minimize it and that's why there were so many tests. It wasn't until the end we decided to import the silicone material which inhibits sweating for many hours.
ADVERTISEMENT - CONTINUE READING BELOW
What happens during a make-up test?
Well, it starts with prepping the prosthetic for application. The actor comes in and then I apply the adhesive after which I then apply the prosthetic. When it is successfully adhered, I then begin the blending process to make the edges disappear, after the edges are gone I then make up the prosthetics to simulate a natural skin color. When that is done, I apply the hair to the sides of his face to look like sideburns. The producers would come to see Sam in the final make-up and they would decide if any changes are to be made. There were changes and that is also what contributed to the many tests. They would then comment on how his double chin would look or the thickness of his cheeks, et cetera.
What are your upcoming projects in the Philippines?
I have several projects I am currently working on, right now I am doing all the prosthetics and effects make-up for Lobo on ABS-CBN. Then I am going to be working a fan film based on a superhero and with that I will be doing all the custom super hero and super villains costuming, as well as special props. I have made my home here and have been here now for two years. I look forward to working on many new and exciting projects. I love to be challenged.
ADVERTISEMENT - CONTINUE READING BELOW
Click MORE PICTURES to view behind-the-scenes photos of My Big Love.